Hi guys, I guessed many of us earned free money from the Branch app referral program. Today I will also be sharing another awesome opportunity on how you can earn, accumulate more, and withdraw from the PiggyVest app.
With the instructions on this post, you can make free money from ₦1000 to ₦50,000 and above via the PiggyVest app, your earnings are withdrawable to your local bank account with peace, read the full details below.
What is PiggyVest?
PiggyVest is an app/platform that helps you save money little by little over a period of time, which you can collect the money when you highly need it plus VERY GOOD interest. Unlike a regular bank's savings where you can access the money at any time, Instead PiggyVest helps you maintain your savings discipline while building your savings culture with an interest rate of 10–15%, as well as investing towards production or agriculture Which also gives another interest of 25% plus other bonuses. You can choose to save little amounts of money periodically (Daily, Weekly, or Monthly) towards a specific savings target OR lock away funds for a specified period of time.
Is Piggyvest safe?
Yes, any money saved in PiggyVest is 100% safe as all financial information is encrypted and stored to PCI DSS Level 1 compliant standards. PCI DSS Level 1 compliance is a set of rules stated by credit card companies and audited by an independent third party.
Talking about how your money is saved, PiggyVest previously partnered with and used the licenses of two Microfinance banks until early 2018 when they acquired Gold Microfinance bank and its license.
All funds saved with them are warehoused with and managed by AIICO Capital, the leading asset management company in Nigeria, registered and licensed by the Securities and Exchange Commission (SEC).
How To Make Free Money From PiggyVest
There are four ways you can easily make money on PiggyVest, they include:
Interest from your funds
Welcome bonus
Piggy point
Referral bonus
In this post, we will focus on how to make money through the PiggyVest Referral Program as it is a great means to earn big on PiggyVest.
The PiggyVest referral program allows you to refer a friend and earn free N1000! Your friend will also earn free N1000. Meaning both of you earn free N1000, it's a win-win for you both… It means when you refer 20 people in a day and you will earn 20,000Naira Instantly from the comfort of your home. HOW SWEET IS THAT RIGHT?
The Free money will be unlocked for you once your friend activates their account with just N100. So you need to encourage your friend to activate their PiggyVest account.
I will lay down the detailed instructions on how to earn, accumulate, and withdraw from the PiggyVest app.
How to Make Free Money From 1k to 20k and Above Per Week via PiggyVest
1. First of all, visit the PiggyVest website using this referral link to create an account and download the app (Note: Signing up without using the referral link will make you lose the ₦1,000 welcome bonus).
2. Fill in your details, including your withdrawal options.
3. Activate your account with at least N100 by linking your Debit Card to the platform. Once your account is activated, you are good to start saving.
4. After completing the activation of your PiggyVest account, click on REDEEM YOUR ₦1000.00 BONUS🎉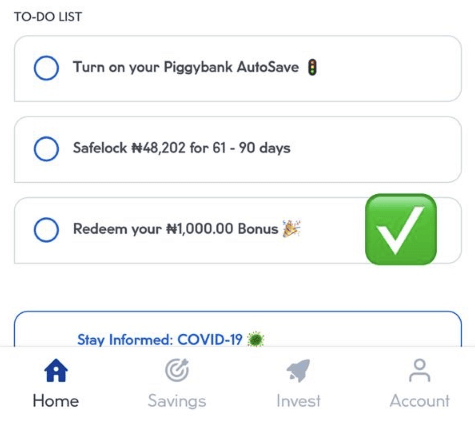 Note: The money belongs to you and you can cash it out whenever it's moved out from the Safelock. You have nothing to lose.
Now click on Account Tab, Then tap on Refer and Earn ₦1000.00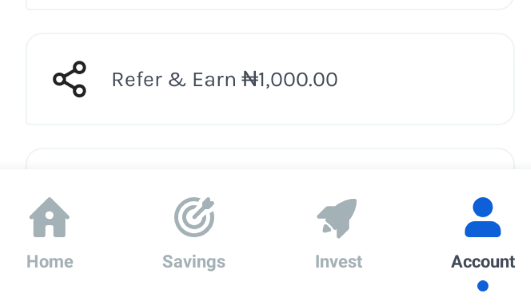 Copy your referral link and share it with your friends, you will earn free N1000 for every successful referral.
How To Withdraw Your Earnings From PiggyVest
Withdrawing your earnings from the PiggyVest app is easy, but can be confusing at first.
1. To be able to withdraw you will need to verify your email address if you haven't verified it before.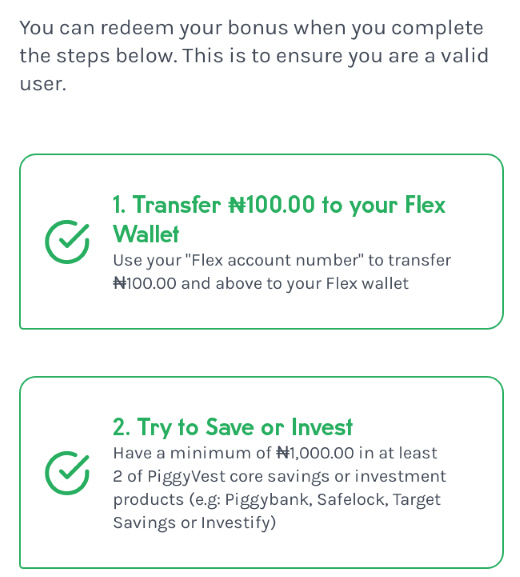 2. Then, you will need to have at least N1000 on your piggyVest bank and equally have N1000 on your Safelock account, PiggyVest will issue you a personal bank account, with which you can receive money, you will need to transfer 1000 to your piggybank from your banking app or USSD code to the Providus bank.
How To Transfer to your Flex account
THE Flexnaira Account is where Piggyvest pays all your interests to; interests from Safelock, target, Investify, bonuses e.t.c. Earnings from this account can be withdrawn anytime at no charge. Flexnaira is compulsory because without Flexnaira you won't get your interest and bonuses. All funds in your Account are yours anytime.
Flexnaira works exactly like a bank account. It has an account number domiciled with Providus Bank Nigeria. With this account number, anyone in Nigeria can transfer money to your Piggyvest Flex account through their bank. You can send funds from your Flex account to other Piggyvest users or withdraw the funds to your bank account instantly.
To Transfer N100 or N1000 to your Flex Account – Go to the Flex account section, verify your details to get a flex bank account, you will be issued an account number, copy your bank account number, then send N100 or N1000 from your normal bank account to the flex account.
Then, safelock the N1000, select 10 days and all your referral earnings will be made available for withdrawal, after 10 days of earning.
How To Quick Save N1000 to your Piggybank
The Piggybank feature works like the actual piggy bank in real life – a box with a small opening usually used by kids to save money. In the Yoruba language, it is called kolo. It is easy for you to put money into it, but hard to get it out. When you fund your Piggybank account, you can withdraw your money on your withdrawal days. You also get an interest of 10%.
To Fully activate your PiggyVest account, make sure you put at least ₦1000 in your Piggybank. Like I said earlier, all funds and interest are yours.
To be able to withdraw your bonus, you will also need to save N1000 to your piggy bank account.
To do that, select Piggybank from the home page, then click on QuickSave, input the amount then choose the destination as Piggybank, proceed to make payment with your credit card or through the bank.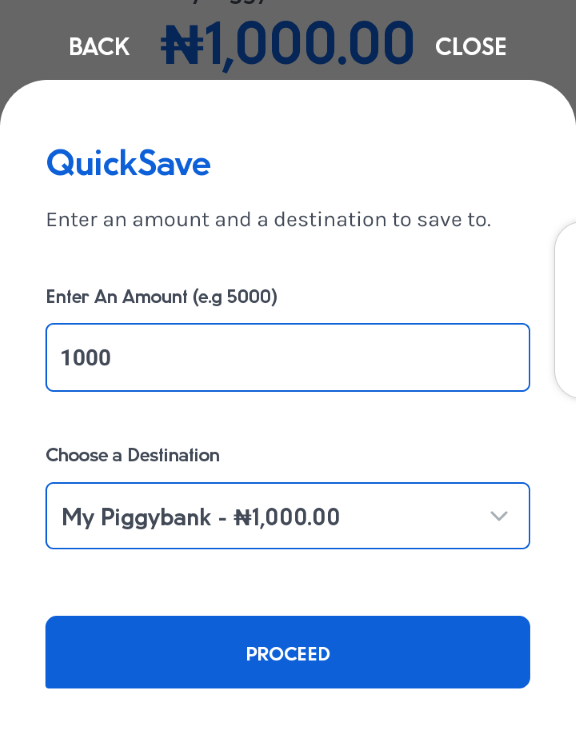 After completing these two steps your bonuses and earning will be available for withdrawal after 10 days.
However, if you can't wait for 10 days to withdraw your earnings, you can withdraw anytime, but you will be charged a withdrawal fee of 5% of the amount you withdrew.
To do that, Navigate to my account tab, Select Withdraw, select the source of the withdrawal.
Input the amount you wish to withdraw, select the funding source for the withdrawal fee, input your password, and then proceed to click on break funds.
The amount will be sent to your bank account within a few minutes.
Conclusion
Piggyvest is undeniably one of the best apps for saving money in Nigeria. A lot of people have used this app without issues. Saving money in a bank account is good, but what happens when the urge to spend the money on things that you can live without comes? How about the card maintenance charges, SMS charges, USSD charges (*737*) e.t.c?
Moreover, Piggyvest pays more interest than any bank will pay you for a savings account.
The Piggybank Safelock feature is a powerful tool that can improve your finances. I and many other Nigerians have used it and it has worked for us.
Don't forget to navigate through your PiggyVest account and get used to it… It is one of the best apps for making money these days.
Drop your comment and don't forget to share this post with friends via any of the share buttons below.