This is another mobile app that is currently paying for referring friends, just as PiggyVest, Branch App, JumiaPay, Opay, and others. The app we want to talk about now is called Baxi Mobile App, it pays N400 per referral and credits you immediately your referral registration is completed.
What is Baxi Mobile App?
The Baxi mobile app is a unique multi-functional Android mobile app that enables users to buy/sell different types of digital products and services like sending and receiving money, buying airtime, paying Bills, Cable TV subscriptions, etc.. Through a one-stop-shop strategy, taking away the user's stress of having to liaise with several product vendors, the Baxi app can be used to derive a regular source of income and to help build thriving businesses.
Also, it offers POS service which is known to be the Baxi Mobile POS app through the app, you can get your POS box to start making cash with it, too awesome, right?
The app has so many functionalities that you can explore as soon as you are done with your registration, but that's not where we're going to today.
The main purpose of this article is to show you how to register and make money via the Baxi mobile app referral program and which I will like to go straight to the point.
Now let's go to the main purpose of this article.
How To Make Money With Baxi Mobile App
Making money with Baxi Mobile App requires 3 steps which will be discussed in detail in this article.
The steps are:
Open a Baxi account
Verify your Baxi account.
Refer people and earn.
It's as simple as that. Now let's take the steps one after the other.
Open A Baxi Account
First of all, download Baxi mobile app from the Google Play Store here and install it.
Open the Baxi app and click on sign up, you will be redirected to the registration page as shown in the picture below.
Click on Register with BVN. Don't panic, your BVN is 100% safe with this app.
You will be taken to a page to fill your details, click on the camera Icon and take a selfie of yourself, make sure it's clear and show your face boldly.
Enter your BVN in the space provided for BVN.
Enter your email address in the space provided for the email address.
Enter your preferred username in the space provided for the username. Note that the name must be up to 8letters, it can also contain digits if you like.
Your valid phone number that is inside your phone at the point of registration, because OTP will be sent to it for the verification.
Enter your password in the space provided for password and the password must contain a special character, an uppercase letter, a lower case letter, and a digit.
This is the last box that asks for your referral code. Your referral code is 00027468
Make sure you enter 00027468 as your referral code.
Now Click on the continue button.
A verification code will be sent to the phone number you submitted earlier, enter the OTP, and click on the verify button.
Congratulations, you have successfully created a Baxi mobile app account, now click on the login button as shown above and enter your username and password to login to your Baxi account.
Set transaction PIN
Upon the successful login, you will be asked to create transaction PIN, enter 4 digit PIN that you won't forget. You must remember it every time because you can't perform any transaction without it.
After setting your transaction PIN, if you see any upgrade notification just skip it and go to your dashboard.
Now, we are done with the first step, let's move to the second step.
Verify Your Baxi Account
Once you're done with the registration as shown above, below is how your Baxi dashboard will look like.
Now Copy your account number and fund the account with N1,000. This N1,000 can be withdrawn back to your account immediately once it enters your Baxi app.
You can either choose Rubies or High Street MFB as your bank name at the point of the transfer from your bank account to the Baxi app.
Once the N1,000 enters your Baxi app, congratulations, your Baxi account is verified and you can withdraw your N1000 back to your account. You may also get a bonus of N100.
Refer People and Earn on Baxi
The steps required are simple as grab your referral code, tell your friends to download Baxi app from play store, or send it to them via sender. Guide them on the registration steps and let them apply your code as their referral code. That is all.
How To Get Your Own Baxi Mobil App Referral Code
Open the Baxi app and locate the settings icon at the bottom right corner as shown below.
Click on the Settings icon and you will be redirected to another page.
Scroll down a little bit and click on the manage referral button as shown in the screenshot below.
Now Click on the copy button and boom! You have copied your referral code, just sent it to your friends for them to apply it at the point of registration.
Note that 00027468 is the referral code you will use at the point if your own registration.
You will earn N400 for each friend that Register with your link and follow all the steps highlighted in this guide.
Now, imagine you referred 25 friends, that's a sum of N10,000 without spending a dime.
Even if you are able to refer only 2 friends, it's something, at least you didn't spend anything, you get it for free.
How can I Withdraw my Earnings?
This process is very simple and fast, once you are ready to withdraw to your bank account, just log in to your Baxi app and click on Transfer as shown in the picture below.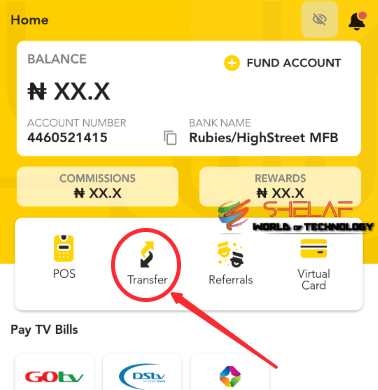 Click on transfer to other banks and Enter your bank details and boom! Your money is on its way.
How to Move your Referral Earnings from Commission Account to the Main Balance
Before you can withdraw on Baxi app, your money must be on the main balance, but your referral earnings will go directly to the bonus balance.
Now follow the steps below to move your earnings from the bonus balance to the main balance to enable your withdrawal to the local bank.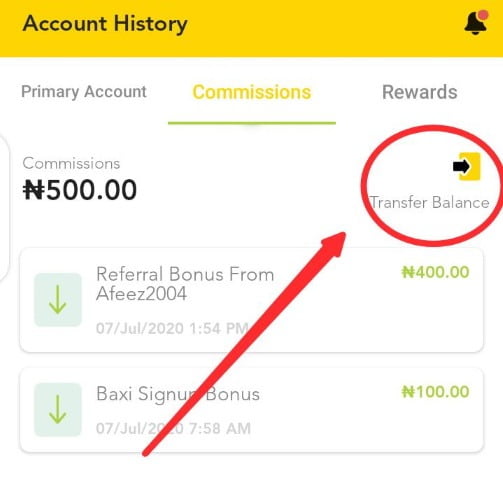 Click on your bonus balance and you will be redirected to the page showing above.
Now Click on the transfer button as shown in the picture above.
You will see a notification that you are about to withdraw your commission to your main wallet. Click on withdraw button.
Boom! Your money has been moved to the main balance and you can now go to the app home page, click on Transfer, select Transfer to other Banks, and enter your bank details.
Now that you have understood everything you need to know about the app, it's time for registration, but don't forget to use 00027468 as your referral code during the registration.