In the past, importation meant traveling overseas, buying container loads of products, waiting for 3-4 months for the ship to carry your container to arrive, and praying the ship doesn't sink. Then clearing before actually starting sales.
From the above, you can see it wasn't for the average man and it was too stressful and high risk. Technology has made things a lot easier, in fact too easy actually. Today you can sit from your house and order and sell items from any part of the world.
From this article, you will be surprised that you can successfully start a mini-importation business with as low as N10,000 and start making 6 figures within a few months. All you need is the right information and proper education about this business in order to go about it the right way without being scammed in the process.
I know a few persons who have raked in some 7 figures in pure profits within a few months and making hundreds of thousands monthly on this same business.
The major things you should look out for in the mini-importation business are hot selling products also known as winning products.
If you can research these winning products there is a high chance that you will be successful in this business.
So what are the tools that you need to start a successful mini-importation business in Nigeria?
Majorly, you already have most of these tools. And if there are some that you don't already have, you can get them easily. So here are the tools you need:
A laptop or personal computer (PC) or a mobile phone
A Fast Internet Network – A modem or wifi etc.
Valid email address.
A traceable physical location that will receive your products
Startup Capital – N10,000- N50,000 ($25 – $125) or more depending on your choice of products.
A means of making payment to the import portals – Credit/Debit Card like UBA Africard. Also, you can use either of GTB, ALAT by Wema, FIDELITY, ZENITH ATM credit card.
You will need a PayPal account to buy your products (in some cases)
A US bank account with Payoneer (It's absolutely free)
Facebook account
Secured source to get the product online
Reliable courier service
Your marketing strategy.
No Custom Worries…
Recommended: How to Open a UAE PayPal Account that can Send and Receive Payment in Nigeria
This means that you can shop for, order, and import all the products you want to sell from the comfort of your room, or while you are in transit via your mobile device or tablet.
Please note that a P.O Box or PMB (Private Mail Bag) does not qualify as a valid and traceable address.
Mini Importation Business Sagas
Before I get started by telling you how to source for products, pay for it, and get it shipped to your doorstep. Let's quickly talk about the saga that has been painted otherwise.
You may have been told that you can start importing products as low as N10,000 and makeover N300,000 in 30 days. The truth is, your profit margin is dependent on the type of products and their unit cost.
However, you can start with that amount of money as your start-up capital base on the products I will reveal to you and make a lot of profit from it.
Secondly, they told you that you can beat Jumia and Konga or even the PayPorte competition overnight. Meaning you will be successful almost immediately. Well, the truth is to succeed in any business, be it online or offline. You must have a formidable strategy. Your mini importation business will blossom as a result of your strategy.
Lastly, Jumia, Konga, and even Payporte did not acquire their success overnight. If your brain serves you well you will remember that Payporte had to sponsor the Big Brother Naija show which skyrocketed their business.
Overview of Mini Importation business in Nigeria
Before we dig deeper, it's important we know the thick of this business. What is the importation business?
As the title connotes – The importation business simply means buying products from overseas at a relatively cheap price and resell it at a high price. It is simply buying and selling.
In addition, Mini importation does not necessarily mean small importation. It all depends on the size of your pocket. You can import products as high as 10 million and resell them to make over 200% profits.
And at the same, you can buy products as low as 10,000 and make profits of over 50,000, to say the least.
How is Money Made in the Mini Importation Business?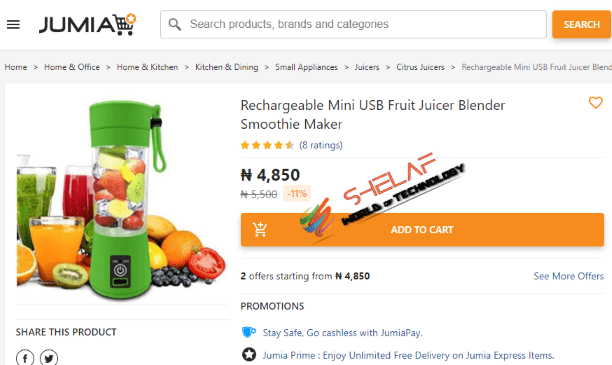 The above rechargeable blender cost roughly N5,000 in Nigeria.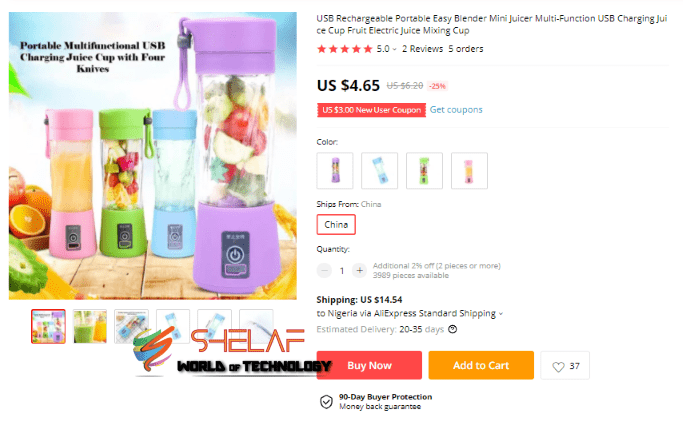 Look at the price on aliexpress.com, the price is $4.65. $4.65 x 380.50 = N1,769.32… That's cheap, right?
Here is another example: Romantic Starry (women wristwatch)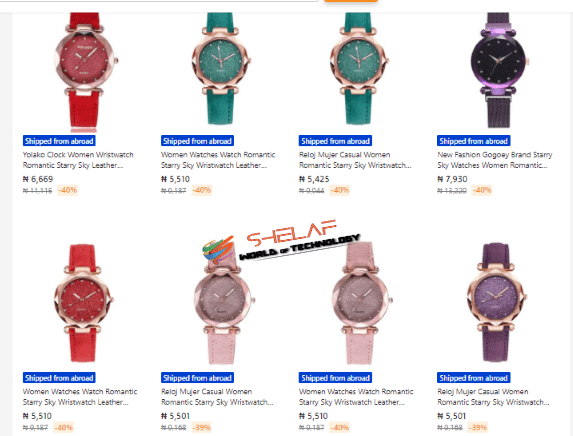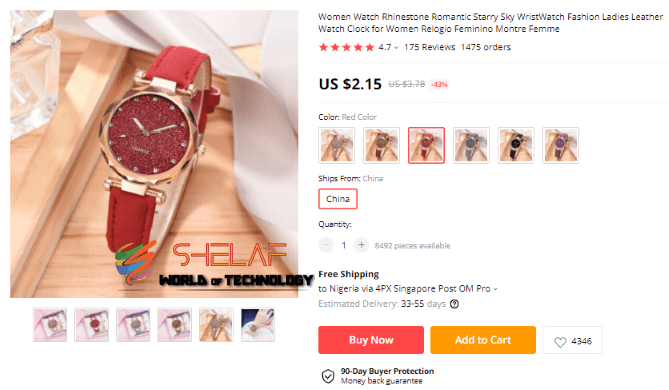 As you can see one is sold between N5,500 – N8,000 in Nigeria. Whereas, you can get 5 of it for just N7,895.4 from the China online store. Imagine how much you will make as a profit when you order for it in the bunk.
From the above screenshot of the Rechargeable blender, you see that a product of $4.65 costs $14.54 to ship within 20-30 days. That"s over 3 times the cost of the product.
When you do this, is that you pay more for the shipment of the goods than the actual cost of the product itself and you will have to wait for a long period of time before getting your product. A smart importer will not use this method because only a little profit will be left.
Don"t be scared! There is a way forward – the secret to shipping at a very low price is by using a logistics company to ship your product from China to Nigeria. This is the main tip you can't get anyhow on the internet, but here I will tell you the trick, just relax and continue your reading.
Step by Step Guide on How to Start A Mini Importation Business in Nigeria
Source for Products
Buy from a reliable supplier
Pay for your products
Product delivery
Getting the brother-in-law price & free shipping
Finally, market your products
Sell your products and make money.
Step 1. Source for Products
The first thing you need to do if you want to embark on this journey is to source for your product. Here is what you should know. Most of the supplier's websites are China-based.
You probably might be thinking of why China? Well, China is the largest producer (hot and fast selling products) in the world and their products are extremely cheap.
You can buy virtually anything from china ranging from clothes to personal products to health products. There are so many online sites today where Nigerians can buy items cheaply from china and have them delivered to their houses.
However, not everyone believes in online purchases because of bad experiences some of them have had. The belief is always that everything online is a scam.
However, the belief, it is not always the case when the rules are followed to the letter; one can actually avoid being scammed by buying from trusted sites and following the rules of the site. I personally advise that you buy from sites having Escrow service. What is an Escrow? You might want to ask. Don't worry, you can get the meaning in any good dictionary or better still just relax you will know what it means in the next few sentences so just read on.
There are many international shopping websites you can use to import your products, some of which are:
❖AliExpress – www.aliexpress.com
❖Dhgate – www.dhgate.com
❖IPmart – www.ipmart.com
❖1688 – www.1688.com
And many more.
What you need to do now is head over to the above website and create an account with them. Also, make sure you confirm your registration.
It's nothing difficult if you can create your Facebook account then you should be able to create an account with those too.
Once you are done with the registration, browse around the website and check for products you can buy and resell in Nigeria.
Step 2. Buy from Reliable Supplier
This might be the most important part you shouldn't take lightly. Like I said earlier that the Nigerian government is to be blamed for the lack of restrictions placed on China's inferior goods.
Because of the above, this makes some of the sellers or suppliers careless of shipping inferior products to Nigeria. But instead of being a victim of this, there are ways you can outsmart them.
This is called the power of feedback. Before you make a purchase from any supplier, make sure you check the feedback score and rating for that supplier. You can allow scroll down below the products to read customer reviews on the product you are about to ship.
This simple method will help in filtering the bad from the good suppliers.
The feedback rating is a powerful measure invented to protect customers from buying counterfeit products. You can always check if the supplier delivers as promised.
The ratings are usually between 0–100% and 0–5 star reviews. I'll recommend you always go for 90% and above rating and at least 4-star reviews.
In addition, make sure you always go through the product description. Check the delivery methods free shipping is always good if you're willing to wait.
Also, check the sellers' guarantee on the products before you ship them. All these are usually at the bottom of every product page.
Step 3. Paying for your Products
In the past years, this used to be the hindrance of venturing into the importation business. This is because there are no easy means of paying it's always a long procedure. But thanks to the internet everything is now made easy. Back in your house in Nigeria, you can make payments for products in the US or anywhere around the world. It's as easy as that.
There are several channels through which you can pay for your products, but they differ with suppliers. Some suppliers allow Mastercard or Visa card payment, some PayPal or Alipay. The point is payment for goods are now easier and this shouldn't be a barrier to you.
Also, Read: All You Need to Know About ALAT Debit MasterCard Powered by WEMA Bank
About Fraud or Getting Scammed
You might want to ask, what if you've paid and you never receive your products? Or you pay, and the product is different from the description on the websites?
Well, all these are normal questions. These websites have some measures in protecting their customers. You can call it "buyers protection " or also known as "Escrow ".
One good way most Chinese sites now secure your money is called *Escrow*. It is based on the principle of a third party company, in this case, the owners of the site, holding on to the buyer's money until the buyer receives the item in his own country and confirms that it is exactly what he ordered for, only then and when will the money be released to the seller. So you see, with *Escrow* you are covered.
In rare cases when your product happens to be different from what you order there is a "Dispute Form" that you can fill, and your money will be reimbursed.
Mind you, I'm not saying it's 100% risk-free, but it's unlikely for situations like this to arise.
Step 4. Product Delivery
Product delivery usually comes in two ways. This includes:
Free Shipping – usually slow but increase profits (between 14 to 60 days) but most time it's usually delivered between 20 to 30 days. The service company can be China Mail Air Post or Hong Kong Mail services.
Premium delivery – these deliveries are usually done by DHL, EMS, and FedEx. Although it might be expensive compared to free shipping, but it's always faster and safer (between 3 – 5days).
While the free shipping may be free, you should know tracking it might not be entirely accurate compared to the premium shipping.
In addition, while using the free shipping method you should always endeavor to put your phone number. This is because they are always delivered to the nearest post office close to you. With this, you can be easily contacted whenever your shipment has arrived.
Extra Tips to Save Cost on Shipping
1. Mess Around with Dates. It's obvious that the prices will always change with dates and seasons. Very fast means more money and slow means less money. So, mess around to save yourself some cost.
2. Remove Excess Packaging. After your first delivery go through your shipment and notice unnecessary packages that you can avoid the next time. This will help reduce the size and weight of your products.
5. Getting the 'brother-in-law price' Price & Free Shipping on 98% of Your Orders
Getting sellers to relax their conditions is not difficult as many people think.
Now, all the products on these import portals are pre-tagged with specific fixed prices, but with much familiarity, you can get the sellers to either reduce their price or wave off the shipping fee. This trick works!
Here's a little sneaky trick I use; it has proven to work 98% of the time. Please, do not abuse it… It's not a black hat, but you can call it a white hat.
Let's go…
First, I get them to chat with me, this portrays some level of seriousness in you. They start to wonder why this buyer has opted for something a little bit different. 'He/she could be a serious buyer they wonder!
Be friendly with them, crack jokes, and try to develop a personal relationship with them. If possible, ask for their phone numbers, yes call them if you can!
I tell them I'm a wholesaler in my country, and that I am new to AliExpress (or any of the portals!), hence, looking for trusted suppliers who will be able to do serious business with me at favorable prices. (The "new to Aliexpress" stunt drives them nuts!)
Tell them how there's a great demand for their product in your country, and that you're currently trying out a couple of sellers on the import website. Whoever sells to you favorably automatically wins your heart and becomes your lifelong supplier.
Just tell them you're interested in their product, and if they can promise to serve you favorably, you can forget every other seller you ought to have contacted and order from them.
At this point, the seller should say YES, (He is ready to serve you fine).
Ask them if they can reduce the price for you (if the product comes with free shipping already) or knock off the shipping fee for you (if you're okay with the product price).
Because of the picture, you painted (wholesaler in your country, and that's what you intend to be, isn't it?), they will want to make you a life-long customer.
Hence, may want to relax their conditions to win you over.
Now, don't expect to win in every case using this method. At times, you may find stubborn sellers stick to their conditions. In such a case, you either dance to their tune or move to the next shop. Remember, there are thousands of them in each of the portals.
The truth is, if you do your homework well, build a tight rapport with the seller, you must get some sort of discount from the original price.
Let's look at another example, a product that requires you to pay the shipping fee.
You find a product that comes with some shipping fee… (Shipped through either DHL, FedEx, or EMS!)
In most cases, except when you're talking about high-priced products, the cost of shipping a product through any of those mentioned above means is always greater than the cost of the product in many cases.
In that case, here's what you do to have the product shipped free to you.
Note: I can guaranty that you'll get free shipping for all products that come with some shipping fee, but won't guarantee that 100% of the time, you'll get your item shipped free via any of DHL, FedEx or EMS.
Copy that?
Free shipping all the time, but must not be shipped via any DHL or EMS.
You know the reasons already!
The costs of sending via DHL, FedEx, or EMS is higher, and except either you've built a tight relationship with the seller or you're buying a good number of their products; they'll always be slow to give a node to your free shipping request via any of these means. It" understood!
The truth is, almost all the sellers in these portals (especially AliExpress) would easily ship your goods to you for free via any other means apart from DHL, FedEx, and EMS if you use the sneaky trick I talked about earlier very well.
Let's look at a practical case study below.
There was a time I want to order for the Automatic Toothpaste Dispenser with Dust-proof Toothbrush Holder, the price is $4.89/piece, but goes with a shipping fee of $37.24 via EMS which is even more than the item price.
So I chatted with the seller and I requested that she wave the shipping fee.
Within a few minutes of our chat, she agreed to send the items for free, but via China Post (which should not take lesser than 14 days!)
But because I wanted the items to get to my place faster, I pressed on to have the items sent via EMS.
Then after about 8 minutes of our jovial chats later, she relaxed her conditions, which favored me greatly.
She finally agreed to send my items free via EMS if the sum total of my order is up to $300. Condition right?
I quickly ordered and in exactly 5 days, I received the orders.
What's more?
I got all my subsequent orders shipped to me via EMS for free.
$37.24/item EMS shipping fee for each of the $4.89 Automatic Toothpaste Dispenser with Dust-proof Toothbrush Holder waved!
Lesson: Building a good rapport and business relationship first, makes the big difference guys! Do it!
Thanks to the sneaky method.
Now, upping the total sum of your order might not be the thing with every Seller. The tempo might change with different sellers, depending on the business rapport.
That settles the tip on getting the brother-in-law price and getting free Shipping!
You May Also Like to Read: 8 Reasons Why You Should Have Payoneer Account
Step 6. Market Your Product Even Without a Website
This is by far the most important aspect of the business. It will almost amount to a total waste of time and resources if you succeed in importing stuff at dead cheap prices and end up getting stuck with distributing and selling them off to make a profit.
As a matter of fact, any serious importer would want to make sure there's a market already for the products even before s/he imports. That's why in this chapter, I'll be handing you some fail-proof methods to sell your imported products even without a website.
Yes, without a website!
There are ways you could do that… they include:
Selling to the Resellers
The Bait or Other People's Money (OPM) Method
Kill & Divide Method
The 'Pick Up Point' Method
Get A Shop
Referrals Method
Handbills or flyers publicity
Local Ads, e.g. Magazine, newspaper
Internet marketing, etc.
There are several methods you can choose to market your business, but for the sake of this post, we'll do just the internet for now.
So, how can you market your products on the internet?
This alone on its own it's a full cause for another day. But for now, the one easiest you can easily grab is Facebook marketing. Facebook is a full marketplace that can never be exhausted.
How many times have you logged on to Facebook to find people advertising stuff on the middle or by the right-hand side of your screen?

In case you don't know? Many of these guys that advertise their business on Facebook do not even have an office!
Yes, they sell their stuff right from their Facebook fan page.
How do they do this?
A simple Facebook fan page that is free, then promote it with Facebook Ads.
Let's say you wish to sell something like Smartwatch, what you do is to create something like "Affordable Smart Watches For Nigerians", advertise it to get targeted fans to it, and then sell to the fans of your page using simple status updates.
Step 7. Sell your Product and Make Money
Finally, once you are done with marketing, obviously potential buyers are going to start rushing your way if you've done a good job.
You can either create an online store for your products and list them online or do it with the popular method if you don't have the money yet to build an online store.
And, if you are interested in creating an e-commerce website, you can contact me via this Contact Us Page. I can design and develop a fully dynamic & responsive Website or Landing Page for you that will be eye-catching, responsive, Google-friendly at affordable rates.
For the latter part, you need to work with some courier agent to deliver your product and collect your money on your behalf. Among them are:
Ace.ng
Courier plus
Kos.ng
skyNet
Austin Dispatch, etc.
Some of them will require you to pay a certain fee to get started while some are free.
Finally, you should have it at the back of your mind that every business has its own ups and downs. One of ten of every order might be returned from your customer, but that shouldn't discourage you. The profit margin will definitely cover-up.
Thank you for being a valued reader.
Don't forget to drop us a comment and share the article with your friends and family.