A few weeks back, Fortnite rebelled against Apple by bringing its own direct payment system which is a major violation of Apple and Google's policies and this led to its outing from the App Store. Subsequently, Google removed the Fortnite Game from the Play Store due to the same policy violation. All of this has led to a bitter war between three big entities and gamers are facing the brunt of it.
For Android, you can still download and install the Fortnite Game via the Epic Games app without the Google Play Store, the same cannot be said for new installs for the game for iPhones or iPads.
That's the reason why some people are now reselling iPhones with Fortnite pre-installed for thousands of dollars. However, you can install the Fortnite iOS game on your iPhone or iPad if you have previously downloaded the game on your device.
So in this article, we bring you a short guide on how to install Fortnite on Android without Play Store and how to install, or rather reinstalls, the Fortnite game on your Android devices or iPhone/iPad.
Also, we have mentioned a simple guide for Samsung devices. You can also go through the last guide in case you are facing any installation issue.
Install Fortnite Game on Compatible Android Smartphones
1. Use a web browser on your phone and surf to the Fortnite.com/Android URL.
2. You should see a banner telling you to get the Epic Games app. Tap on it.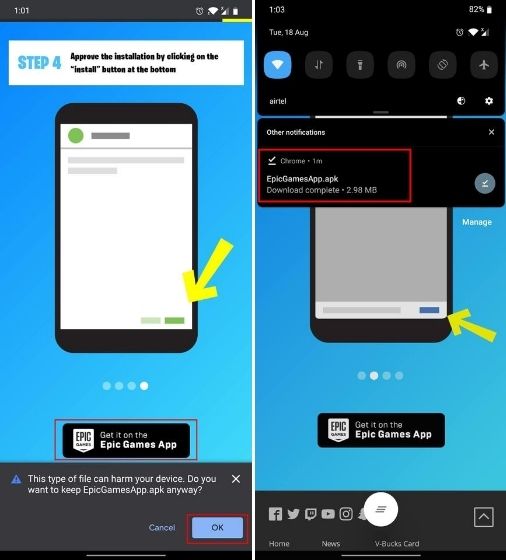 3. You will see a warning claiming that this type of file can harm your device. Tap on "OK" to proceed anyway.
4. You will then see the EpicGamesApp.apk file downloaded. Tap on the "Open" link.
5. You might be told that your browser cannot install apps from this source. You will then have to go to your browser's settings, and then tap on the slider or option to allow the browser to install the app from that source.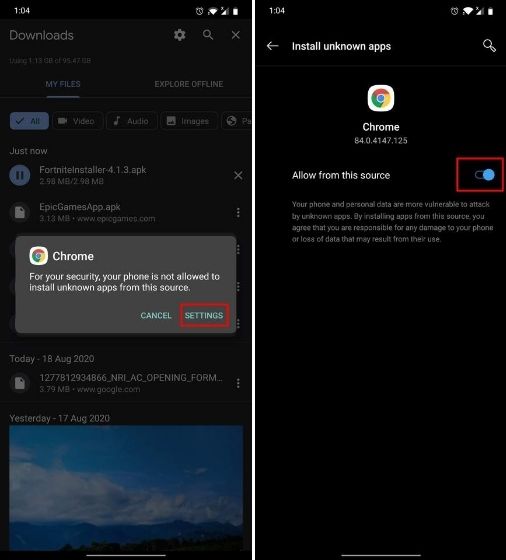 6. Finally, you will be asked by the Epic Games app itself if you want to install it. Tap on the "Install" option to do so.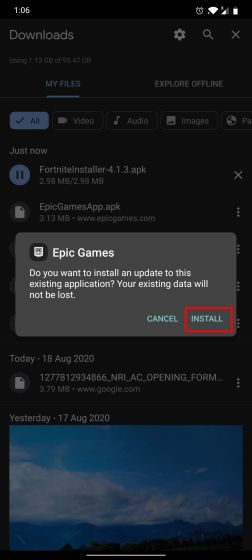 7. The Epic Games app should now be installed on your Android device.
That's it. So this is how you can install Fornite Game on Android without Play Store.
Install Fortnite iOS Game on your iPhone or iPad
1. Open the iOS app store, and then tap on the account icon on the top right corner.
2. Tap on the Purchased section.
3. Tap on the My Purchases option. You should see a long list of all of the app purchases you have made under your account.
4. Search for Fortnite on your My Purchases page. When you find it, tap on the cloud icon next to it.
5. That's it. The Fortnite iOS Game should then be installed on your iPhone or iPad.
6. Keep in mind that you will still have to download most of the game's content from inside the Fortnite iOS app after you reinstall it on your iPhone or iPad.
The future for Fortnite Game on iOS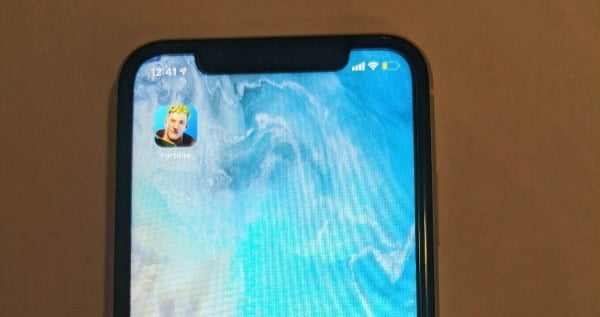 Right now, Epic and Apple are feuding, both in public and in court, over Apple's App Store rules. At the time of this article, Apple claims it will take away Epic's access to the company's iOS and Mac developer tools on August 28. That could halt future updates to Fortnite for iOS (and indeed for any iOS or Mac game that uses Epic's Unreal Engine).
Install Fortnite Game on Android Without Play Store (For Samsung Devices)
1. If you have a Samsung device, then it's even easier to get Fortnite Game running without Play Store. Just open the Galaxy Store and search for "Fortnite". You can also click here to directly open the Fortnite page on Galaxy Store. After that, tap on "Install" and it will start installing Epic Games.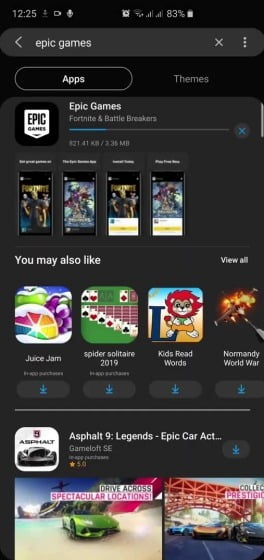 2. Now, open Epic Games and install Fortnite just like the above method. So this way, you can get Fortnite Game on Samsung Android devices without Play Store.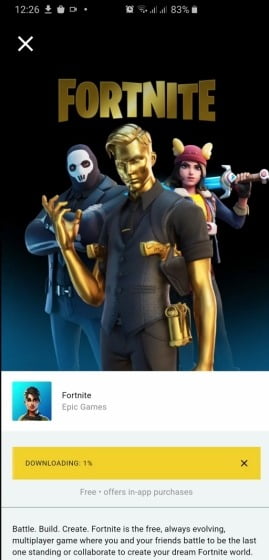 App Not Installed? Here's The Fix for Fortnite Game
On some devices, mostly OnePlus, the Fortnite Game installer is not getting installed which is quite weird. After tapping on the APK, the device promptly says "App Not Installed".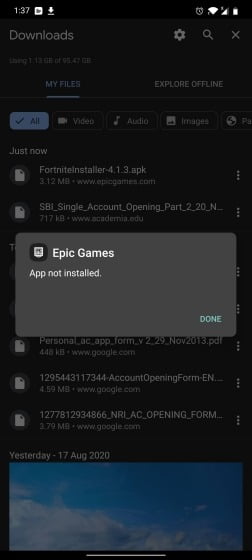 However, after further inquiry, I discovered that Epic Games is installed in the background, but there is no direct way to launch it. You won't find the shortcut in the launcher either. So, to access Epic Games on OnePlus devices, you need to go through a different route. Here is how you can do it.
1. Install Activity Launcher (Free) on your OnePlus device and open the app. Here, scroll down and find "Epic Games". Expand it and open the first listing.
2. Immediately, Epic Games will open up and you will be able to install Fortnite Game without any issue. You can also press and hold on the listing to create a quick shortcut on the home screen.
That is all for now. If you found the article helpful then comment down below and let us know.