This is a unique offer from GTBank to their internet banking users. Aside of the Branch App and PiggyVest that are still rewarding ₦1500 and ₦1000 respectively on each friend you invite. Guarantee Trust Bank has likewise given out ₦1000 worth of Airtime when you purchase internet data using their mobile app.
As a means of encouraging customers to be using their mobile app, GTBank has attached an offer to the mobile app in which anybody that carries out the task on time will be selected for getting the GTBank free 1000 airtime.
How To Benefit From Gtbank Free 1000 Airtime Offer
You just need to purchase data of N3,000 for yourself or others using the GTBank mobile app.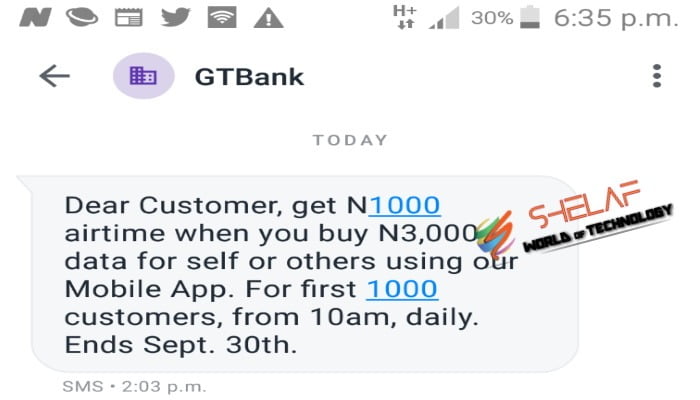 The offer is for the first 1000 customers, from 10am, daily.
The offer will last till September 30th.
It sounds cool, but let me tell you a secret about this.
If you wish to participate in the offer, you have to target the exact time that they said it will start which is 10am.
Login to your GTBank mobile app 5 minutes before the time, because the offer is for the fastest fingers.
Once it's the exact time, go ahead and carry out the process, once it's even 10:01 or 10:02, you are late already, so don't try it. You have to wait till next day.
Note that about 6 million GTBank customers are making use of the Mobile app and what do you think will happen during the time of offer… Lol, you may be unlucky once the time passes even a minute.
No dulling guys, join the trend and enjoy!