Shenzhen-based smartphone company, Infinix has launched its new X1 Android Smart TV in Africa and particularly the Kenyan market.
This new TV is powered by Android that Infinix promises to offer a high-quality viewing experience and good functionality thanks to AIoT technology.
Infinix X1 Android Smart TV makes it easier for users to access 400,000+ movies and shows, play music and games, cast from any device onto their TV, and add the apps they use most.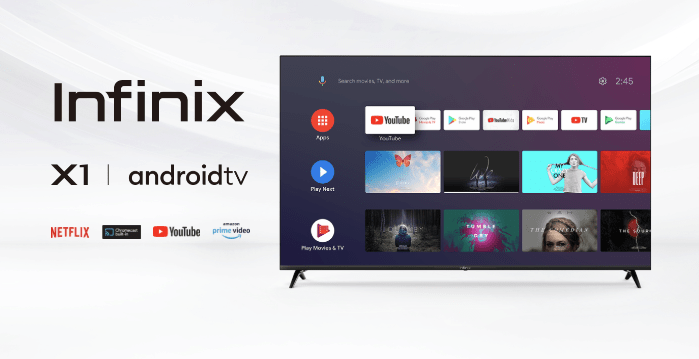 The TV is also preloaded with Boomplay Music, a popular music app in Africa.
Infinix claims they have precise insight into African users' love for music, so the X1 is preloaded with Boomplay Music, one of the most popular music apps in Africa. Boomplay is also owned by Transsion which owns Infinix, TECNO, Syinix, iTel, and a couple of other brands.
It sports a frameless design, which substantially increases the screen-to-body ratio. To create an immersive home theatre experience, the Android Smart TV also comes with the 24W high-quality speakers and supports Dolby Audio and AAC sound effects.
The Infinix X1 Android smart TV comes with built-in WiFi, Netflix, Amazon Prime Video, Google Play Chromecast, High Dynamic RangeHDR, and Dolby Audio. It comes preloaded with Android 9 Pie out of the box.
The Infinix X1 will retail at KES 31,990 (USD $295) for the 43-inch and KES 19,490 (USD $179) for the 32-inch.
We don't know when and if it will find its way into other African Markets but it is already available for purchase in Kenya.