When visiting the app's Explore page, Instagram is making it simpler for users to select how much sensitive content they view.
On Tuesday, the social networking platform released a new feature dubbed "Sensitive Content Control," which allows users to control how much potentially problematic content shows in Explore, the part of the app where posts from accounts they don't follow.
Formerly, Instagram relied on a set of recommendation criteria to guarantee that users in Explore didn't come across potentially unpleasant or offensive content. Users may opt to maintain the default setting, which shows a restricted amount of sensitive content or minimize the amount of sensitive stuff they view even further using the new tool. Those above the age of 18 will also be able to approve any and all postings that are judged sensitive.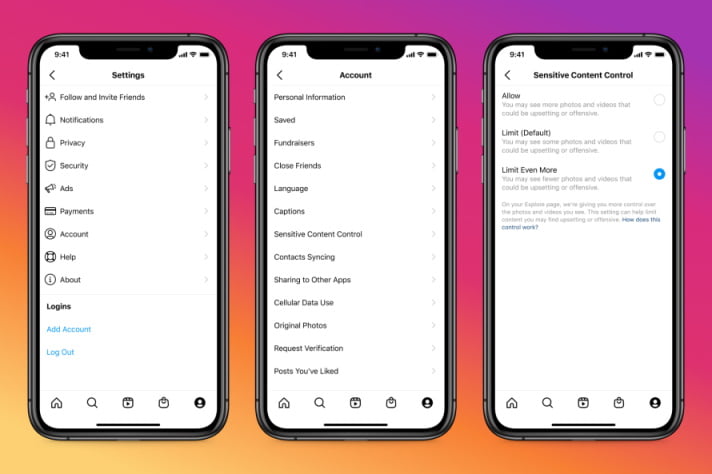 While Instagram's content moderation policy prohibits certain types of problematic content, such as hate speech and harassment, this new "sensitive content" option applies to posts that may offend some users, such as those that are sexual or violent in nature, but do not necessarily violate the app's content guidelines.
Users may now select how much sensitive information shows on their Explore page thanks to a new feature provided by Instagram.
In a statement, Instagram parent firm Facebook (FB) stated, "We realize that everyone has different preferences for what they want to view in Explore, and this feature will give users more choice over what they see."
This change comes as Instagram and other social media platforms trying to address user concerns about content control and safety. Instagram has added the ability for users to conceal likes and to prevent particular followers from interacting with their profiles. Facebook is also being chastised for failing to restrict the transmission of other sorts of harmful content, such as disinformation regarding the Covid-19 epidemic and vaccinations.
Users may find the new option in their Instagram accounts' Settings menu by heading to "Account" and then "Sensitive Content Control."