MTN Nigeria, along with its customers, will be celebrating two decades of providing top-notch services to Nigeria and increasing society's well-being. They realize that they could not have achieved their goals and milestones, without the help of their customers. Customers have played a significant role in MTN's expansion in recent years. Indeed, if there's one thing that comes to mind when it comes to their service philosophy, it's "We are because you are."
In honor of the company's 20th anniversary, MTN has prepared a number of exciting deals for all Prepaid and Postpaid customers to commemorate the occasion and thank consumers for their continued support and loyalty over the years.
The offers are as follows:
The first call of the day is free for up to 5 minutes.
Free 200MB Data Bonus
MTN 20th Anniversary Free 5 Minutes Call, 200MB Data Bonus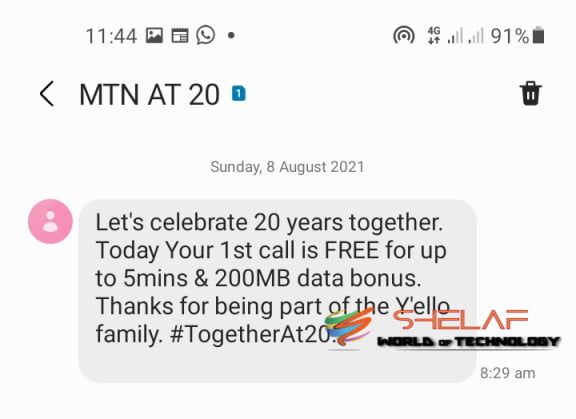 Here's everything you need to know about this tasty anniversary deal:
Will I be notified about the Anniversary Promo?
Yes. You will hear an IVR announcement and receive a start of call notification whenever you make your first call on the anniversary day (8th August 2021). When you start your first data session, you'll get a push notice from USSD.
Is it necessary for me to opt-in to take advantage of the Anniversary Offer?
No, you will NOT be required to opt-in to enjoy the Offer.
1: To enjoy the FREE 5 Minutes on your first call of the day, simply call for up to or more than 5 minutes on the anniversary day, since subsequent calls will be billed from the main account/bundle/bonus account as appropriate.
2: To get the 200MB of free data, simply connect to the internet using your MTN connection.
What kinds of things can I do with my Anniversary Offer?
The free 5 minutes can only be used to call On-net or Off-net numbers, whereas the free 200MB can be used to visit any website.
How do I check the balance of my Anniversary Offer?
Simply dial *556#, *131*4#, or SMS 2 to 131 to check your Anniversary Data Offer balance.
Note that you won't be able to see your free minute balance because it only applies to your first call of the day.
What is the duration of the anniversary offer?
The FREE 5 minutes and 200MB data will be valid for 1 day and will expire at 11:5 p.m. on August 8, 2021. All unused free minutes and data will be canceled from your account.