Hello everyone, today we're going to talk about crypto leverage trading. And I'm extremely eager to share some crucial terms with you as well as walk you through the fundamentals of crypto futures trading and explain how it works.
In this article, I will explain what is going on and how you can potentially turn 10x, 20x, or even 100x your initial capital and stand a chance of making much more profit from crypto futures trading.
I'm going to show you how to transform $10 into $1,000. So, if this sounds interesting to you, you want to accomplish something similar. Make sure you signed up for our email newsletter, share our articles using the share buttons below the article, and follow Shelaf on social media, to ensure that you do not miss any of my future publications.
We're starting right away. I would like to start with some very basic and key terminologies of leverage trading.
What is Leverage Trading?
Leverage trading is a useful tool. It can assist investors in maximizing returns on even tiny price volatility, drastically growing their wealth, and increasing their exposure to their preferred markets.
Yet, it's important to remember that leverage can work in your favor or against you. When asset prices move in your favor, you stand to benefit more, but you also stand to lose more when prices move against you. When you trade with leverage, you put down a 'small amount,' but you gain control over a much more significant trade position in the market.
Advantages of Leverage Trading
Increases Capital: Leverage increases the amount of money that can be invested in different markets. With a 100:1 leverage, for example, you can manage $100,000 in trading capital with only $1,000. As a result, you'll be able to allocate significant funds to different trade positions in your portfolio.
For example, if you have $10 to trade with and invest that into futures trading, you can use some collateral funds to x your $10 by 10x. 10x means 10×10 which is equal to 100. Thus, your $10 will assist you to trade with $100 because you have borrowed some money with it, which is leverage. You can 20x your $10 which means you can be trading with $200. You can 30x your $10 which means you can trade with $300. You can 100x, your $10 which will mean can trade with $1,000.
Loan with no interest: Leverage is a loan from your broker (Binance) that enables you to take a larger position in the market. This 'loan', carries no interest or commission obligations, and you can use it when trading.
Profits multiplied: Traders can profit from trades that go in their favor by using leveraged trading. Profits are made on the trade positions that are managed rather than the margins that are put down. This also means that traders can make a lot of money even if the underlying assets only fluctuate a little bit in price.
Mitigating the Effects of Low Volatility: Market price movements are frequently accompanied by periods of high and low volatility. The majority of traders enjoy trading since it allows them to profit from market swings. As a result, low volatility periods can be extremely irritating for traders due to the lack of market movement. Thankfully, leveraged trading allows traders to potentially make more money even during these seemingly "boring" periods of low volatility.
Premium Markets Trading: Traders can use leverage to trade instruments that are seen to be more expensive or prestigious. Some instruments have premium pricing, which can keep many retail investors out. However, such markets or assets can be traded using leverage, exposing the average retail investor to the numerous trading opportunities they provide.
Now there are also downsides of leverage trading. So I'll also want to give you the disadvantages of using leverage.
Disadvantages Leverage Trading
Amplified Losses: When trading with leverage, the main danger is that, like profits, losses are compounded when the market goes against you. Although leverage requires a small initial investment, losses can be substantial because trading results are based on the total position size you control.
Risk of Margin Calls: When floating losses exceed your utilized margin, your broker will issue a dreaded 'Margin Call.' When you have open trading positions in the rapid and dynamic financial markets, there is always the potential of a 'margin call' because leverage magnifies losses.
Warning
I advise you should not over-leverage. Don't over-leverage so that you don't stand in a position of higher and bigger losses. I hope I made myself clear.
Key Terminologies
There are two terminologies that you will come across in Futures trading, which are Cross and isolations.
So, let's talk about the two terms.
When you use Cross: it means your entire capital will be liquidated should the market go against you.
When you use Isolation, only the money which you have on trade may be liquidated, so you have much more money left maybe to open another position or should you want to back out of the market.
Keep reading the article, I'm going to be showing you how this works.
There are so many platforms where you can perform your future trading, but I love to use Binance. So, I will be using Binance for this tutorial.
Binance Account Opening
If you already have a Binance account, you can use your existing Binance account. If you are yet to have a Binance account, click here to register an account for free, and make sure you verified your account before starting cryptocurrency trading.
If you are using the mobile app, use this referral ID: 88331204 to register.
Binance app for Android – Download Here
Binance app for iOS – Download Here
Binance Account Verification Process
You can access the Identity Verification from [User Center] – [Identification] or access it directly from here. You can check your current verification level on the page, which determines the trading limit of your Binance account. To increase your limit, please complete the respective Identity Verification level.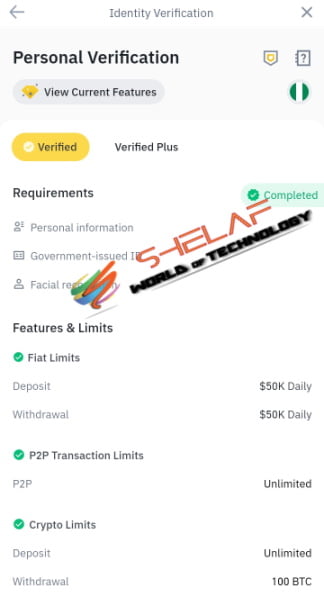 Information required to move to Level 1 includes:
Email
Full Name (first, middle, and last)
Date of birth
Residential Address
Nationality
Users must also submit a copy of a Government-issued identity document as well as a selfie of themselves.
Accepted Government-issued identity documents:
Driver's License
International Passport
Identification Card
Leverage Trading with Binance via Futures Wallet
The very first thing to do is to transfer some funds from spots to your futures.
How to Transfer funds from spots to futures wallet
1. In your Binance, go to your Wallet >> Futures.
Please note that USDⓈ-M Futures and COIN-M Futures do not share the same wallet. Select USDS-M Futures for the sake of this lesson.
2. Scroll down to the Assets widget in the bottom-right corner of your Futures trading interface. After that, select Transfer.
The pop-up window will allow you to transfer USDT from your Spot wallet to your Futures wallet. Both of these wallets belong to you and transferring funds between them is free of cost.
3. Choose the assets you want to deposit into your Futures account. Binance Futures accepts a variety of cryptocurrencies as collateral. You can use assets like USDT, BUSD, or supported cryptocurrencies to fund your account (i.e Bitcoin and Ethereum). Click Confirm after entering the amount.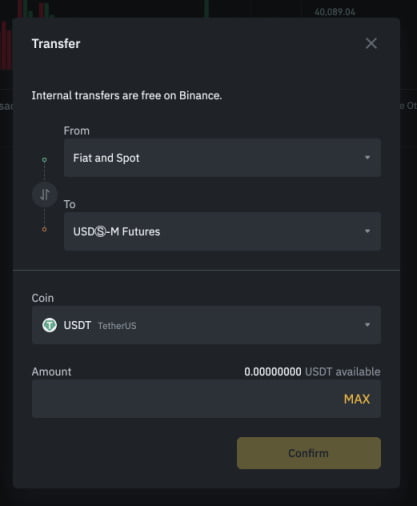 Congratulations! Now you know how to transfer your funds between the Spot and Futures wallets.
4. After your assets have been successfully moved to your Futures Wallet, go to Assets to see your available balance.
How to turn $10 into $1000 (Binance Futures Trading)
Once the transfer of your funds to your future wallet is completed. Hit on the futures button at the button of the app.
It will take you to the futures trading page. If Binance Futures Trading is new to you, make sure you watch the introduction video pop-up for you by clicking on the Start Now button.
Select USDⓈ-M, Hit the BTCUSDT Perpetual to search and select your preferred crypto.
I will use MATICUSDT as an example. You are free to select your preferred crypto once you have done proper research on it.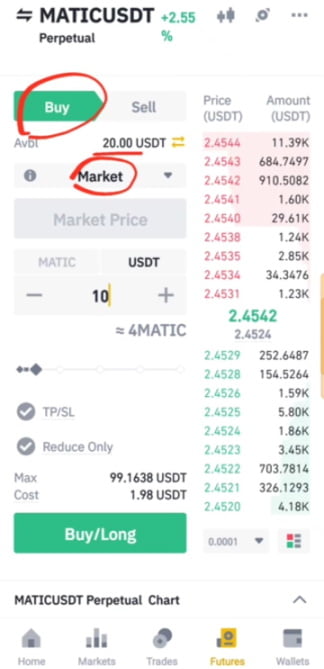 You need to select either the Buy or Sell button, select Buy since you are opt-in for the trading.
Hit Margin Mode and change it from Cross to Isolated.
Click on Adjust Leverage and adjust it the way you want, mine was set to 5x, which is my leverage, the kind of collateral that I'm taking and it means I'm trading at a higher capital.
You will see your trade balance under Avbl, as you can see from the screenshot mine is $20
In the box follow, click on it, and select Market.
Next is to input the amount you want to go in for the trade.
I select $10 which is the initial investment.
On the right side of the page, you can see what is happening in the current market price. And, just like I made mentioned in my brief overview, we already know about the Margin and Cross section.
Finally, you need to hit the Buy/Long button
Once done, you should see a success message pop up and your trade will start running.
After that, look at the bottom of the Buy/Long button, you can see that you will have 1 position right there.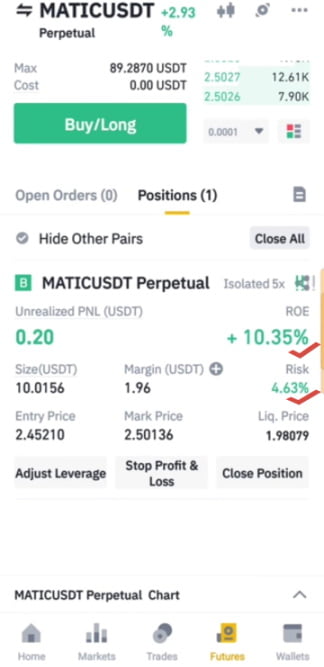 Click on it to see what is going on about your current crypto trading.
From the screenshot above, you can see that I'm already at +10.35% profit. You can see the risk level is 4.63%, which is just awesome. It will keep going up and down.
Remember, I went in with isolation, not cross. Isolation means only the money that I put in the trades has a chance of liquidating.
You could set your stop loss or take profit right by clicking on Stop Profit & Loss button.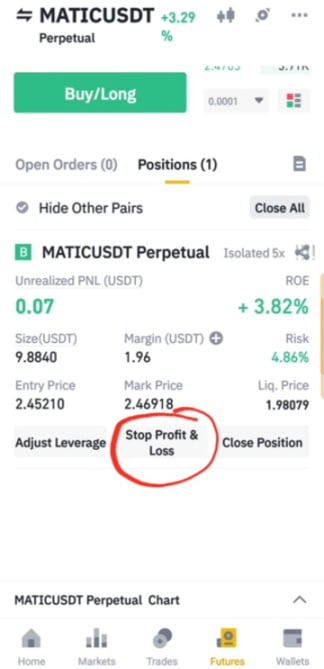 You can set the parameters to suit you, should you have some kind of so many emotions,
I must tell you that there's kind of emotions attached to trading futures. At the end of this article, I am going to show you a crypto trading tool that I'm using to trade the crypto market and then I take my emotions out of the balancing.
Moreover, don't forget just like I made mentioned in my brief overview, this might go parabolic. It is not for everyone. So, if you can't accommodate risk, please do not try this because futures trading is very dangerous, and your portfolio can get liquidated.
When you buy, it means you predict the coin to go up. When you choose to sell, it means you predict the coin to depreciate in value or in price. So, these are the terminologies you should be aware of.
How to close the market in Binance Futures Trading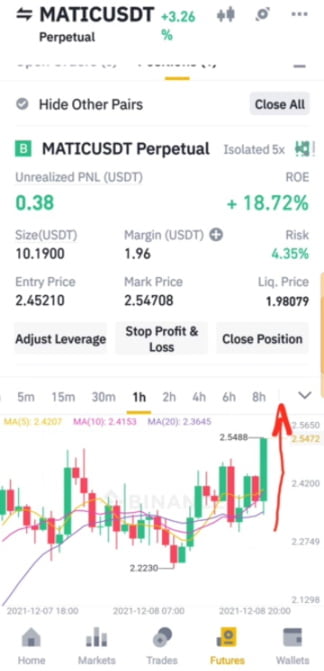 Look at the screenshot above, +18.72% profit has been achieved already with our initial investment. What would have happened if I went in with $100 or $500 and choose their 5x leverage to increase my initial capital? I would be in so much profit. But we are just seeing how we can turn our $10 into $1,000.
Though I'm playing around with my $20, you could also play with yours. This is not financial advice. You need to do your own due diligence before you get into this because it can be risky at times. So don't lose money and say Shelaf told me about this.
You can close your position, once you are satisfied with the current profit you've had or whatsoever.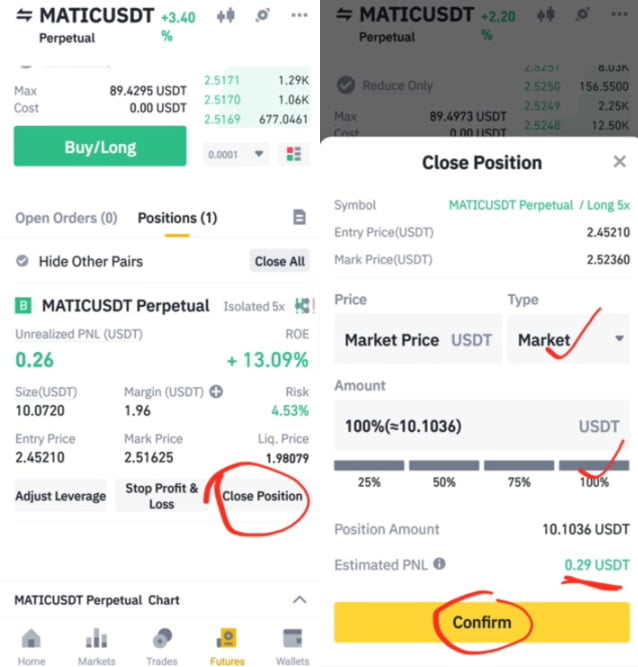 Hit the Close Position button
You can choose 100%, select market, and click on the Confirm button.
Then, you are out of the market. It is just kind of easy as that.
You too could do this for coins that you think will go up at a certain level. And then you can go in with the buy future of the margins so that you can be making some good profit from the market.
If you can do this again and again, every day or every time, you will be taking a profit from the market. And that is how you stand a chance to turn your $10 into $1,000.
I hope you found some value here and learn something.
If you like what I'm doing on this blog and you are still not subscribed, then you aren't doing me any favor. So please click here to follow Shelaf's daily latest posts.
Wait a minute, I promise to show you what I'm using to trade crypto that takes away my emotions from the equation, right? The name of the tool I'm using is Royal Q, it is actually a robot that trades the crypto market for me.
The robot wasn't programmed to sell at loss in any condition of the market. Your trade is going to close and bring you profit, even much more profit than your initial trading capital in Binance. So, you are not sending that to anyone else.
The robot costs only a $120 subscription fee for one year and the robot will start trading for you and bringing you much more profit. 0% risk is involved because your initial trading funds are in your own wallet. The robot is taking advantage of the volatility of the market.
It buys lower and it sells high. If this sounds like something you would want to learn more about, Below are the recommended articles for you to go through.
Thank you for taking the time to read what I've written. I look forward to seeing you inside, automating your trade, and taking your emotions out of the equation.
Don't forget to share this post with your friends and families, it will help a lot.