If you've arrived here, it's likely that you've heard about the OwoDaily digital jobs platform, either from online advertisements, YouTube, or social media, and are hoping to join and make money online.
But you want to know if the platform is worth your money, if it is genuine, or if it is simply another hoax.
You've come to the correct place because I'll be going through this platform step by step to explain to you how it works.
All you have to do now is carefully read the thorough review.
What exactly is OwoDaily?
OwoDaily is a digital platform based in Nigeria that connects individuals with work opportunities. It has saved many individuals the worry of figuring out how to make money online by providing them with a list of tasks that do not necessarily need skills. Users are assigned tasks and paid for completing them on the money-making website.
Without a doubt, it is the most rapidly developing digital and affiliate marketing network. The platform is available in several nations, and many individuals from all around Africa can use it. It is a greater possibility to expand here and make a lot of money since it goes beyond Nigeria to other nations such as the United States, the United Kingdom, Canada, and others.
Allow me to describe this platform in further detail so that you can fully see how it operates and how you may profit from it:
It's good to know before you invest your money and time into anything.
Here's the idea behind Owodaily:
It's quite straightforward what they do;
Advertisers (digital employers) and publishers (digital employees) are connected through them.
For instance, if I had an Instagram account, YouTube page, or any other social media account or page that I want to boost in terms of followers and engagement, I could simply join up as an advertiser on Owodaily to gain likes, follows, comments, and so on…
That's when you come into the picture.
What you'll do is apply for various tasks and be paid for them.
You can apply for a task that requires you to visit a certain person's Instagram page and leave a comment.
What is the max amount of money you can make on Owodaily?
You get paid between N10 to N1500 per task, with a maximum of N5,000 per task. After finishing a task/job, you upload the proof and are rewarded.
Then, once you've earned at least N5,000 and completed as many jobs as possible, you can withdraw directly to your bank account.
That is to say, you can simply make money doing this on owodaily.
As a digital worker, your tasks do not stop at Facebook and Instagram.
The tasks involve are:
Joining Telegram Group
Commenting on an Instagram photo
Following a Twitter handle
Music Promotion
Online Surveys
App and web review
Signing up for an app
Watching YouTube videos, etc.…
This implies that many individuals (digital employers) who want to grow their Facebook page, Twitter account, Instagram account, Youtube channel views, Telegram group, and so on can post tasks on the Owodaily platform and have people do the task and earn money.
You're the digital employee, and your duty is to simply follow the instructions on the site, such as uploading the evidence and being paid.
Wait a moment as I show you an image of the available tasks in Owodaily's dashboard and how much you can earn for each one.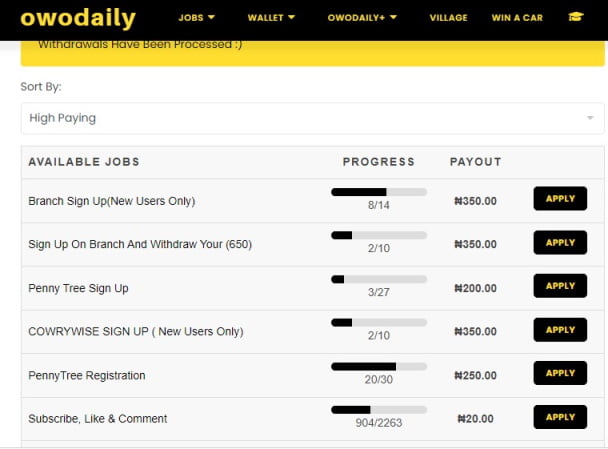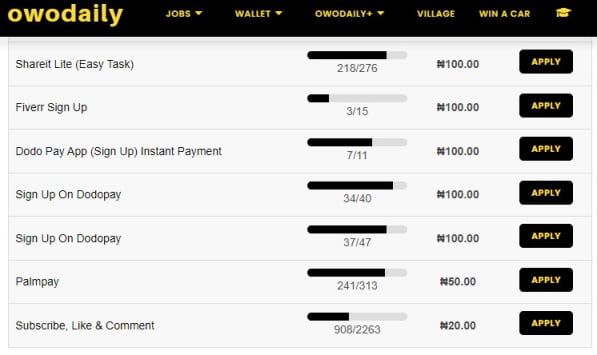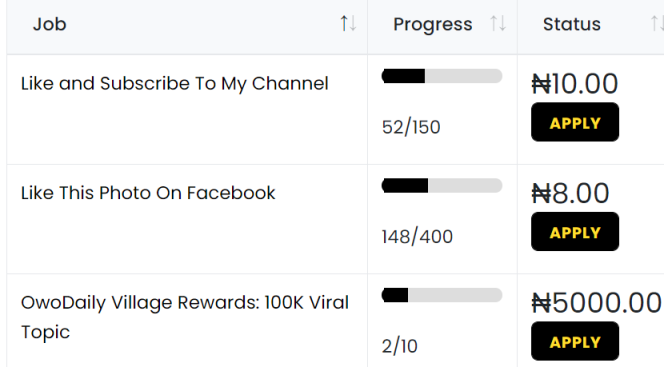 To perform the task, simply click Apply and carefully follow the instructions.
After that, there's a point for you to submit your proof, and you'll be credited.
Proof might include your Instagram or Facebook usernames, as well as any other information they desire.
Other Means to Increase your Earnings on the Platform
There are other ways to earn money besides the one I mentioned above, which is by completing tasks/jobs on the platform, which is the first way to make money.
What other options do you have?
There's also an affiliate program, where you can earn N1,600 for every person who joins Owodaily through your link. This is known as affiliate marketing, and if you're able to make posts on Facebook or WhatsApp about Owodaily to invite people, you can make passive money with this alone, however, it's optional.
When you refer someone to join the first plan, which costs N3000, they pay you over 50% affiliate commission, and when they upgrade to Owodaily member plus, you get a commission for that too.
OwoDaily Member Plus costs N10,000, you will earn a fixed affiliate commission of N3000.
You will also earn a commission if you refer customers to shop on the OwoDaily marketplace. Every member, however, is an affiliate by default.
Another option is to become a reseller; tell people you can help them acquire followers, charge them, then put it as a job on Owodaily and have people perform the work for you. You retain the profit hehe.
Alternatively, you can create your own business page. If you have a product and looking to increase sales, you can promote it as a job on Owodaily.
You'll also have access to their Virtual Academy and 24/7 support any day, any time.
That is all there is.
However, as a beginner, I believe that the best thing to do is to actually focus on completing the jobs/tasks and earning your money without stress, and there are endless jobs for you to complete daily and get paid.
You can withdraw your money once you have earned N5,000.
Recommended: Secrets to Get Loan Approved Instantly on LCredit
Is the N3,000 investment in the Owodaily Program worthwhile?
Given that you can earn significant money without putting in a lot of effort, I believe it is worthwhile… It's even more astounding because membership costs only N3,000 once and you never have to pay it again.
You can also combine this with your present employment or online business; after all, having various income sources is a good thing, right?
Here are the Pros and Cons of the program
Pros
The website loads quickly, which means that members will have no trouble finishing tasks.
The company is registered with CAC with the number B3185497 (for credibility sake)
The registration price is quite reasonable, with a full-time membership costing N3,000.
There is some social presence (Talking about the fact that they have an active YouTube channel, a Facebook page Twitter page, etc.)
Coins
So far, I haven't come across anything negative.
Yes, it is well worth your money. The perks are numerous.
In reality, one of my colleagues in the blogging field has made and withdrew around N195,200 so far on the platform. Refer to the below screenshot for the proof. A lot of people are getting paid… So don't worry, you'll make money.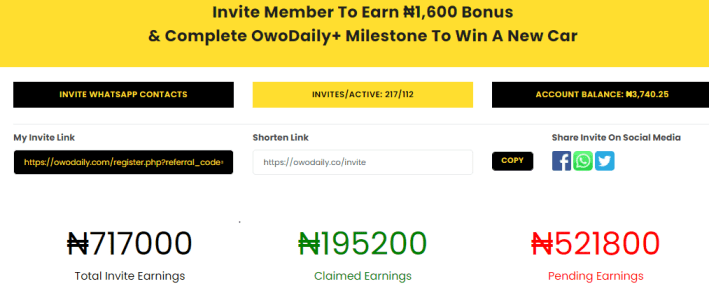 Although I am a new member of Owodaily Plus, based on the information I have acquired, the platform is 100% genuine, and I will show you in a few minutes how you can register and activate your account, so let's get started generating money together.
Also Read: How to Make 18-$23 Profit Every Day with $500 Capital on Royal Q
How to Join the program and Activate Your Account
Keep in mind that the Owodaily membership plan cost is N3,000, but if you are like me who wish to use your online marketing skills to earn a full-time income, you can as well opt-in for OwoDaily+ which costs N10,000 annually.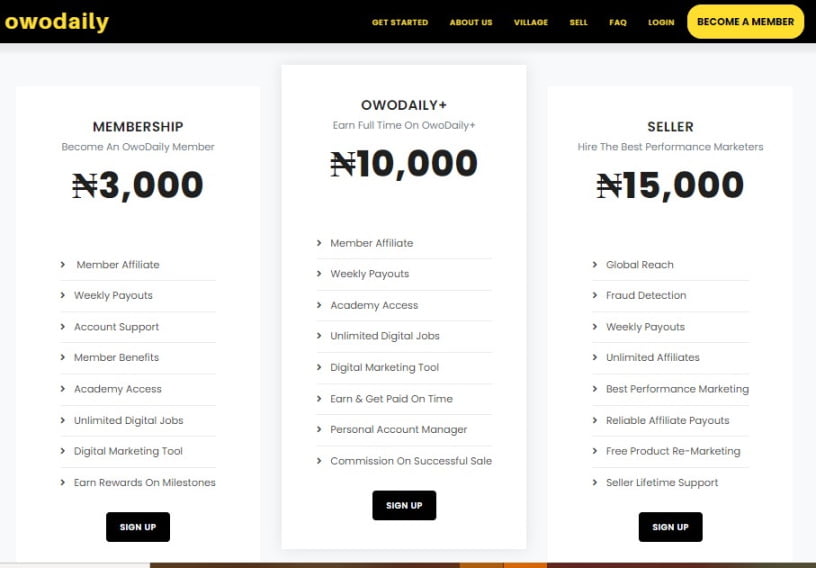 Follow the procedures below carefully so you don't make any mistakes.
Visit the website by clicking here.
Enter your information accurately, including your email address, phone number, and so on…
When you're done, you'll be led to a website where you can pay the N3,000 membership fee with your ATM card (Pay online).
That's all there is to it.
You can now begin earning; feel free to explore the dashboard to have a better understanding of how things work.
Have a good time.
If you have any questions, please leave them in the comment area.
I hope this Owodaily article assists you to make money online and simply right here in Nigeria.