On the AliExpress online shopping platform, there is a promotion called First Order Deal available for new shoppers. Anyone who hasn't made any purchases from AliExpress is considered a New Shopper.
This promotion is valid for a wide range of products, including Smart Bracelet, Wireless Bluetooth Airpod, Wireless Bluetooth Mouse, Micro Memory SD cards, Wristwatch, Power Bank, etc. With the First Order Deal page, you can purchase one of every good for just $0.01.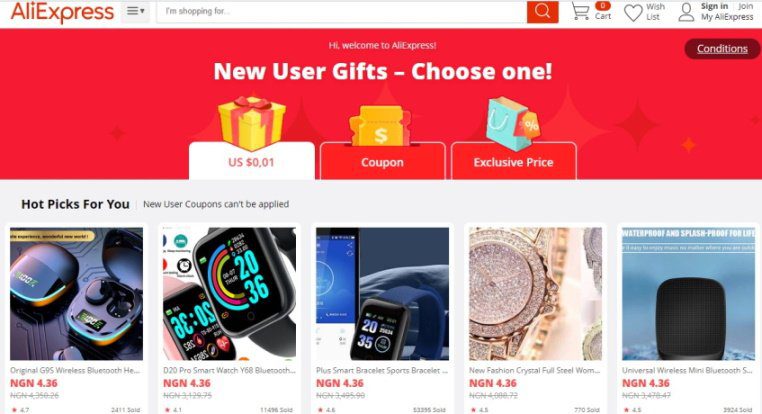 You can take advantage of this deal with just $0.01 (N4) on the first item you order as a new user for your first order when you use the First Order Deal. No shipping charges will apply when the goods are delivered to your nation.
AliExpress: What Is It?
AliExpress is a Chinese online shopping site controlled by the Alibaba Group. It was established in 2010 and is made up of small businesses that sell goods to worldwide internet customers from China and other places, like Singapore.
It was the tenth most popular website in Brazil and the most frequented e-commerce site in Russia. It makes it easier for small enterprises to sell to clients worldwide. Because merchants on AliExpress are independent and utilize the platform to sell goods to customers, it has been compared to eBay. Source – wikipedia.org
Does AliExpress provide shipping to Nigeria?
Yes, they do. In Nigeria, you can place an order and get the item. You only choose the shipping option you like.
The following is a list of shipping options to Nigeria:
AliExpress Standard Shipping
China Air Post Registered Mail
Singapore Post
EMS
DHL
POS Malaysia
FedEx
UPS
…the list continues.
Depending on the product or merchant you're purchasing from, you must choose a shipping option. You can select from a variety of delivery options for some products.
How long would it take for my package to arrive in Nigeria?
The Shipping Method you chose on the order page will determine this.
Here is a list of typical shipping options you can use on AliExpress along with an estimate of when they will arrive:
AliExpress Standard Shipping (20–35 days, or, often, three to four weeks)
China Air Post Registered Mail (three to five weeks; 23–43 days)
Singapore Post (22–42 days; 3–5 weeks)
POS Malaysia (34-54 days/four to six weeks)
UPS (two to three weeks; 14 to 23 days)
FedEx (within two weeks, 7–15 days)
EMS (two to four weeks, 15–27 days)
DHL (two to three weeks, 9 to 18 days).
I often purchase anything from AliExpress and anticipate receiving it in three to four weeks. No matter which delivery option I choose. I'm used to this length of time.
I usually get in touch with the vendor if it takes more than three weeks, or I visit the nearby post office. I make sure to check the order tracking page before I get to the post office.
Which shipping method do you believe is best?
None! DHL, FedEx, and EMS will swiftly deliver your stuff to your home but at a greater cost, based on experience.
For goods with low costs or small quantities, I usually advise using China Air Mail or AliExpress Standard Shipping.
If you're planning to sell the things you purchase in larger quantities, such as 15 to 30, you must be prepared to deal with customs clearance. You could receive a call from Nigeria to clear your orders.
The cheapest delivery options, in my opinion, are China Air Post Register Mail and AliExpress Standard Shipping. Each of these ways has different shipping rates.
Why should I shop on AliExpress?
Many consumers are unaware of the advantages of purchasing items from AliExpress. In addition to offering incredibly low prices, AliExpress also offers several pretty wonderful advantages;
They have more than 100 million items.
Before making a purchase, you can examine and read customer reviews.
Secure payment.
You can shop with confidence since they provide buyer protection.
365-day-a-year customer support.
Purchasing products from AliExpress is secure.
Suppliers can be contacted.
Nigeria receives deliveries of goods in less than 30 days.
You can shop on the go
How Does AliExpress's First Order Deal Work?
AliExpress's first order deal is a first-time discount for every new buyer on the marketplace. A new buyer is just someone that has never made an order on AliExpress before.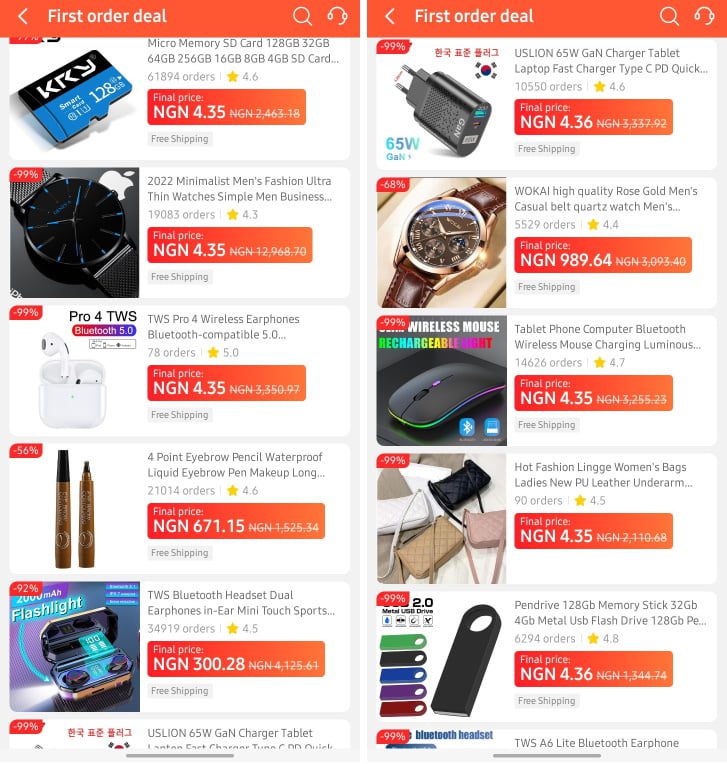 To get started, visit the official page of AliExpress here, and hit the "Register" button to create an account.
After the account creation, click on the "Sign in" button and fill in your detail,
After successfully logging in, check the website's main page for the First Order Deal.
To view all available goods under the first order offer deal, tap on it.
You will just pay $0.01 (N4) for each item on the First Order Deal page, and delivery to your country is free. Choose the items you want to purchase, then click "add to cart" and "check out."
When you place an order, you will be asked to enter a shipping address. The order will be delivered to the Post Office nearby. First Order Deal is only available to first-time customers; subsequent orders will be processed at regular prices.
Considerations Before Placing Your First Order Deal
There are certain limitations because the AliExpress first order deal is accessible to all newly registered accounts. Although it's fairly simple to create an account, there's no guarantee that your order will be fulfilled.
The platform prohibits the use of multiple accounts, the same address, phone number, and payment method. According to AliExpress, "We do not consider a consumer to be a new shopper" if they place an order using the same device, IP address, payment method, or delivery address.
Therefore, you won't be able to take advantage of the First Order Deal if you are not regarded as a new customer. As a result, we've gathered some To Do and Don't Do lists for each user who was able to place a successful order.
These are the actions you should take:
Create an account on a device that has never had an AliExpress account before.
Before registering a new account, you may even clear your browser cookies  & Caches.
Before placing an order on the First Order Deal page, let your account idle for roughly 10 days.
Try, if you can, to replace the address where your previous account was registered.
If possible, try to change the delivery address where your previous account was registered.
Make sure you chose a phone number that you have access to since you will get a message or a call at that number once your purchase arrives.
Naira cards can be used for the First Order Deal since the item will only cost you $0.01 (N4). However, Dollar Cards are required for orders beyond $20 to bypass the international spending limit.
---
Recommended: 2 Working Virtual Cards for International Online Payment in Nigeria Without Limit
---
The actions you should avoid are listed below:
On a single device, avoid creating several accounts.
Connecting to a VPN won't change your IP, so avoid doing so.
Don't use the same phone or delivery address on several accounts.
When choosing your payment method, do not check the box to keep your card information.
What should I do if I don't receive an item that was shipped?
If you have any problems with the item you purchased, it is advised that you first get in touch with the vendor. You can file a dispute to get your money refunded if you and the supplier are unable to come to an agreement.
Contact the seller on AliExpress
To conduct it, go to "My Orders" and click "Contact Seller." This should start a conversation session with the seller using instant messaging.
Conclusion
That pretty much covers everything you need to know about ordering and shipping goods from China's AliExpress to Nigeria (be sure to click the link >> https://aliexpress.com to start purchasing items at a cheap price).
---
Also Check: Complete Guide On How To Start Mini Importation Business With Just 10k And Make Huge Profit
---
Have you imported products from China? Have you ever made an online purchase from AliExpress? Do you have any advice for those just starting out with AliExpress online shopping?
If you have the answers to these questions, please take a moment to share them in the comment section below so that other people can learn more about how to purchase on AliExpress from Nigeria.
If you like what I'm doing on this blog and you are still not subscribed, then you aren't doing me any favor. So please click here to follow Shelaf's daily latest posts and don't forget to share this post with your friends and families, it will help a lot.