Nigeria's telecom companies, namely MTN, Airtel, Glo, and 9Mobile, have recently begun the implementation of harmonized codes mandated by the Nigerian Communications Commission (NCC).
In line with this directive, customers are being notified to use the new codes for various transactions such as recharging, data subscriptions, and balance inquiries.
This article will discuss the significance of the harmonized codes and their implications for customers. Additionally, it will touch upon the approval obtained by MTN, Glo, and Airtel from the NCC to potentially disconnect banks' USSD codes due to unpaid debts.
Implementation of Harmonized Codes
The NCC's directive, effective May 17, 2023, signifies the discontinuation of old codes previously used for recharging, data subscriptions, and balance inquiries. To ensure a smooth transition, telecom companies are actively informing their millions of customers about the new codes. By adhering to the harmonized codes, customers will experience a standardized approach to accessing telecom services across all networks.
MTN's Message to Customers
On May 18, 2023, MTN sent a message to its customers, notifying them about the change in codes. The message outlined the new codes for different services.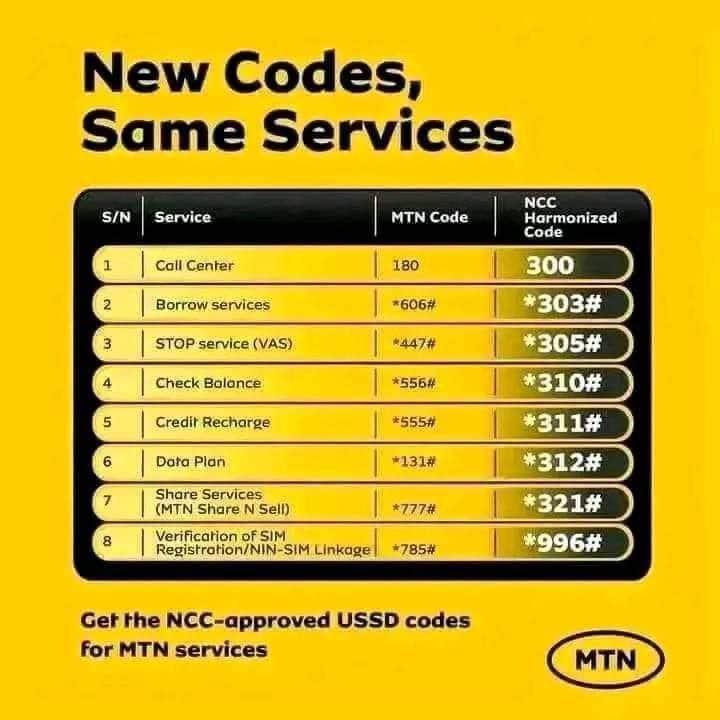 To access data plans, customers are now required to dial *312#. For airtime recharge, the new code is *311#, while *303# enables customers to borrow airtime or data.
To check their data balance, customers can dial *323#, and *310# allows them to check their account balance. The code *321# facilitates data sharing, *305# is for value-added services (VAS), and *996# is designated for verifying the subscriber identity module (SIM) registration or NIN-SIM linkage.
List of Harmonized Codes for Telecommunication Networks
The harmonized codes introduced by the NCC aim to streamline and simplify telecom services. Here is a list of the key codes implemented across all mobile networks:
300: Call Center/Help Desk
301: Voice Mail Deposit
302: Voice Mail Retrieval
303: Borrow Services
305: STOP Service
310: Check Balance
311: Credit Recharge
312: Data Plan
321: Share Services
323: Data Plan Balance
996: NIN-SIM Verification
2442: Do-Not-Disturb (DND) Complaint Management
3232: Mobile Number Portability (MNP)
Government Approval for Disconnecting Banks' USSD Codes
In a separate development, Nigerian telecommunications companies, including MTN, Glo, and Airtel, have received approval from the NCC to potentially disconnect banks' USSD codes. This action comes as a response to the banks' failure to settle outstanding debts owed to the telcos for USSD services. As a consequence, customers of these banks may be temporarily unable to perform USSD transactions until the matter is resolved. This move underscores the importance of maintaining financial agreements and settling obligations to ensure uninterrupted services for customers.
Conclusion
The implementation of harmonized codes by Nigerian telecom companies marks a significant step towards standardizing access to airtime, data, and services across all networks.
Customers are encouraged to familiarize themselves with the new codes to avoid disruptions in their transactions. The approval obtained by MTN, Glo, and Airtel to potentially disconnect banks' USSD codes highlights the importance of fulfilling financial obligations. And maintaining productive relationships between telecommunication providers and financial institutions.