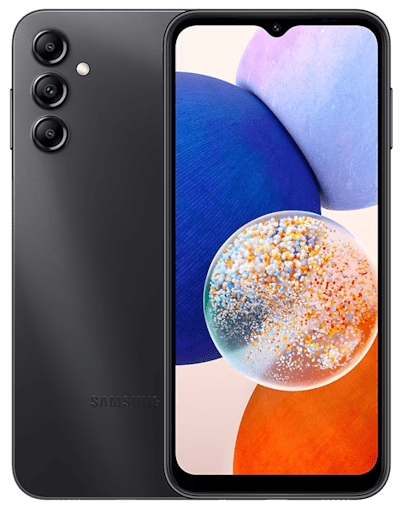 A budget marvel with 5G, NFC, and impressive cameras!
In a fiercely competitive smartphone market, the Samsung Galaxy A14 5G emerges as a budget-friendly champion, reshaping the norms for affordable devices. This comprehensive review dives deep into its impressive features, unique offerings, and inevitable limitations, empowering you to make an informed decision about this remarkable $200 gem.
Design and Display
The Galaxy A14 5G showcases an elegant, reflective plastic body, though some users might find it slightly bulkier than its slimmer counterparts. Nevertheless, its 6.6-inch display, featuring a 90Hz refresh rate, creates a delightful user experience, particularly when swiping through text and animations. The adaptive mode, exclusive to the Galaxy A14 5G, ensures smoothness while writing, reading, or indulging in games, elevating the overall usability.
Noteworthy is the inclusion of a teardrop notch housing a 13MP front-facing camera, which complements the immersive display experience. Samsung's commitment to optimizing the screen-to-body ratio enhances the device's appeal, delivering an enjoyable viewing experience.
Performance and Software
Powered by the Mediatek Dimension 700 processor. The Galaxy A14 5G displays promising benchmark scores, but real-world usage reveals a slight sluggishness, particularly with resource-intensive tasks. The device's 5G compatibility, however, ensures faster data speeds and a smoother browsing experience, making it an attractive option for those in 5G-covered areas.
While the device is capable of handling daily tasks and casual usage smoothly, it may struggle with more demanding applications and multitasking. Nevertheless, considering its budget price point, the performance is commendable.
Notably, the inclusion of NFC for contactless payments is a rare find in this price bracket, and Samsung's move in this direction sets a positive industry trend. With NFC compatibility, users can enjoy the convenience of contactless payments using apps like Google Wallet, making transactions more seamless and secure.
Cameras and Photography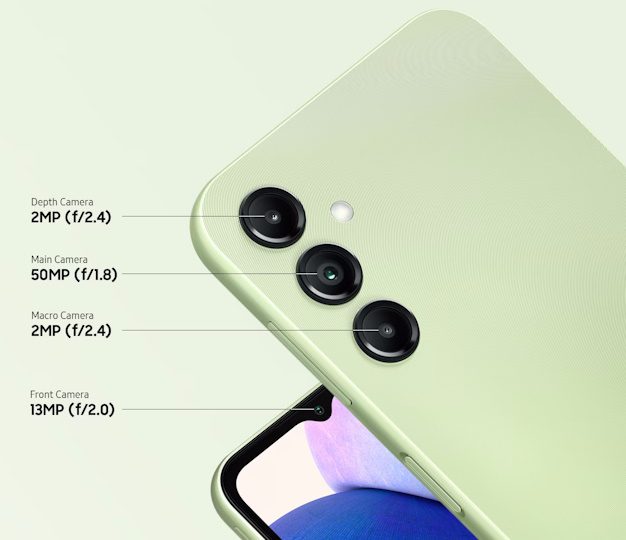 The Galaxy A14 5G features a versatile camera setup, catering to photography enthusiasts with a 50MP main camera for breathtaking landscape shots, a depth camera for added dimensionality, a macro camera for intricate details, and a front-facing 13MP camera for fabulous selfies. The main camera's high resolution allows for stunning, detailed images even in challenging lighting conditions.
The depth camera enhances portrait photography, delivering a professional touch by blurring the background and highlighting the subject. Users of the macro camera can take close-up pictures of tiny things, revealing a world of complex features that are invisible to the unaided eye.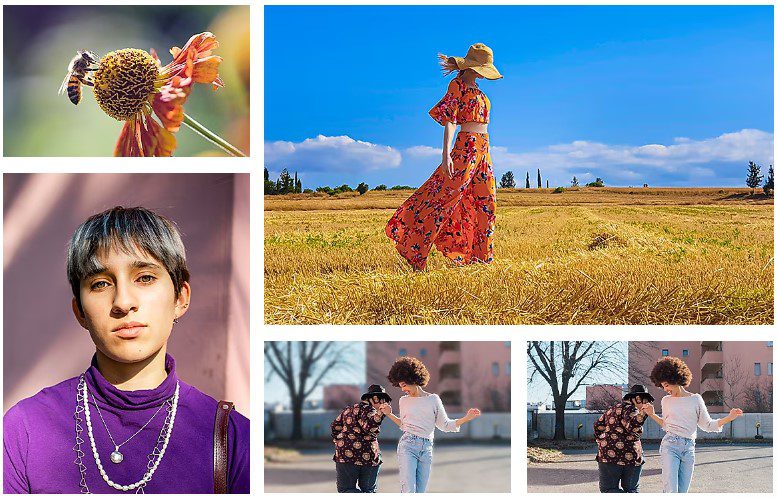 Although the camera performance is great, it might not compare to top-tier flagship devices. When compared to the best smartphones, the photographs may not have the same sharpness and dynamic range. Nevertheless, for everyday photography needs, the Galaxy A14 5G delivers satisfactory results.
Battery Life and Storage
The phone houses a robust 5,000-mAh battery, offering impressive longevity without the need for frequent recharging. During testing, the battery life proved remarkable, enduring a day of moderate to heavy usage without faltering. The combination of an efficient processor and a substantial battery ensures that the device can comfortably handle a full day's worth of tasks, even for power users.
On the storage front, the internal 64GB capacity accommodates your apps and files comfortably. Additionally, the ability to increase storage via a microSD card slot by up to 1TB offers customers with various storage needs unmatched flexibility. You won't ever run out of space, whether you're a serious photographer or a movie buff, thanks to the expanded storage options.
Software Updates and Security
An outstanding feature of the Galaxy A14 5G lies in Samsung's dedication to software updates. The phone comes with the commendable promise of two years of software updates, ensuring access to the latest features and enhancements. This dedication to software support guarantees a seamless user experience, even as new versions of Android and Samsung's One UI are released.
Equally noteworthy is the five-year security update timeline, which fosters a sense of security amidst rising cybersecurity concerns. This prolonged support cements the Galaxy A14 5G as a reliable companion that stands the test of time and technological evolution. Users can rest assured that their devices will receive crucial security updates, protecting their data and personal information.
Samsung Galaxy A14 5G vs. Moto G Stylus (2023) vs. Moto G 5G (2023)
|   | Samsung Galaxy A14 5G | Moto G Stylus (2023) | Moto G 5G (2023) |
| --- | --- | --- | --- |
| Display size, resolution | 6.6-inch FHD+ LCD display, (1,400×1,080 pixels), 90Hz | 6.5-inch IPS LCD; 1,600×720; 90Hz refresh rate | 6.5-inch HD Plus LCD display (720p resolution); 120Hz refresh rate |
| Pixel density | 268 ppi | 269 ppi | 269 ppi |
| Dimensions (inches) | 6.6×3.07×0.36 in | 6.41×2.91×0.36 in | 6.45×2.95×0.33 in |
| Dimensions (millimeters) | 167.6×77.9×9.1 mm | 162.9×74.1×9.2 mm | 163.94×74.98×8.39mm |
| Weight (ounces, grams) | 203 g (7.19 oz) | 195 g | 189g (6.66 oz.) |
| Mobile software | Android 13 | Android 13 | Android 13 |
| Camera | 50-megapixel (main), 2-megapixel (macro), 2-megapixel (depth) | 50-megapixel (main), 2-megapixel (macro) | 48-megapixel main, 2-megapixel macro |
| Front-facing camera | 13-megapixel | 8-megapixel | 8-megapixel |
| Video capture | 1080p at 30 fps | 1080p at 30 fps | 720p at 30fps |
| Processor | MediaTek Dimensity 700 | MediaTek Helio G85 | Snapdragon 480 Plus |
| RAM/Storage | 4GB + 64GB | 4GB + 64GB; 4GB + 128GB | 4GB + 128GB |
| Expandable storage | Yes | Yes | Yes |
| Fingerprint sensor | Side | Side | Side |
| Connector | USB-C | USB-C | USB-C |
| Special features | 5G-enabled, NFC, 15W charging | Stylus, Moto Gestures | 5G enabled, dual stereo speakers, Moto Gestures |
| Headphone jack | Yes | Yes | Yes |
| Battery/Charger) | 5,000 mAh (15W charging) | 5,000 mAh (15W charging) | 5,000 mAh (15W charging) |
| Price off-contract (USD) | $200 | $200 | $250 |
| Price (GBP) | £179 | Converts to £160 | N/A, Converts |
| Price (AUD) | AU$379 | Converts to AU$295 | N/A, Converts |
| Price (NGN) | ₦142,200 | ₦156,000 | ₦159,750 |
Conclusion
The Samsung Galaxy A14 5G presents a compelling proposition for tech enthusiasts seeking an affordable marvel. Although it may not boast the blazing-fast speeds of its pricier counterparts, the phone excels in delivering essential functionalities and a compelling user experience. The inclusion of NFC for contactless payments is a welcome surprise, pushing the boundaries of what a budget-friendly smartphone can offer.
For those seeking a reliable, future-proof device that fits their budget, the Galaxy A14 5G is a smart choice that will undoubtedly impress. Its blend of a remarkable display, a versatile camera setup, and extended software support make it a budget marvel worth considering in today's competitive smartphone landscape.