Digital art is now commonplace in the world today with creative professionals increasingly turning to the best drawing apps for Android/iPhone to create art on the go.
Now, with intuitive apps that create the feel and UX(User Experience) of a conventional art studio, you basically have the world in your palms and your only limitation is your imagination.
With tons of drawing apps out there all claiming to be of the best quality sieving through them might be a daunting task. So, we've reviewed the best picks that tick most of the boxes when it comes to digital art.
Whether you are a beginner or seasoned artist looking to ply your trade with new drawing tools, we've got you covered.
So let's dive in:
Best Drawing Apps
Adobe Fresco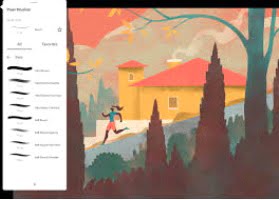 Adobe fresco is an app built specifically for iPhone and iPad users with unique offerings that puts it on the top echelon of drawing apps.
It has an intuitive drawing interface and a comprehensive toolset for creatives that composes of vector, pixel, and watercolor oils brushes, multi-color eyedrop, color adjustment layers guides, and grids, etc.
And subscribing to the premium plan opens up the doors to features like 1000+ brushes, 100GB cloud storage, and the ability to import brushes.
Features:
Realistic watercolors and oils that blend, smudge and bleed.
Photoshop, vector, and live brushes that produce crisp art.
Create animation with your art with the new motion feature.
Import custom brushes from Adobe cloud libraries.
iPhone: Download
Astropad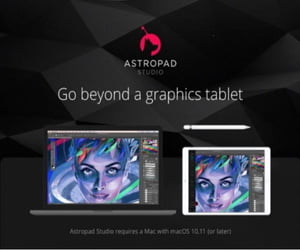 Astropad has two variants with targeted at different users: The Astropad standard (native app) that remains free after purchasing on the Apple store and the premium the Astropad studio for digital art professionals.
The Astropad studio provides an intuitive workspace that brings your creative imagination to life with super fast and highly sensitive stroke impressions.
It allows you to draw directly on Adobe Photoshop, Illustrator, professional MAC software by connecting through WIFI or USB connectivity.
Features:
The magic gesture that allows you to customize gestures with your Apple pencil.
It allows you to use your iPad as a graphic tablet with Wi-Fi and USB connectivity.
It processes according to network connectivity to produce clearer images and prevent lagging.
Editable pressure curve and keyboard feature.
Saves your customized settings and tools to all your logged-in devices.
iPhone: Download
Autodesk Sketchbook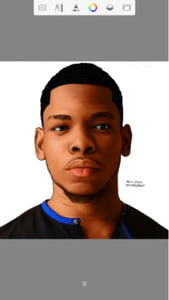 Autodesk sketchbook is a free app that ticks most of the boxes when it comes to digital art. It's an easy-to-use app that lets you create, sketch and capture your imagination with ease.
It has an intuitive and streamlined UI that provides creatives with the tools and interface (like layers and blend modes) to fully express their ideas or concepts.
Features:
Hundreds of customizable brush types to choose from, which include Pencils, markers, airbrushes, paint, smear, etc.
It has color fill tools like dynamic linear and radial gradients.
It has rulers, French curves, curved rulers, and predictive stroke features for precision drawing.
High sensitivity for Stylus when drawing.
Procreate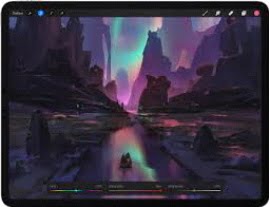 Procreate is a raster graphics app built specifically for the Apple community (IOS and iPad devices).
It has a collection of artistic tools to help creatives hone their skills with over 200 brush types, blend modes, numerous layers, effects, etc.
It's a step forward in creating an intuitive UI that tries to replicate conventional hand drawing for artists.
Though designed for Apple Stylus but is also compatible with some third-party Styluses.
Features:
Customize brushes with brush studio and even model your very own brush.
Paint at a remarkable speed of 120fps.
Navigate a decent toolkit with Drawing Assist, ColorDrop, Streamline, QuikShape, transform tool, etc.
Multi-touch gesture features and work can be exported in PSD format.
Download: iPhone
Ibis Paint X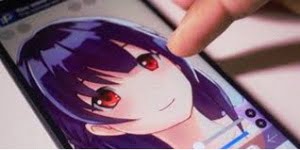 Ibis Paint X is a drawing app that stands out from the competition for its versatility and well-equipped toolkit (which are mostly free).
It has special functionalities that will help capture your imagination with ease, whether you're a beginner or a seasoned pro.
And to gain additional features like gradation map filter, tone curve filter, 20GB worth of cloud storage, pro fonts, etc.
Then you would need to purchase the pro version that has a monthly and yearly subscription.
Features:
Buttery smooth drawing experience with OpenGL technology.
Record your drawing as a video (probably as a tutorial for your YouTube channel).
Manga art tools/features.
Edit and add as many layers as you want.
Expand your art library with over 4500 brush types to choose from.
Adobe Illustrator draw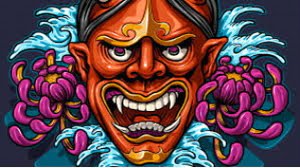 Adobe Illustrator draw is one of the mobile apps of the Adobe Creative brand that is used to create crisp vector illustrations or artwork with drawing layers.
The Adobe Creative Cloud grants you access to licensed high-resolution and royalty-free images which you can use to add a new look and feel to your work.
Also, the CreativeSync saves your fonts, design, and settings and allows you to log into your account on another device with all your customized art tools.
It's a free app that gives you the right tools to flesh out your creative ideas on the go.
Features:
Draw with 5 adjustable pen tips with adjustable size, color, and opacity.
Sketch with multiple images and drawing layers.
Let's zoom up 64x to fine-tune your art.
Insert basic vector shapes from other members of the Adobe brand like Capture.
Edit, merge, and adjust each drawing Layer Effortlessly send your work to Adobe Photoshop or illustrator.
Concepts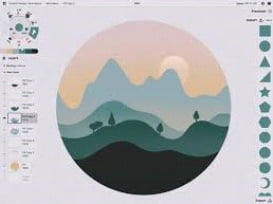 Concepts is a vector design app that helps you to create raster vector art with infinite canvas and layering system.
It provides users with a smooth interface to express their artistic acumen.
And still be able to export designs(paid version) in different file formats like PSD, SVG, PNG for professional development.
Features:
Infinite canvas customized grid lines for precision drawing.
Variety of brushes, pens, and pencils with decent sensitivity to pressure.
Customize your tools, color wheel, and presets.
Infinite layering system with opacity feature.
Copy and paste images in canvas for tracing or reference purposes.
Medibang Paint
This app is designed specifically for illustrators and comic book artists with a lot of resources up for grabs that let you compose comics on the go.
Medibang is available for Android and iPhone illustrators. And has cloud storage for backing up files and sharing their work.
It also has a premium membership that grants you access to more features.
Features:
It offers 850 textures, backgrounds, color tones, and word balloons.
Template backgrounds/scenes for comic book artists.
Free comic fonts to doodle with.
Speech text dialogue in comics.
Draw different concepts or characters on different layers.
Tayasui Sketches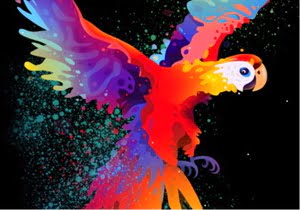 Tayasui sketches is an Android app that allows you to create minimalistic art and drawings with interactive tools that depict the tone of your sketches.
It has a Paid option that unlocks some unique tools at your disposal like customizable brushes, layers, and Color Eyedropper.
Features:
Realistic brushes with Walcom Stylus.
Import images and use layers to trace or sketch images.
Realistic watercolor wet brushes.
Zen Brush 3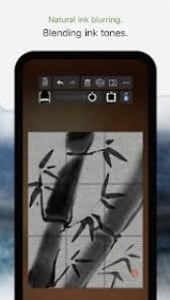 Zen Brush 3 is an update to the older version Zen brush 2 which comes with new features like adjustable tilt sensitivity, a more powerful drawing processor, and better guides for a Japanese letter template.
It's a free and easy-to-use app for creating eye-catching Zen art (East Asian art) with adjustable ink, color, and water brushes.
So, whether you wish to delve into calligraphy, ink, or traditional Japanese painting, it got you covered.
Features:
10 adjustable levels of brush thickness and ink tone.
Sketch with tools like color brush, ink brush, water brush and blotting paper.
Color or paint drying feature: fast dry, instant dry, adjustable natural dry.
Customize layers with ease.
5 Different levels of canvas quality up to 3072 × 4096 pixels.
Assembly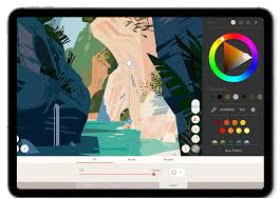 Assembly is a vector design tool that helps you create beautiful illustrations, logos, and abstract concepts with efficient design tools.
It helps you to easily bridge the gap between concept idea and finished vector artwork with a host of ready-to-use concepts.
It also gives you a platform to pour out your creative juice with over 1000 shapes with 21 themed packs to work with.
Features:
Access to over 25 font styles and also import your desired fonts.
A variety of pre-made color palettes to choose from.
Point editing system with bezier curves.
Drop shapes easily with the intelligent snapping system.
Customize color palette and make use of color eyedropper tool.
Use and customize over 250 stickers.
Download: iPhone
ArtRage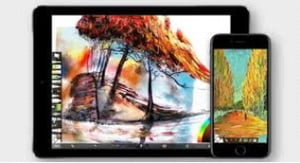 This is a painting app that is available for Android and IOS users and has a streamlined drawing interface that gives way as you draw.
It also has realistic tools that create impressions similar to painting with conventional canvas.
ArtRage is a decent tool for hobby artists and a base for enhancing workflow for more established artists.
Features:
Doodle with a range of familiar tools like watercolors, oils, paint rollers, pencil tools, etc.
Record your art while drawing or painting.
Customizable layers and a variety of layer blend modes to choose from.
Import images for tracing, reference purposes or oil for smearing.
Recommended: 25 Best Video Editing Software for YouTube Beginners
Artflow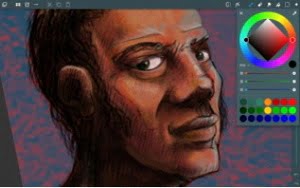 Artflow is a user-friendly drawing app with a fluid interface that allows you to focus on your creative ability rather than struggling with software functionalities.
It offers a wide variety of brushes and tools that can make sketching seem fun to casual artists.
Features:
It supports a pressure-sensitive pen (stylus).
Color adjustment features like saturation, contrast, and HSV.
Unlimited undo and redo button.
Import custom-made layers.
Adjustable brush opacity and brush flow.
Download: Android
Pixelmator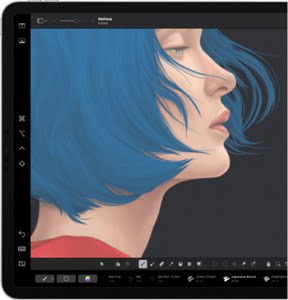 Pixelmator is a versatile IOS app that comes in handy for graphic designers and artists alike with sublime abilities like professional photo editing, vector graphics, and stellar painting.
It is the go-to app for designers that offers advanced photo editing tools like removing image defects with the repair tool, graphics design deliverables like blending layers, and text with 32 blending modes.
Features:
Access to professional templates and beautiful image effects.
Double texture brush technology for blending colors when painting.
Edit photos of up to 100 megapixels.
Improve pictures with the single tap color correction preset feature.
Remove image background and edit image areas with precision tools.
Download: iPhone
Affinity Designer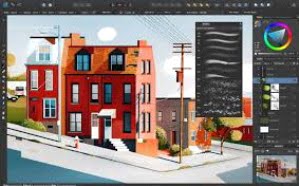 Affinity Designer is a vector app for graphics designers and illustrators that lets you create unique illustrations and concept art with capable vector, raster, and typography tools.
It is an IOS app with unique versions for iPhone and iPad devices.
But the iPad version outshines the latter with metal-accelerated speed for optimum performance, unlimited access to the iCloud Drive, and hyper-sensitive workspace that responds to pressure.
Features:
Zoom your art up to 1000 000% to capture fine details with ease.
View your vector art with the live pixel and retina feature.
Seamlessly switch between vector and raster workspaces.
A toolkit stocked with quality vector (node, curve editing, contour tools) and raster tools (texturing and masking tools).
Download: iPhone
Infinite design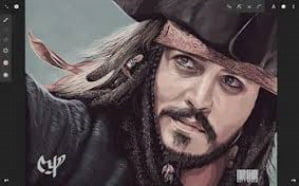 Infinite design is an Android drawing app with a smooth interface that is easy to navigate and makes your pencil(stylus) bleed creativity.
It is not a flashy app, but just enough to get the job done with features like transform tool, automatic shape detection, gradients, and grid lines.
Features:
Draw with four different symmetries.
Create 3D scenes with 5 types of perspective views.
Infinite number of layers and undo option.
Duplicate and arrange objects with ease.
Turn images into vector art.
Download: Android
Final Words
There you have it, the best drawing apps for Android/iPhone. So whether you're an artist or graphic designer, one of the above apps would be a great fit for you to unleash your creative genius.
And that being said, I would like to hear your thoughts and insights in the comment section below.
Which of these apps do you like best or which other great drawing apps would you recommend?
Disclaimer: All images used for illustration purposes are copyrighted to their respective creative brands (owners).