In the rapidly evolving landscape of smartphone technology, the Google Pixel 8 and Apple iPhone 15 stand as flagship contenders, offering refined user experiences, top-tier performance, and innovative features. Despite their distinct differences, both devices warrant admiration, acknowledging the strengths each brings to the table.
Exploring Ecosystems: A Delicate Balance
While deeply entrenched in their respective ecosystems, the Pixel 8 and iPhone 15 present compelling reasons for users to consider switching sides. Google's strides in machine learning-based features, often referred to as AI, position it at the forefront of mobile phone photography. Meanwhile, Apple's streamlined UI, carefully curated software ecosystem, and prowess in video recording continue to earn accolades. Navigating the decision to switch from iOS to Android or vice versa requires a closer look at the unique offerings each device brings to the table.
Google Pixel 8 vs. Apple iPhone 15
| Specification | Google Pixel 8 | Apple iPhone 15 |
| --- | --- | --- |
| SoC | Google Tensor G3 | A16 Bionic |
| RAM | 8GB LPDDR5X | 6GB |
| Storage | 128GB, 256GB | 128GB, 256GB, 512GB |
| Battery | 4575mAh | 3877mAh |
| Ports | USB-C | USB-C |
| Operating System | Android 14 | iOS 17 |
| Front Camera | 10.5MP, f/2.2 | 12MP |
| Rear Camera | 50MP, f/1.7, OIS (primary), 13MP, f/2.2, 126° FOV (ultrawide) | 48MP, 12MP ultrawide |
| Dimensions | 150.5 × 70.8 × 8.9mm | 147.6 × 71.6 × 7.8mm |
| Colors | Rose, Hazel, Obsidian Black | Black, Blue, Green, Yellow, Pink |
| Display Type | OLED, 60-120Hz | Retina OLED, 60Hz |
| Weight | 187g | 171g (6.03 oz) |
| Charge Speed | 27W wired, 18W wireless | 20W, 15W wirelessIP |
| P Rating | IP68 | IP68 |
| Display Dimensions | 6.2″ | 6.1″ |
| Display Resolution | 1080 × 2400 | 1179 x 2556 pixels |
Price, Availability, and Specs
Apple's historically criticized high prices are met with a reconsideration in 2023, as the $800 iPhone 15 offers a reasonable investment, backed by exceptional iOS support. On the other hand, Google's Pixel 8, with a $100 price increase compared to its predecessor, justifies the bump with enhanced performance, making it a compelling option at $700. Both devices hit the market swiftly, with the iPhone 15 available from September 22, 2023, and the Pixel 8 following suit on October 12.
Google Pixel 8: Black Friday Deal
Celebrated as the pinnacle device for a broad audience, the Google Pixel 8 integrates the finest bespoke hardware and cutting-edge software developments from the company. Representing a truly high-end smartphone, it offers exceptional performance without a hefty price tag, ensuring enduring excellence for years to come.
Does it truly qualify as an iPhone without a Lightning port? Fortunately, the answer is yes. Apple's most recent emblematic mobile device fully embraces the contemporary smartphone connector era, accompanied by notable (though somewhat gradual) hardware enhancements. If you're a fan of Apple products, this is sure to meet your expectations.
Design: Masterclasses in Flagship Durability
Apple's design continuity, marked by slight refinements in the iPhone 15, meets the Pixel 8's more expressive, Google-centric aesthetic. The removal of the camera notch and the adoption of a USB-C connector reflect Apple's responsiveness to evolving trends. Meanwhile, the Pixel 8 boasts durability with Gorilla Glass Victus 2 and a commitment to sustainability with recycled materials.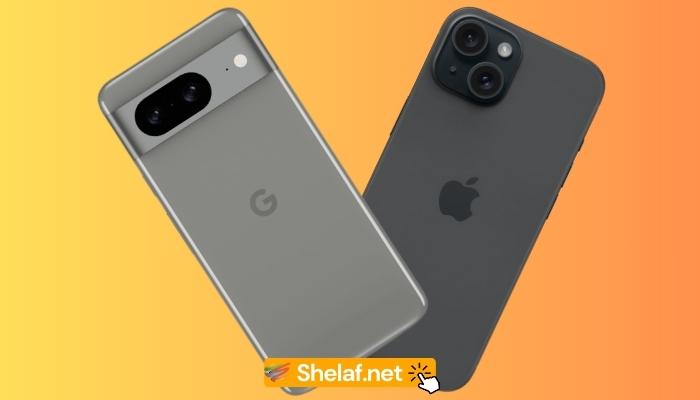 Display: Google Takes the Lead
In a surprising turn, Google's Pixel 8 display surpasses Apple's renowned standards. Matching the iPhone's peak brightness but offering better sustained performance in bright conditions, the Pixel 8 excels in color coverage, pixel density, and adaptive refresh rate. The display's rounded corners, while reminiscent of the iPhone, do not detract from the overall viewing experience.
Software: The Longevity Game
Apple's seamless user interface and well-curated App Store versus Google's more streamlined Android implementation — the software battle defines user experience. Apple's ecosystem reliability is contrasted by Google's commitment to refining Android, with a notable emphasis on in-house machine learning developments and algorithm-based features. Google's unprecedented announcement of seven years of full Android OS updates for the Pixel 8 signals a significant move in the industry.
Performance: Processing Power Divergence
Apple's Bionic SoC maintains its lead with impressive performance, supported by a consistent six-plus years of software longevity. In contrast, Google's Tensor G3 chipset, while not as powerful as the Bionic, introduces novel features and a focus on efficiency. The Pixel 8 delivers satisfactory day-to-day performance but falls short of the raw power exhibited by the latest iPhone.
Battery Life: Efficiency and Endurance
The Pixel 8 surprises with remarkable battery efficiency, extending usage to potential 48-hour spans. Google's Tensor G3 chipset, despite lower raw performance, excels in power management. While the iPhone 15 boasts excellent battery life, especially with quick top-ups, it can't quite match the Pixel 8's endurance.
Cameras: AI and Specialized Capabilities
Google's Pixel 8 shines in camera performance, leveraging AI for innovative features and an upgraded 50MP primary sensor. Its low-light capabilities and Ultra HDR capture redefine smartphone photography. In comparison, the iPhone 15 excels in video recording, leveraging ProRes compression and LOG color encoding for advanced video enthusiasts. Choosing between the two involves weighing preferences for photography innovation or top-tier video capabilities.
Conclusion: Choosing Your Ecosystem
Whether it's the refined reliability of the iPhone 15 or the innovative strides of the Pixel 8, the decision ultimately hinges on individual preferences. If video recording prowess and a seamless iOS experience are paramount, the iPhone 15 stands tall. However, for those seeking cutting-edge photography features, sustained software support, and an evolving Android experience, the Pixel 8 emerges as a compelling choice, potentially edging ahead in the flagship competition.