In the latest stride toward innovation, WhatsApp's Android version 2.23.24.26 has unveiled a groundbreaking update through the Google Play Beta Program. This release introduces a time-saving feature, enhancing user experience with a dedicated shortcut for AI-powered chats directly from the Chats tab.
Mark Zuckerberg's September announcement marked the inception of AI-powered chats in the United States, empowering users with insightful advice and suggestions for daily activities. Now, with the recent WhatsApp beta for Android 2.23.24.26 update, this feature is taking center stage, promising a more widespread release in the future.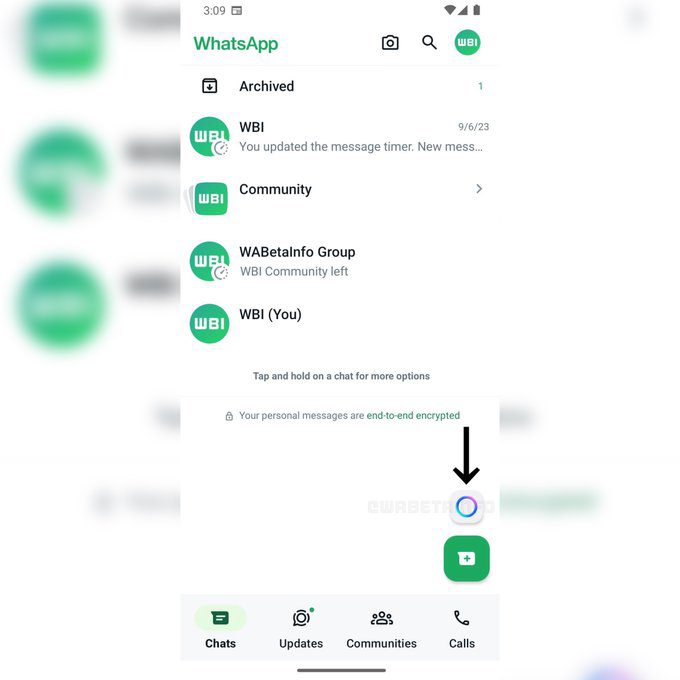 Displayed prominently in the Chats tab, a new button above the icon for starting new chats catches the user's attention. This ingenious shortcut allows swift access to AI-powered chats, streamlining the process for beta testers and heralding a future where this functionality becomes accessible to a broader audience.
While the exact timeline for a widespread release remains undisclosed, the commitment to extending this feature is unwavering. The introduction of a dedicated shortcut not only facilitates quicker access but also integrates AI-assisted interactions seamlessly into users' daily messaging routine. By circumventing the need to navigate through the contact list, this enhancement significantly reduces the time and effort required to initiate specialized conversations.
It's crucial to acknowledge that AI-powered chats are presently limited to a specific user group. However, the strategic placement of the shortcut in the Chats tab serves as a constant reminder of this feature's presence, encouraging users to incorporate AI-assisted interactions into their regular use of the messaging app.
This groundbreaking feature is currently available to select beta testers who install the latest WhatsApp beta for Android update from the Google Play Store. The rollout is set to expand, reaching a broader audience over the next few weeks, enriching the user experience with the integration of AI capabilities.
To stay abreast of the latest developments and features in WhatsApp beta for Android, iOS, Web/Desktop, and Windows, follow Shelaf.net updates. Explore the evolving landscape of WhatsApp as it continues to redefine the way we connect and communicate.