Hey there, fellow tech enthusiasts! It's time to dive into the latest buzz in the digital communication world. WhatsApp has just rolled out a spanking new update through the prestigious Google Play Beta Program, and it's causing quite a stir. Buckle up as we take you on an exclusive tour of WhatsApp Beta for Android 2.23.24.12, offering you a first-hand look at what's cooking in the app!
Channel Polls: A Game-Changer for Engaging Content
In our previous posts on WhatsApp beta updates, we teased you with exciting features in the pipeline. Now, the curtain is about to rise on one of these game-changers: Channel Polls. These polls are set to empower channel administrators like never before, providing them with interactive tools to captivate and connect with their devoted followers.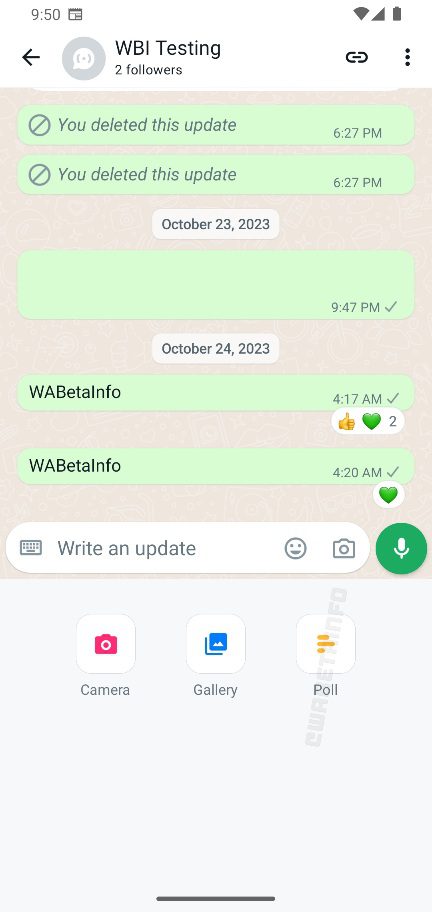 Imagine being able to create and share polls within channels! It's right around the corner, folks. What's more, these polls will grant you the option to limit responses to a single choice, mirroring the functionality we're familiar with in your regular chats and group conversations. The best part? Your privacy is sacrosanct. Your phone number remains confidential, ensuring your responses are shielded from channel owners and other followers.
The Power of Polls: A Deeper Connection
Curious why channel polls carry such significance? It's not merely about amusement; polls serve as the ideal means to collect valuable insights from your audience. They're a step up from simple emoji reactions, encouraging more dynamic interactions. This feature is bound to help channel owners gather invaluable insights and create a stronger sense of community within their channels.
Get ready for an upcoming development that's bound to excite. Although this feature is still in the developmental stage, it's well on its way to becoming a fundamental component of your WhatsApp experience. Be assured, we're dedicated to keeping you informed about all the intricate aspects as they gradually unfold.
---
Recommended: How to Install WhatsApp on Your Smartwatch: A Step-by-Step Guide
---
A Quick Recap of What's Fresh in Version 2.23.24.12
Now, let's take a quick trip down memory lane and revisit the other noteworthy additions in this update. While channel polls steal the spotlight, this version also comes bearing gifts in the form of bug fixes and performance enhancements. These behind-the-scenes tweaks work tirelessly to ensure your WhatsApp experience is smoother and more reliable than ever. The app's stability and responsiveness receive a well-deserved boost.
In addition, the app info screen gets a facelift. It's now even more user-friendly, making it easier to access vital information about the application. This revamp adds to the seamless experience you've come to expect from WhatsApp.
Conclusion: Elevating Your WhatsApp Experience
In a nutshell, WhatsApp Beta for Android 2.23.24.12 is set to transform the channel experience with the introduction of polls. These interactive tools promise to empower channel administrators, boost audience engagement, and bring forth fresh insights. Together with resolving software issues and improving performance, this update reaffirms WhatsApp's dedication to providing a premier messaging platform.
Keep an eye out for our upcoming comprehensive coverage as we disclose further insights about this exciting new feature. Your WhatsApp experience is on the verge of becoming even more interactive and engaging!