Life is more simple and easy day by day as a result of technology, there is no need to queue and wasting much time in the Banks before you can perform some transaction. With the help of an application installed on your mobile phone, you can perform below transactions by yourself while sitting and relaxing in your home or office without visiting any bank.
Check Balance
Check Statements of Account
Funds Transfer to any other account or banks
Airtime Top up to all Nigeria Networks
Send Money to Phone (ATM Cardless Cash)
Bill Payments, like PHCN, Postpaid (Airtime), Pay Cable TV and Other Utilities.
Other Banking Services, like Account Management, Utilities, Request Cheque Book, Request bank Draft, Stop Cheque.
One of the emerging ways to do online business effectively is the ability to access your Bank Account anywhere you are. This will help you monitor the payment for your products and services by your clients. It will also help you to respond to your customers on time after they pay for what you offer on your online business website/blog. To do this, you need to get the tools to make this work.Today, I will be sharing with you the links to where you can download the eTranzact mobile banking applications. You should download the one for the banks you have an account with. Before you do that, let me give a little more information about the makers of the banking applications.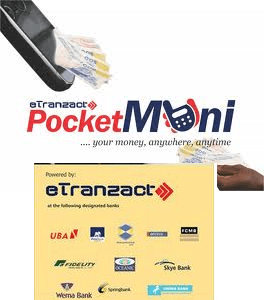 Basic Information on eTranzact Company Overview ETranzact is the first online real-time payment system that allows account holders to pay for goods and services purchased from merchants, transfer funds to any bank account, mobile phone, any card, pay bills, order products etc. without stress. This is possible because etranzact allows cardholders to use any of the following channels to transact:
Web (using any internet browser in a secured transaction)
Mobile Phones (GSM, CDMA or Analog)
POS (Point of Sale)
ATM (Automated Teller Machines)
Other Mobile Devices
Bank Branches
Website: www.etranzact.com These are the links to download eTranzact mobile banking solution for the various banks. You can either navigate to this URL from your phone to download them or you can download them on your Laptop/Desktop and later transfer the application to your phone.
UnionBank – http://mobile.etranzact.com/UnionMobile.jad
FirstBank – http://mobile.etranzact.com/FirstMobile.jad
Wema Bank – http://mobile.etranzact.com/WemaMobile.jad
Intercontinental Bank – http://mobile.etranzact.com/iMobile.jad
Skye Bank – http://mobile.etranzact.com/SkyeMobile.jad
Fidelity Bank – http://mobile.etranzact.com/FidelityMobile.jad
Oceanic Bank – http://mobile.etranzact.com/OceanicMobile.jad
Access Bank – http://mobile.etranzact.com/AccessMobile.jad
GTBank Bank – (BlackBerry OS5, BlackBerry OS6 & 7, iPhone, Android or JAVA enabled phones)
Others banks will be added soon
Go ahead and download the applications. After you do, make sure you install them on your mobile phones then open it and filled required information. They are simple to use and operate. However, if you face any problem while using the application, I will advise you to walk into your nearest Bank Branch and ask anybody in the customer care unit for help, they will surely guide you on how to use it. In my future posts, I will be explaining how to use the above applications to pay for DSTV subscription with your mobile phone and many other things you can do with your mobile phone. So, Subscribe Now, if you don't want to miss the tips.
If you want to appreciate this, have Questions to ask or have anything to contribute, kindly use the comment form below. More so, Kindly use the "Share", "Like" and other Share buttons to share this post with your friends.
Cheers!