Have made many post on how to Pay for DSTV and How to Recharge mobile number through online with your bank account without any stress but this one is more superb as it has more features. With this website, you can:
Buy and sell liberty reserve in Nigeria
Generate recharge e-pins online to top up Etisalat, Airtel, Glo and Mtn account or
Pay for DSTV and GOTV subscription with ATM cards.
That's exactly what I am revealing to you today. And guess what? You can also get a free domain name when you pay annually for any of the web hosting plans also offered on the online portal. More so, you can send cheap bulkSMS right on the site. So, what's the website address? Just log on to www.e-topup.com.ng
The website is a product of NKONCEPT WEST AFRICA LIMITED; the same company that has been catering for the needs of e-currency users in Nigeria since at NXCHANGER.COM. To Buy Liberty Reserve or Recharge Cards with Your Interswitch ATM Card You have to be a register member and if you are already a member simply Login, click on the LOAD MY WALLET link on the sidebar of the member area, follow the process then enter your ATM card details on interswitch secure platform. To Pay for DSTV or Buy Recharge Cards with Your Liberty Reserve, You will have to load your wallet using the "liberty reserve" option.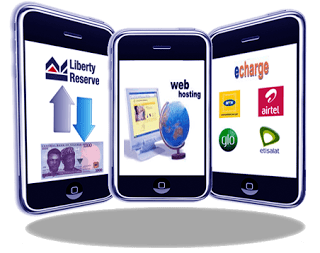 It can be use to extend DStv subscription and also to generated voucher pin for Glo, Mtn, Airtel and Etisalat mobile recharge.
Check it out here: www.e-topup.com.ng
NOTE: E-TopUp mobile app is available for for Android, Symbian and BlackBerry devices if you visit https://e-topup.com.ng/ on your Smartphone.
That's all for now.
Don't Forget to Share this post with others.
Never miss any of my future post CLICK HERE TO SUBSCRIBE Once entered, you will have to check your Inbox for a confirmation email containing a confirmation link. Once you VERIFY your email by clicking on the confirmation link in the message, you will never miss any future articles.