Hi, lovely viewers, and welcome on the board to this anticipated post. A lot of things have changed over the years. The methods of getting Free USA numbers in the past have changed.
Most of the methods out there trying to charge you some $$$ before you can get a USA phone number for online transactions are outdated. I know some 9ja guys charging some bucks to help people get USA phone numbers.
Good news, now you can get a US phone number via TextNow APK to make free international calls and to receive verification calls/messages to sign-up or verify strict verification process US-based sites like USA PayPal, Google voice, USA Bing ads Account, etc., from Nigeria without spending a dime to anybody, 100% free.
I hope you are ready to board my ship? I'm no one else but Shelaf, taking you on a journey to the United State from Nigeria. There are lots of websites/apps that are offering free USA phone numbers, but TextNow will be our main focus.
What is Textnow App?
TextNow is one of the greatest free text and phone applications available. What makes it unique is that it has a number of incredible features. It provides free SMS, photo messaging, calls, and voicemails as part of its service. There are some advertisements, however, they may be turned off for a nominal price.
It offers free U.S phone numbers. It allows you to send text messages (real SMS) to any phone number in the United States, Canada, Mexico, and 100 countries in the World for FREE.
TextNow can be used to make free calls to US numbers and also receive calls from anywhere in the world for FREE! You can receive calls, make calls, text, and receive messages with it. I used it to verify my foreign Upwork and Fiverr accounts, as well as my foreign PayPal account in Nigeria. Check the screenshot below for the proof.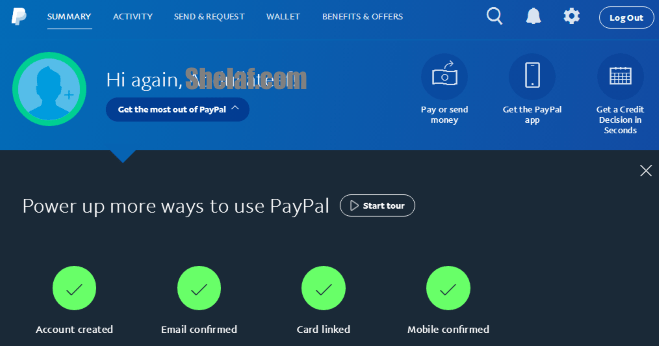 Recommended Article: How to Open and Verify a USA PayPal Account.
TextNow APK Features
TextNow will supply you with a virtual phone number to make and receive voice calls
You can specify your phone number.
Using the software, you can send SMS to phone numbers and other persons.
Enabling image-based communications to send and receives the full picture.
It's also possible to store images.
You can make voicemail greetings and have your voicemail transcripts.
Emojis, stickers, and GIFs abound.
Text alert tones, ringtones and vibrations, and notification sounds can all be customized.
Backgrounds that can be customized, with a variety of wallpaper and color schemes to pick from.
The rapid response feature allows you to quickly respond to friends.
You can personalize your messages by adding your signature.
Messages can be sent from your computer.
Completing partnered offers or purchasing minute packs will earn you credits to spend in calling.
You can send videos to your friends and family via video messaging.
It features a caller ID.
The passcode is used to keep your messages safe and secure.
There's no need to remember your password if you use Google SmartLock.
Call forwarding and conference calls are also available.
You can customize the ringtone and backdrop for each of your contacts.
TextNow can be launched from the home screen widget to create a new message or make a fast call.
TextNow allows you to send and receive SMS and GIFs straight through a single inbox.
On several devices, you can access one phone number.
You can send messages and make phone calls from your computer or tablet, then view them from your phone when you're out and about.
Allow you to send text messages from your PC. All of your messages are perfectly synced with your mobile device.
You can use your Wi-Fi-equipped tablets as phones.
It has a flexible calling feature that protects you from missed calls. TextNow's unique ability to make our calls take the greatest possible route to improve the quality of each call is known as an elastic calling.
You can change the app's appearance and feel.
You'll be able to use your photo as a background.
However, TextNow is not open to the general public, it's only meant for those in the U.S, Mexico, and Canada, but there is a workaround to it as Non-U.S residents can also make use of it.
Non-U.S residents can only sign up on TextNow with the help of a VPN (Any VPN with a steady US IP address will do)
Hotspot Shield VPN free version is working fine with it – Get it Here
Note: When downloading the Hotspot Shield VPN, try not to install other options like toolbar, etc. All you need is just the software.
Get a Free US Phone Number in Nigeria Via TextNow APK
Make sure your VPN is up and running, I normally use premium ExpressVPN though, and ensure to use ONLY USA server address. You can use ip2location.com to confirm your IP location.
Now, visit https://textnow.com and click on the Sign-Up link. Fill in your detail and click on the Sign-Up button, in the next page, you will be asked to "Enter Your Area Code".
Simply log on to http://www.worldatlas.com/na/us/area-codes.html
Scroll down to choose your preferred Area Code or choose any one from the below screenshot.
Input your Area code and tap on the "Continue" button, then select your preferred USA phone number and click on the "Continue" button. You should have your own US phone number within seconds without leaving Nigeria.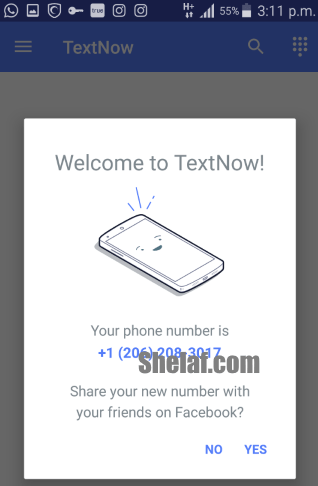 For more convenience, you need to download the TextNow mobile app. TextNow app is available for the Android OS, which is good for calls and messages push notifications. You can make calls and receive calls with it, you can also send and receive messages with it. I used TextNow for verifications on sites/features that do not support Nigeria.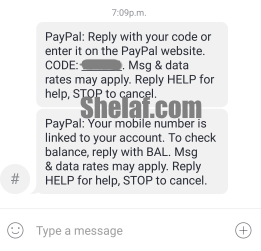 How to Download TextNow APK
TextNow is available in Google Play Store, but Non-U.S residents can't download it easily there, even with the VPN, you may not be able to download the app from Play Store. Simply follow the steps below to download TextNow APK Version
Copy the Play Store link of TextNow.
Visit apps.evozi.com
Click/Tap on the APK Downloader button and you will be redirected to another site.
Paste the link of Google Play Store TextNow you copied in step one into the provided space and click on Generate Download Link button with the blue color background.
Click on the Green Download button on the next screen to download TextNow APK to your smartphone.
For your time-saving, I have uploaded the TextNow APK version on another server, you can easily download it here.
After installing TextNow APK on your Android device, connect your VPN Android version, then fire up the TextNow app to get started.
You must be online to receive calls with TextNow free version. You can view your calls and SMS messages history at the dashboard of your TextNow, once you're signed in to your account.
TextNow Premium Upgrade is not compulsory, but to remove annoying ads, lock in your number, and get a call forward to your local number.
The Monthly fee is $2.99
The Yearly fee is $29.99
Warnings: Always ensure to use a US IP address while accessing your TextNow account.
This is where I dock the ship folks about the 100% free US phone numbers. Thank you for reading and let me know if you like the offer.
If you have questions arising from this, put them in the comment section and I'll respond to them.
If you like what I'm doing on this blog and you are still not subscribed, then you aren't doing me any favor. So please click here to follow Shelaf's daily latest posts and don't forget to share this post with your friends and families, it will help a lot.