It's time to get friendly and Jumia One makes it worth your while. I'm glad to let you know that Jumia One has increased their referral bonus promo to ₦1000 per referral! This time around the reward is unlimited, but limited-time offer.
We know you are already making use of the Jumia One app for your various orders… be it Airtime, Data subscription, Cable TV subscription, pay bill, etc, but if you are a blogger, webmaster or you have lots of fans on social media or in the group on messaging apps and you have not yet introduced Jumia One App to your audience, (I have been saying this and I will keep saying it), you are missing a lot.
This is another great chance for you to make cool cash via Jumia One as the reward just increased from ₦500 to ₦1000 per referral.
At the moment, Jumia One app is giving returning users N500 cashback on airtime and data of ₦5000 and above. This means that if you buy Airtime or Mobile Data of ₦5,000 or more, we'll give you ₦500 in your wallet to spend on Jumia One.
All you need to do to get N500 Cashback on Jumia One App is to enter the voucher code MOBILESEPT on your checkout and N500 cashback will be return to your wallet after the successful purchase of your Airtime.
If you are using the app for the very first time, apply the promo code WELCOME20 and you'll enjoy 20% cashback on your first transaction.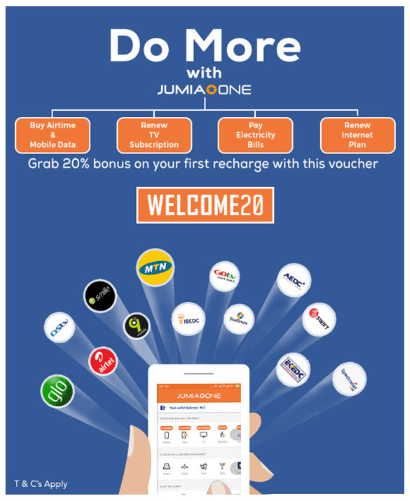 Where Can I Download Jumia One App? Download the app through this link,
How to invite and earn Jumia One app
Log in to the Jumia One app
At the bottom of the homepage, click the 'Invite a Friend' icon
Then, click on Invite Your Friends
Select your desired way to share with your friend (e.g Whatsapp, Facebook, Email, etc.)
Your friend clicks the link in the shared message & downloads the Jumia One app
Your friend makes their first Airtime, Mobile Data, or Bill payment
You receive your ₦1000 in your wallet
Download the Jumia One App Here
Please Note:
Your friend needs to verify his/her phone number when asked during registration. If your friend skips this verification, you miss your bonus
You should have only one Jumia One account in order to benefit from the referral program
You only receive the bonus if your invited friend is a new user on Jumia One
Your friend must pay for their first transaction using a valid card or bank account registered to their Jumia One account
Your friend can use the voucher code sent to them to enjoy 20% cashback (up to ₦1000) on their first transaction
Terms & conditions apply
Cashbacks are usually given within 24 hours. If after this period you have not gotten your referral bonus, please reach out to Jumia customer care.
Don't waste time! Run and invite all your friends, so you can get your FREE money on Jumia One before the offer ends.