Abeg is the most recent app out there that smart people are currently using to make money online through the referral program. Abeg app is legit and paying very fast.
The platform is still new, that is why the promo is being conducted to encourage people to utilize it and to increase the number of users on the platform as quickly as possible.
Seriously, this app is very awesome, interesting, and social. A lot Of celebrities are already on the app… Like DonJazzy, he shared 1 million Naira by doing ₦10,000 each for 100 lucky winners through the Abeg app just to test the giveaway aspect of the app. Also, Mr. Macoroni is doing giveaways on the platform.
Simply looking at the design will make you feel so awesome… In terms of design, it's 80% social networking and 20% bank or monetary app.
Abeg is offering referral bonuses to users who invite their friends to create an Abeg account. If your friends download the app through your invite code, and you initiate the first transfer, you get a ₦500 bonus for your troubles.
On this blog, we have already shared how you can Get ₦500 from Abeg Referral Promo and Earn more than 10k Per Day, kindly click here for the full details.
It is obvious that some individuals are making cool cash from Abeg Refer and Earn Promo and if you are not part of those beneficiaries, it's not too late yet.
Recommend: How to Make Money with LCredit Loan App – Up to 10k Daily Without Investing a Dime
Abeg Referral Promotion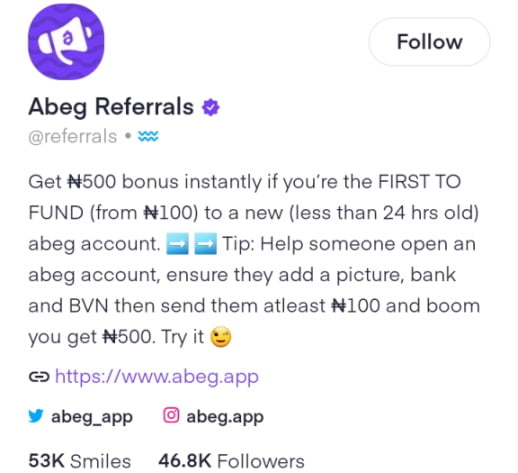 Just like other money apps like this, Abeg also have a referring bonus per user you bring the app
Shelaf will be your referrer, but you need to do it in a unique way.
This is just as simple as this a must-to-do 5 steps before who refer you get the ₦500;
1. Download the Abeg app for your Android or iPhone from the attached below.
2. Sign Up or create an account through the app
3. Add your BVN, this will avoid users opening multiple accounts, Set Pin and input username
4. Add your Bank Account so you can withdraw easily to your bank account
5. Then, add your picture, it's a must, you know Abeg is social.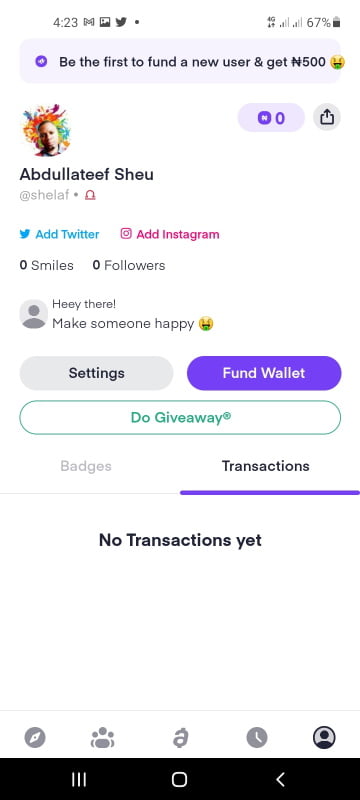 Before 24hrs contact your referrer that's Shelaf on WhatsApp by clicking here or scan the QR code below↓. Send us the screenshot of your profile transactions just as it is displayed in the above↑ screenshot along with the date and time you registered, make sure you finished your registration.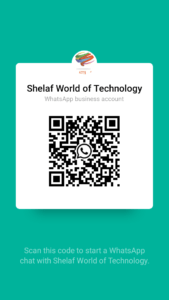 Your account will be credited instantly with ₦100. This refers to Abeg's ₦100 registration bonus.
Now, keep reading to find out how to earn the ₦500 reward per referral.
Also Read: How to Make Money with VAULTe App by Polaris Bank (100% Digital Banking in Nigeria)
How to Make ₦500 From Abeg App's Referral Program
Getting Abeg app ₦500 referral bonus is a quick and uncomplicated method.
Simply invite your friends and families to create an Abeg app account and make sure they include their BVN during the registration, add a bank account, and update their profile by uploading a photo.
First, make sure you've received your ₦100 sign-up bonus, then inform your friends or the person you referred to send their Abeg account tag.
Once they've done so, give them ₦100 using P2P on Abeg, which you can do from your Abeg app's main menu.
Your account will be immediately funded with ₦500 as a referral reward once you credit them with the ₦100.
How to Withdraw Abeg Referral Earnings of Under ₦2,000 to Your Bank Account
Based on the rules, the minimum amount you can withdraw on the Abeg app is ₦2,000. Initially, you can use the earnings of under 2k to purchase the airtime, but it is so unfortunate that the feature has been disabled with the reason best known to the Abeg official. So for those who don't have up to the minimum withdrawal amount in their wallet and wish to test how real is the platform. Here is the simplest way for you to withdraw your little earnings into your bank account.
You just need to add up the remaining amount to your Abeg wallet to make it reach the minimum withdrawal amount. For instance, you have successfully referred 3 people and you made ₦1,200 from all of them, plus ₦100 you received from a person who referred you, making ₦1300 in total. To be able to withdraw your ₦1,300 you need to fund your Abeg wallet with ₦700 from your bank account, after that, your wallet balance will be ₦2,000 and you will have the opportunity to withdraw the whole 2k into your bank account. Follow the instruction below to get it done.
How to Fund your Abeg App Wallet
Funding is very simple.
Login Your Abeg App
Go to the profile page by click on the profile icon under
Tap the "Fund Wallet" button.
A unique account number will come up which will be the Wema Bank account
This is your unique account number for funding your wallet
Whenever you want to fund your wallet just send the amount to that account and it will reflect on your wallet instantly as shown below.
You might also like: How to Make Money by Referring your Friend to Open an SC Account – you'll both Receive N1500 Cash Reward
How to Withdraw Money from Abeg App to your Bank Account
Withdrawing funds on Abeg App is very easy as well.
Follow these 4 simple steps to withdraw or send your fund to your bank account, note that ₦23 charges apply to transactions above ₦5,000;
Login to your Abeg app
Go to your profile and click on your balance at the top of the menu.
After you've clicked on the balance button, you'll see the withdraw button.
You will next be prompted to enter the amount you wish to withdraw to your local bank.
However, the minimum withdrawal to other banks is N2000, so enter that number and click withdraw.
On the following page, you will be prompted to link a bank account. Go ahead and withdraw when you've linked your bank account
Input your Abeg transaction PIN and your money will be landed in the bank account you provided.
That's how you will withdraw your Abeg Referral Earnings of under ₦2,000 to your bank account.
I hope you found this post useful.
If so, please share your thoughts in the comments area and stay tuned for more relevant ways to make money online or through a referral program, commonly known as affiliate marketing.