Bitcoin is closing into $50,000 as it continues to recover after months of decline.
Bitcoin is steadily regaining ground in the cryptocurrency industry. The unit value of the world's most popular cryptocurrency climbed by more than 5% at the close of Friday trade, reaching $49,106.
Following that, the bitcoin rate fell somewhat before rising again, and the cryptocurrency was trading at $48,678 per unit at the time of publishing this post. It is worth mentioning that, in comparison to the yearly low of the bitcoin price of $27,734, which occurred on January 4, the cryptocurrency increased by 77.4%.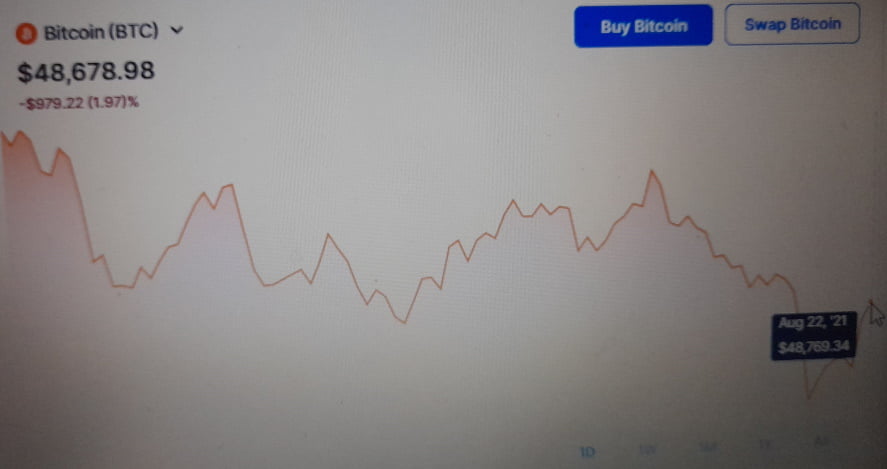 Recommended: Everything You Need to Know About Cryptocurrency Trading
In addition, the second most popular cryptocurrency, Ethereum, concluded the week with a modest gain — by 3.03%. According to Friday's statistics, trading for one "ether" yielded $3,281, which is $ 96.64 higher than the previous day's pricing.
Remember that in April of this year, the value of bitcoin reached an all-time high. Then, each unit of bitcoin was worth around $62,700. This was made possible by Elon Musk's stake in Tesla, which spent $1.5 billion in cryptocurrencies. Later, the bitcoin price dropped and was no longer close to a record high.
Last week, the success of Bitcoin and other cryptocurrencies contributed to the cryptocurrency market value exceeding $2 trillion for the second time. Not only did Bitcoin do well at the time, but so did Ethereum, Binance Coin, XPR, and Dogecoin.
Also read: How to Buy, Sell Cryptocurrency Safely in Nigeria, Withdraw in Naira to Your Bank Account
Dogecoin increased 12.5 percent in a single day and is currently worth $0.325. Dogecoin has a market value of $42.5 billion. This week, Ethereum founder Vitalik Buterin and spokesperson Ilona Musk openly supported Dogecoin by joining the Dogecoin Foundation as advisors.
Avalanche (+ 135%), Arweave (+ 80%), Audius (+ 80%), Terra (+ 67%), and Fantom (+ 49%) added the most in the previous 24 hours.