Hi guys, probably you still have your Tuesday Awuf data plan active, however, I have another MTN Awuf of free airtime and data that is far better than the Tuesday Awuf.
This is an everyday offer, it is not limited to a single day in a week, you can subscribe to it any time any day, and the given bonus can be used for browsing, downloading, and calling any network.
This cheat has been around for a while, but it doesn't appear to have been discovered due to blockage of the cheats or is being reported to the Telecoms. However, we will still have to share it with you like we usually do since, as you are well aware, Shelaf's blog only gives you the best of the best.
You can accumulate this MTN Free Airtime and data offer that I'm about to disclose to you. You only need to read this post through to the conclusion in order to fully comprehend and be aware of your opportunities.
There are certain aspects of this free airtime offer to be aware of and other things to think about. For every subscriber who wants to activate the plan, there are a few requirements that must be met. Below are the requirements in explicit terms:
Requirements for the MTN Free Airtime Offer
An MTN Sim card is required.
MTN BetaTalk or YafunYafun Tariff plans are required.
You must recharge airtime that is worth N1000 or more.
Websites that convert airtime into cash.
How Does Mtn Free Airtime Work?
Customers of MTN BetaTalk's prepaid tariff plan receive a 300% airtime bonus and an extra 200% data incentive on each recharge and you can check the YafunYafun Tariff Plan detail here. The trick is that you can call and browse using the bonus and then sell the original Airtime to get your money back in your bank account through the "Airtime to Cash website"—I've listed the reliable ones in this post.
Consider the following example: On the BetaTalk Tariff Plan, if you load a recharge card with 1000 Naira, you would receive a bonus of N3000 + N2000 airtime or calls and data, a total bonus of N5000 in Betatalk bonus account. And your loaded N1000 will be in the main account. The original N1000 airtime will now be converted to cash by visiting a Recharge to Cash website or platform. You can continue to make free calls and browse using the 5000 Naira free airtime.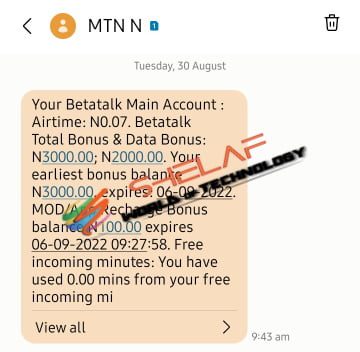 How to Use N200 to Get Free Airtime and Data Worth of N5000 on MTN
Before anything else, switch to Mtn BetaTalk by dialing *123*2*6# or sending BT to 131 through SMS or buy a new MTN SIM card to be on the YafunYafun tariff plan
Recharge your MTN line with N1,000 or more.
Your N1000 airtime will be in the main balance and you will receive N5,000 airtime bonus.
The next thing is to convert the Airtime on the main balance into cash, by going to a website that converts recharges to cash, the recommended one is Betpawa.ng
How to convert MTN Airtime to Cash using Betpawa
Visit betpawa.ng
Click the "JOIN NOW" link at the top of the page, then input your mobile number (must be MTN network), password, first name, and last name (must be the name on your bank account), then, hit the join now button.
To confirm and log in, a verification code will be delivered to the registered mobile number.
To deposit MTN airtime into your Betpawa account, click the Menu button in the upper right corner, then the deposit option.
In the deposit method selection, choose the MTN logo, enter the desired amount (amount in your MTN main account), then hit the Deposit button and follow the on-screen instruction to complete the transaction.
MTN will instantly credit your Betpawa account with airtime after deducting it from your mobile number account.
NB: Whenever you credit your Betpawa account with Airtime, keep in mind that there are deposit fees, e.g N200 will be deducted as a fee on the transaction of N1000. This is why I used the title "Use N200 to Get Free Airtime and Data Worth of N5000." That is the only N200 you will sacrifice to get the free airtime worth N5000 which is usable for calling and browsing, and valid for 7 days.
Before placing the withdrawal, note that the minimum amount to withdraw is N1000 and now that you are left with N800 on Betpawa, you need to top it up with N200 via your bank account, with no transaction fee attached to that.
Just hit the MENU in the upper right corner, then the deposit option, and choose the bank or USSD to top up your Betpawa account.
How To Withdraw Funds on Betpawa to Bank Account
After receiving credit at Betpawa, click MENU in the upper right corner, select withdraw option and input your amount and bank information. Then, hit Withdraw.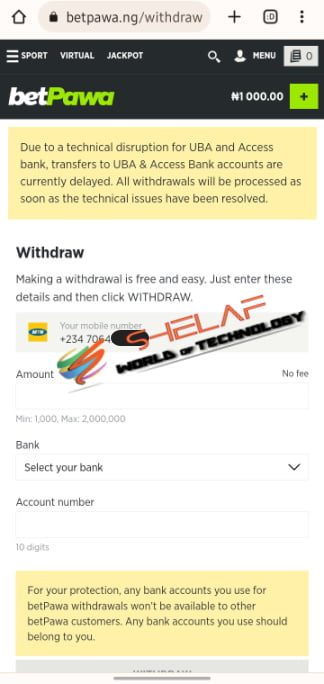 Also, withdrawal should be made without errors like a wrong account number or an account number that is not linked or does not match the name on your betpawa.
An immediate bank alert will be sent to you. Now, you can withdraw cash through a transfer, POS, ATM, or even reuse for the airtime bonus accumulation.
At this point, use your bonus free airtime as you wish.
Don't forget that the MTN free airtime bonus is valid for just 7 days. Continue doing this to earn an endless amount of free Airtime.
Dial *556# or *559*43# to check the remaining balance of your bonus airtime.
Conclusion
There is no need to fear because the MTN administration is aware that this airtime bonus is lawful.
If you like what I'm doing on this blog and you are still not subscribed, then you aren't doing me any favor. So please click here to follow Shelaf's daily latest posts and don't forget to share this post with your friends and families, it will help a lot.