You can get a fast loan without the need for paperwork. A type of financing, which operates as an instant loan or credit card, is provided to users through this personal lending app.
I've tried many loan apps with a variety of outcomes, but thus far, the Fairmoney lending app has been a positive experience.
FairMoney is a notable Nigerian-French FinTech business with a loan-giving license in Nigeria. They give Nigerians uncollateralized, quick loans. Users have given the firm excellent feedback ever since it entered the Nigerian lending market. The company offers variable interest rates and offers loans using a mobile app.
Your cash demands can be quickly and easily met via the FairMoney Online Loan App!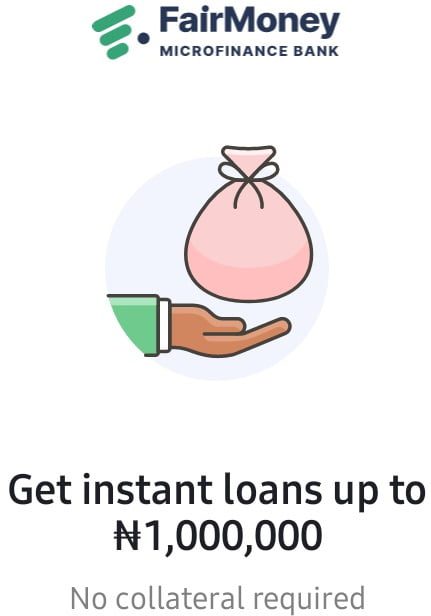 Instant personal loans vary from ₦1,500 to ₦1,000,000
Repayment terms are between 61 days to 18 months
Monthly interest rates range from 2.5% to 30%
Delivery of funds to your bank account without the need for collateral or paperwork in less than five minutes!
Loan requirements for FairMoney
The requirements to get a fast loan from FairMoney are as follows:
Basic particulars, like name and email
Bank Verification Number (BVN)
Details of a bank account
Card for an automated teller machine (ATM card). It will be used to debit your account for loan repayment, thus it is necessary.
A picture of you could be required.
Only through the app can you apply for a loan.
---
Recommended: MyDailyCash App: Earn PayPal Cash by Carrying out Simple Tasks on your Phone
---
How to Get a Fast Loan from FairMoney
To apply for a loan from FairMoney, follow these steps:
1. Download the app
You must download the app in order to receive a loan. Right now, getting a loan is impossible without the app. The app is only right now available on Android devices via Google Play. There isn't a Windows, or iOS app. This implies that in order to get a loan, you must use an Android phone.
2. Register
The next step is to touch the app and register once you've downloaded it.
3. Respond to a few questions to get a fast loan offer
You will now be required to respond to a few questions. The solution will aid the app's credit score calculation. An offer for a loan will be made based on that. Numerous variables will affect the offer you receive. As you make on-time loan payments, you'll have access to better options.
4. Accept the loan offer
To accept a loan offer, you only need to click on it after getting it.
5. Obtain the loan
You will start receiving the funds immediately after accepting the loan offer.
You have 15 days to reapply if your loan application is denied.
How much is available?
Several criteria, including your credit score, will determine how much you receive. However, you will have access to additional money as long as you make your loan payments on schedule.
---
Also Read: Secrets to Get Loan Approved Instantly on LCredit and Make Over N50,000 Without Investing a Dime
---
What distinguishes FairMoney from other lenders?
Flexibility – You can repay on or before your due date No hidden fees – Interest and fees charges are all-inclusive, ensuring transparency Their customer is king – Our team is trained to treat you with the utmost respect at all times Speed of delivery – You can get a loan instantly in 5 minutes, from anywhere in Nigeria.
How can I pay back?
To make a card payment or bank transfer, open the app and click the "Repay" option.