Google Voice is the versatile phone service you've been searching for. It offers a wide range of services to make your communication requirements simpler, is simple to sign up for, and is frequently free. We'll cover all you need to know about Google Voice in this in-depth tutorial, from its essential features to its real-world uses. Google Voice has you covered, whether you're a small company owner, a freelancer, or someone trying to simplify personal communication.
What is Google Voice?
Google Voice, a service with over a decade of existence, empowers users to create and manage phone numbers for specific purposes. It encompasses essential phone capabilities, such as: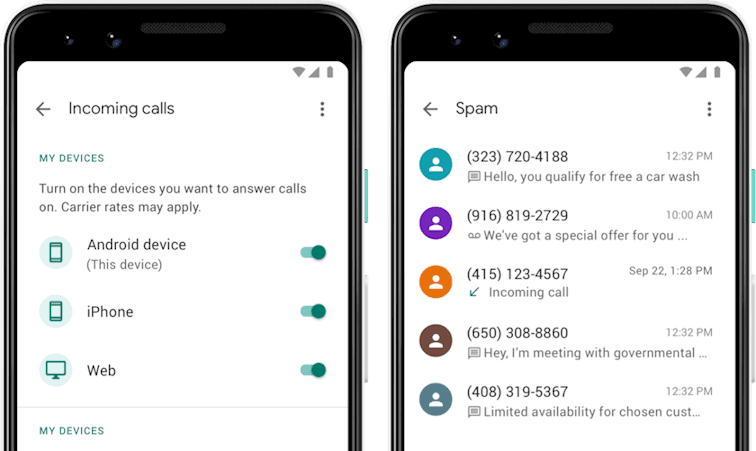 A dedicated phone number for both incoming and outgoing calls
SMS (text messaging) capabilities
A visual voicemail platform featuring transcription
Efficient spam call detection and automatic blocking
Detailed call history
Google Voice isn't meant to replace your primary phone service, especially if you receive a high volume of calls. Instead, it serves as a valuable backup tool, particularly for home-based businesses or side hustles.
Is Google Voice a VoIP service?
Yes, Google Voice operates on VoIP (Voice over Internet Protocol), relying on a stable internet connection, preferably broadband. This technology, commonly used by businesses, is also behind many burner phone number apps on the Google Play Store. Google offers both a personal and business version of VoIP, with the latter providing more advanced phone management and number assignment for scaling business needs.
Why choose Google Voice?
Google Voice caters to individuals and businesses seeking an additional phone number for various purposes. For businesses in the United States, it's an excellent choice due to its easy setup and scalability. You can even select a vanity number or a memorable one for branding purposes.
On the personal front, Google Voice serves as a convenient contact for job opportunities, gigs, or volunteer work, keeping your personal number separate and adding an extra layer of privacy. Moreover, call routing features enable you to direct calls to multiple devices, ensuring you never miss an important call.
Are there fees for using Google Voice?
The good news is that creating a Google account is completely free, allowing you to call and text within the United States without incurring any expenses. However, costs may apply in some cases. Google Voice offers business plans starting at $10 per month, providing additional features for managing and scaling your communications.
Can Google Voice replace your current phone plan?
While Google Voice is a valuable addition, it cannot replace your traditional cell phone carrier's plan. VoIP services like Google Voice function best with dependable landlines or robust Wi-Fi networks since they depend on a steady internet connection. On the other hand, your regular cellular plan runs well without the requirement of Wi-Fi or Ethernet connections, making it crucial for communication when on the move.
Compatibility Across Devices
Google Voice is highly optimized for various devices, including Android and iOS smartphones as well as computers. Compatibility issues should rarely be a concern when using this service.
International Calls with Google Voice
For international calls outside the United States, Google Voice may entail charges, and these rates can vary significantly between countries and between landline and mobile numbers. To check the rates for a specific country, Google provides a helpful rate-per-minute cheat sheet, making it easy to estimate costs for international communication.
Signing up for Google Voice (step by step)
Visit voice.google.com in your web browser.
Click "Sign in" if you're not already logged into a Google account.
Enter your email address and password.
Ensure you have a Google account, a valid U.S. phone number, and are located in the U.S.
Click "Continue."
Search for a location by typing a city name or ZIP code.
Select a phone number from the options.
Click "Verify" to verify your actual phone number.
Enter your valid phone number.
Click "Send Code" to receive a verification text.
Retrieve the code from the text message.
Enter the six-digit code on the Google Voice page.
Click "Verify."
If prompted, click "Claim" to use the associated phone number with your Google Voice account.
Click "Finish" to complete the setup.
Customize your Google Voice settings for calls, voicemail, notifications, and accessibility.
Getting a New Phone Number
Visit voice.google.com in your web browser.
Log into your Google account.
Click the cog icon in the top-right corner.
Click "Delete" under your current Google Voice number.
Click "Delete number."
Click "Get a number" to start the setup process again and claim a new number.
Conclusion
Google Voice offers a versatile communication solution that caters to both personal and business needs. Its VoIP technology, compatibility across devices, and practical features make it a valuable addition to your communication toolkit. Whether you need a separate number for work, enhanced call routing, or international communication capabilities, Google Voice has you covered. Sign up today and streamline your communication like never before.
Google Voice is a dependable option if you want to streamline your communications, handle conversations efficiently, and protect your privacy. It is an excellent tool for anybody looking for a smarter method to connect due to its user-friendly design, affordable rates, and easy connection with your existing devices. Google Voice is available to simplify your life, whether you're a business owner, a remote worker, or simply someone who appreciates effective communication. Why wait? Embrace the future of communication with Google Voice today!
FAQs
1. Is Google Voice free?
Google Voice is free to sign up for with a Google account and allows free calls and texts within the United States. However, certain fees may apply for additional features and international calls.
2. How does Google Voice work?
Google Voice operates on VoIP (Voice over Internet Protocol) technology, requiring a stable internet connection. It provides a dedicated phone number, SMS capabilities, voicemail with transcription, and more.
3. How do I use Google Voice for text-to-speech in Google Docs?
To use Google Voice for text-to-speech in Google Docs, go to "Tools" > "Voice Typing." Click the microphone icon, and Google Docs will convert your speech into text.
4. Can Google Voice replace my current phone plan?
No, Google Voice cannot replace your cellular phone plan, as it relies on internet connectivity. You'll still need your standard phone plan for on-the-go communication.
5. What devices are compatible with Google Voice?
Google Voice is compatible with Android and iOS smartphones as well as various computer platforms, ensuring you can use it across your preferred devices.
6. How are international calls handled with Google Voice?
International calls with Google Voice may incur charges, which vary by country and between landline and mobile numbers. Google provides a rate-per-minute cheat sheet to help you estimate costs.