As an independent country, Nigeria has existed for 62 years. The country has had a turbulent history since its independence from the British colonial administration on October 1, 1960.
Happy independence to us, I hope for a beta Naija and for the greatest to be our next president, protecting us from the dangers in our country
.
To honor and celebrate Nigeria, MTN NG is giving customers free calls and free SMS today, October 1, 2022.
Nigeria at age 62: MTN Marks Anniversary with Free Calls and SMS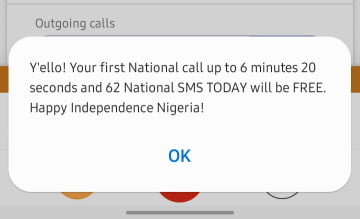 Both new and existing MTN users in the country can enjoy up to 6 minutes 20 seconds of free voice minutes and 62 national SMS.
"Customers can use the free minutes/SMS to call/text National numbers (on-net and off-net numbers) ONLY.

"The free minutes will not be accumulative. i.e. if a customer makes first call of the day for 10secs and ends the call, then the remaining 370secs will be forfeited and subsequent calls will be charged at the rate applicable for his/her tariff plan.

"Any unused free minute(s)/SMS after 11.59pm on October 1st 2022 will be forfeited."
If you haven't made a call on your MTN line today, kindly do so to take advantage of the free calls and SMS, or if you haven't used your MTN SIM in a few days, just look for where you dumped your MTN SIM and quickly clear off the dust. Insert it into your phone and enjoy 6 minutes of free calls. Valid for today only.