First City Monument Bank (FCMB) is one of Nigeria's major banks, offering quick and easy transactions as well as secure funds. Additionally, they've introduced a referral program for their mobile app that enables FCMB users to earn money just by encouraging others to download and register for an account using their app.
What does FCMB Mobile Application mean?
In order to simplify your banking experience, you can download the FCMB mobile application on your smartphone from the Google PlayStore and the Apple AppleStore.
The software has been upgraded, and if you're used to utilizing internet mobile banking applications, you won't have any trouble using the FCMB app.
The FCMB referral program is activated by the most recent update to this application, which can be downloaded by those who are interested.
The application produced the FCMB referral ID and code, which we will talk about in a moment.
Features of the FCMB Mobile App
You can accomplish more things with the FCMB Mobile App, all at your convenience. features are;
Fixed Deposits
Self-service limit increase
Multiple authentication methods
Single/multiple customer onboarding
SME and personal account opening
Education investment plan
Chequebook and draft request
Target savings
Loans
Dispute transactions via the App
Card management
Account officer support
Birthday notification
Cardless withdrawals
Pay bills and utilities
With FCMB Asset Management, you can diversify your investments.
Sign up for FCMB Pensions easily
Get a credit card or keep track of the one you already have
---
Recommended: Secrets to Get Loan Approved Instantly on LCredit and Make Over N50,000 Without Investing a Dime
---
Why should I participate in the FCMB Referral Program?
Through the FCMB referral program, individuals can generate income by encouraging others to use their special FCMB referral code or ID. This might result in weekly payouts of up to 15,000 Naira, or more if practical. That is when key tasks have been finished.
You can find out more about the FCMB Referral program and how to invite your friends to use this platform to earn money if you read this post all the way through.
Need urgent N2k? We'll give you even more. 3K for free!

Here's how to get it:

• Get 5 friends to open an account using our Mobile App.

• They must include your Unique Referral code. Your referral code is the first 7 digits of your account number. pic.twitter.com/3OI22MxFbC

— FCMB (@MyFCMB) September 27, 2022
FCMB Referral Code: What Is It?
Each member who wants to take part in the FCMB referral program is given a unique code, which they can use to publish on social media or other platforms to encourage people to download the FCMB Mobile app and earn rewards in return.
How Do I Open a Bank Account with FCMB?
There are several methods to open an FCMB account, one of which is through using their mobile application, also known as the FCMB app or FCMB mobile application.
Before creating an FCMB account, some customers would rather visit the nearby official branch or shop.
But once you've downloaded the software to your phone, you must adhere to a few straightforward instructions.
Once you've given the app all the information it needs, just verify your account and you're done!
---
Read: Make Money Online: N1,000 Per Referral through the ALAT by Wema Bank
---
How to Get the FCMB App on Your Phone
On your smartphone, just navigate to Google PlayStore or Apple AppStore to download the software.
Follow the instructions below after downloading and installing the program on your smartphone.
How to Sign Up for an Account Using the FCMB App
Open the FCMB app on your smartphone after downloading and installing it, then click the "Sign up" button.
Now, fill out the application's request for general information about yourself.
Click "I want to open an FCMB account."
You must now decide whether you wish to set up a business or a personal FCMB account.
You will choose the "Personal" account option because it is not a company account.
Now, you will have to enter your Bank Verification Number (BVN). Put it in the given box.
Also, provide the birth date that corresponds to your BVN.
A code will be sent to the phone number you used to register your BVN and must be entered in the box provided in order to properly verify that the BVN number you are supplying belongs to you.
Click "Proceed" to continue. The application will now ask you for more information, such as the names of your next of kin and a clear signature that you own.
Now, a question will inquire if a friend referred you. Choose "A friend" and enter "8749098" as your referral code.
Then press the "Continue" button, and you will see your FCMB account number and a success message on the next page.
The next step is to create your profile. To sign into the FCMB mobile application, you must provide a username and password under this profile.
A 4-digit PIN is also used for every transaction on the FCMB mobile app or application. To complete transactions, you must create a pin.
The next step is to fund your account with a minimum deposit of 115 Naira.
As long as your account is active, you can send money from other banks or ask friends to send you money by using the FCMB account number you copied from your dashboard.
You can withdraw the N100 after the money has been received. The sole purpose of this procedure is to fully activate your account. The major focus right now is the referral aspect, which will be covered later.
---
Also read: Make Money Online in Nigeria with OwoDaily by Doing Simple Tasks
---
The FCMB Referral Program: How Does It Function?
In order to participate in the FCMB referral program, you must refer 5 people who download and register for an account on the FCMB mobile application. You earn ₦3000 as a referral bonus when they make a transaction for 115 Naira or more using their accounts.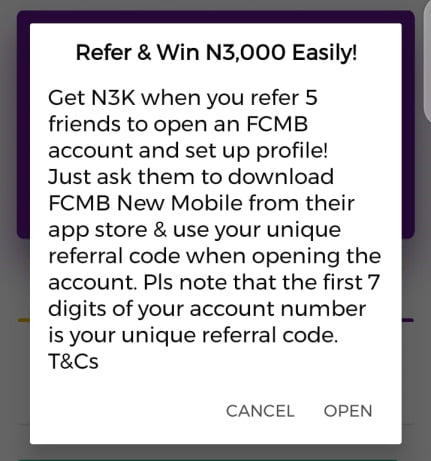 The referral bonus of ₦6,000 will be paid to you if ten (10) others follow the same procedure and finish the tasks.
Within a week of starting to refer friends, your reward will be paid to your FCMB mobile app. If you don't refer up to 5 people using your referral code, you won't receive any payment.
Make sure they open their accounts using your FCMB referral code. Follow the steps required to obtain your FCMB referral link: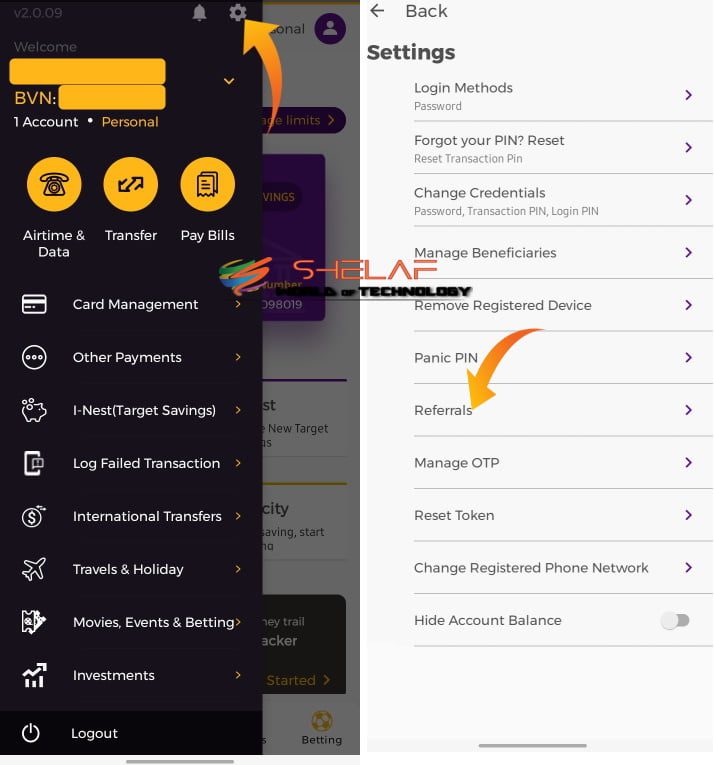 Log in to your new FCMB account using the mobile app you already downloaded.
After selecting the menu icon, scroll down and tap "Settings."
When you click on referral under the settings page, an error message will appear.
That's not a problem; all you have to do is copy your FCMB account number and use the first seven numbers as your referral code.
My account number is 8749098019, thus my referral code is 8749098.