In Samsung's extensive Galaxy A series, which dominates the budget and mid-range smartphone markets, the spotlight falls on two compelling options: the ultra-affordable Galaxy A14 5G and its slightly pricier counterpart, the Galaxy A34 5G.
So, what sets these two budget-friendly smartphones apart, and can opt for the entry-level Galaxy A14 5G save you some hard-earned cash? Although we're yet to complete a comprehensive review of the Samsung Galaxy A34 5G, we've extensively explored the Samsung Galaxy A14 5G. In this article, we'll highlight the key disparities between the two, aiding your decision in choosing the ideal Samsung smartphone for your specific needs.
Samsung Galaxy A14 5G vs Samsung Galaxy A34 5G
1. Enhanced Water Resistance
The Samsung Galaxy A34 5G boasts superior water resistance with its IP67 dust and water resistance rating.
In contrast, the more economical Galaxy A14 5G lacks any water or dust resistance, necessitating caution in wet environments to prevent potential warranty-voiding damage.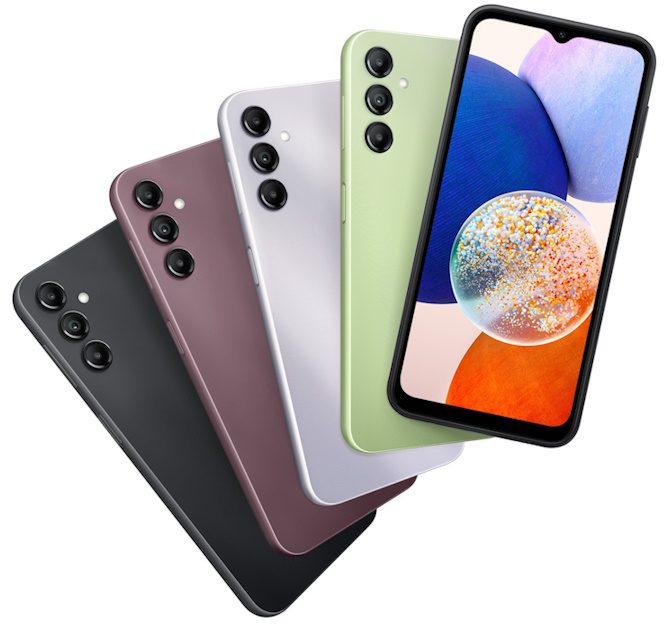 2. Camera Prowess
The camera capabilities distinguish the Samsung Galaxy A34 5G. Despite the Galaxy A14 5G featuring a slightly higher resolution 50MP primary camera compared to the A34 5G's 48MP counterpart, the latter incorporates optical image stabilization for sharper photos and videos.
The A34 5G further excels with an 8MP ultrawide lens for broader angle shots and a 2MP macro lens for extreme close-ups.
Conversely, the A14 5G relies on its main 48MP sensor, with dual 2MP macro and depth sensors that primarily bolster the rear camera count. Nevertheless, it delivers commendable performance, especially in well-lit conditions.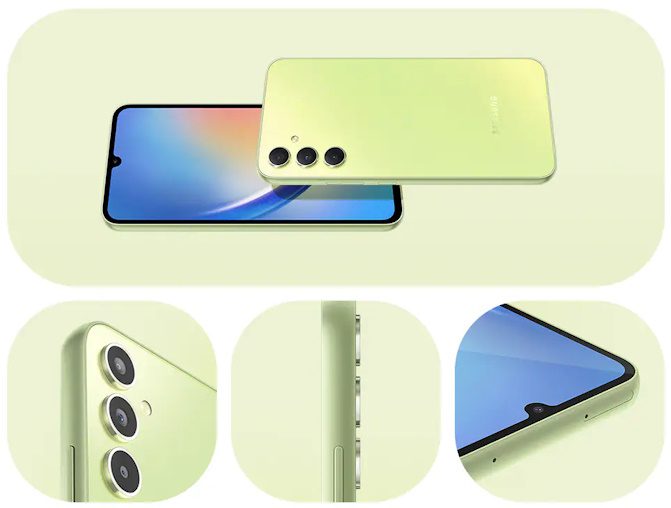 3. Superior Display Quality
Despite its low pricing, the Galaxy A14 5G's 6.4-inch LCD with a smooth 90Hz refresh rate and FHD+ quality provides a good viewing experience.
The slightly more costly Galaxy A34 5G delivers a considerable upgrade with the same 6.4-inch size, smaller bezels, and a better FHD+ Super AMOLED display with an even smoother 120 Hz refresh rate.
Expect crisper, more vibrant visuals, and deeper blacks compared to the A14 5G's LCD.
4. Affordable Pricing
The Samsung Galaxy A14 5G stands out as the more budget-friendly option, priced at just £219 or $199.
In contrast, the Galaxy A34 5G commands a slightly higher cost, retailing at £349 or $249, a £130 or $50 premium.
Whether the additional features justify the price difference depends on your individual preferences and requirements.
Both the Samsung Galaxy A14 5G and Samsung Galaxy A34 5G are readily available for purchase in Nigeria, the UK, and the US following their release earlier this year. For more in-depth insights into these smartphones, explore our comprehensive reviews.