A dictionary is a very important tool for anyone who is learning a new language. With a good dictionary you can do the following:
Look up the meaning of an English word you see or hear
Find the English translation of a word in your language
Check the spelling of a word
Check the plural of a noun or past tense of a verb
Find out other grammatical information about a word
Find the synonym or antonym of a word
Look up the collocations of a word
Check the part of speech of a word
Find examples of the use of a word in natural language
The importance of dictionaries is too numerous to mention. That is the reason that motivated me to present to you the 16 in 1 packed Oxford Dictionaries which are in .pdb format +MSDict Viewer. So as to be my support in the success of your academic or career.
Oxford English Dictionary Supported Devices
Symbian v2 phones, e.g. Nokia N70, Nokia 6680, Nokia 6630, etc.
Symbian v3 phones, e.g. Nokia N81, N73, N95, etc.
Symbian v5 phones, e.g. Nokia N8, Nokia 5800 XpressMusic, Nokia C6-00, etc.
Samsung i8910 Omnia
Sony Ericsson Satio
Sony Ericsson Vivaz
Sony Ericsson Vivaz Pro
Just try it on any type of Symbian phone.
The MSDict Viewer which you are going to download here is fully cracked, you can use it with any dictionaries in .pdb format without registration required.
What is MSDict Viewer?
MSDict Viewer is a dictionary reader specially designed for reference on mobile phones with a fast search algorithm, user-friendly interface, amazing speed, ability to use multiple dictionaries installed at a time, and a lot of other useful features.
Oxford English Dictionary Installation Requirements and Downloading Links
Symbian phones
Memory Card (Either External or In build)
Your phones must be hacked. Click Here to learn how to hack your phone 
MSDict Viewer for Oxford English Dictionary
Dictionaries in .pdb format. Click Here to Download all 16 in 1 Dictionary
Oxford English Dictionary Installation Process
Open your X-plore, Create a new folder on your memory card (E:), name it Documents. Open the Documents you just created and create another folder inside it, name it MSDict. See the screenshot below: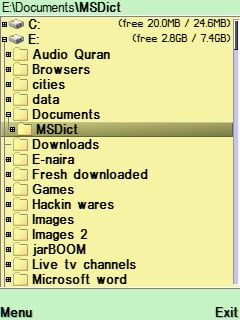 2.  Now install MSDict Vieweryou downloaded.
3.  Extract the 16 in 1 Dictionary you downloaded with X-plore or Zip manager and place the .pdb inside the folder to E:DocumentsMSDict folder you created. See the screenshot below: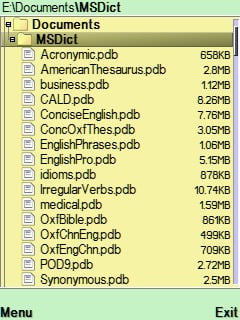 Simple as that, Go to Menu > Application on your phone and locate MSDict, open it and choose English as the preferred language. To switch to another dictionary. Click Option > Change Dictionary.
Keep enjoying! And have a wonderful time.
Don't just read and walk away, click on any of the Shares or Like Buttons for the benefit of others.
Never miss any of my future post CLICK HERE TO SUBSCRIBE Once entered, you will have to check your Inbox for a confirmation email containing a confirmation link. Once you VERIFY your email by clicking on the confirmation link in the message, you will never miss any future articles.