If you're ready to make your first $100 online in Nigeria by completing easy activities like writing reviews, Taking surveys, testing apps, writing articles, referrals, and other micro jobs, keep reading to the bottom of this page.
Earn money online used to be reserved for the most tech-minded individuals. However, narratives are rapidly shifting in this day and age, as anyone with a smartphone or laptop with an internet connection can easily earn money online.
Making money on Picoworkers is a bit similar to making money on the Owodaily Nigeria platform. Picoworkers, in my opinion, it's a foreign version of Owodaily+, and the greatest part is that you don't have to pay a dime to be a genuine member on the Picoworkers website, and they provide more freelancing services than Owodaily which is for you to make more money.
I'm not supposed to say this, because I know if you become an Owodaily+ member using my referral link will give me a better commission than Picoworkers, but this is a review and I must say the truth no matter how bitter it is.
I paid a total sum of N13,000 to become an Owodaily+ member while Picoworkers is offering me all the needed packages for free. To earn money online, all you need to invest in Picoworkers is your time.
There are numerous methods to make money online in Nigeria, but none of them compare in terms of ease and simplicity to making money with Picoworkers in Nigeria.
However, I must caution you that this article does not offer you massive amounts of money overnight. No, it offers to show you how to earn passive money online in Nigeria from the comfort of your own home.
What it does offer is that, although our 10 Best Websites To Earn Money Online For Free will pay you more in the long term, Picoworkers will pay you immediately away for minor online jobs.
So, now that we've established this truth, you might be wondering what Picoworkers is all about.
What is Picoworkers?
According to the official Picoworkers website, it is an online marketplace that connects Freelancers around the world with business owners. Business owners that need other people to help them to support their work come to Picoworkers. Here they can hire workers for easy and quick jobs.
As a freelancer on Picoworkers, you get paid for helping business owners do some tasks for their business.
For example, if you have a YouTube channel, we all know that you must have at least 4000 watch hours and 1000 subscribers within the last 12 months before you can start making money from it in Nigeria or anyplace else. Most YouTubers do not find this easy. Unless you want to monetize your YouTube channel without using Adsense.
In this instance, the Vlogger might go to Picoworkers to recruit workers who will go to his/her YouTube page to watch and subscribe to his/her channel for some fast income. Is it starting to make sense to you now?
Picoworkers members are divided into two groups:
Owners of businesses who recruit people for certain services
Freelancers are individuals who provide services to business owners for a fee.
By the end of this post, you will have a better understanding of how all of this works and how to make money online on Picoworkers in Nigeria.
How to Sign up for an Account on Picoworkers
To sign up for the micro-jobs on Picoworkers and start to earn money online in Nigeria, simply follow the instructions below:
Go to Picoworkers' homepage by clicking here [my referral link], then tap the Sign Up button, as illustrated below:
Put in your real name, email address, password, and your nickname. Select I'm a worker as your profile type. If you are from Nigeria, choose Nigeria as your country.  When you're through, click on the Sign-up button to create your account.
Picoworkers automatically email you a confirmation message when you click the sign-up button. To confirm your account, open your email and click on the confirmation link included in it. By clicking the link, you will be sent to your Picoworker homepage.
So, if you've made it this far in the process of setting up your account, congratulations on your foray into online income generating. Now I'd want to teach you how to make money on Picoworkers in Nigeria. I'm guessing that's what you're interested in learning more about.
How to Make Money Online Doing Micro Jobs on Picoworkers
You'll be able to start working once you've finished the enrollment procedure. You can select tasks from a list of existing gigs or create your own, as long as you can confirm completion. Once you hit a $5 sum, you can request a cashout and send your funds to your bank account via PayPal, Skrill, or LiteCoin.
However, before you continue, you should read our comprehensive instructions on How to Open a UAE PayPal Account that can Send and Receive Payment in Nigeria, since you may need it later on when cashing out your money. And in my next post, I will be revealing to you how you can withdraw dollars directly from your Paypal into your bank in Nigeria and receive that dollar directly from the counter. So keep your eyes peeled.
Now, let's go to our Picoworkers site to discover what we can do to earn our first $100 online in Nigeria.
As illustrated below, on your Picoworkers site, you will find a plethora of micro-jobs that you can quickly complete to make money online.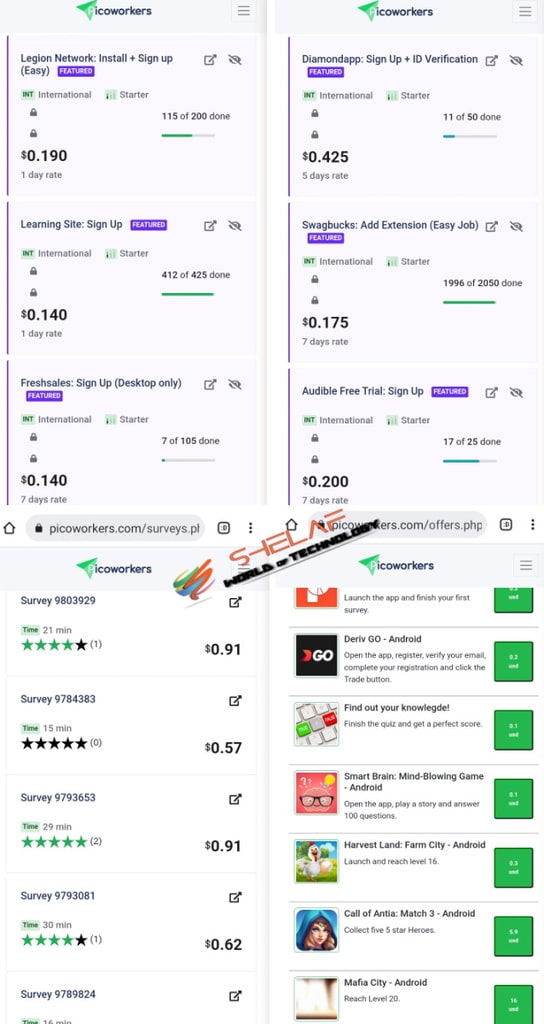 You can see information like Job level Category, Payments, and so on before the jobs. The payout is the amount you will receive for finishing a certain micro job. Some jobs are as high as $20, while others may be as little as $0.02. However, keep in mind that the bigger the payment commission, the more difficult the work.
If you have a certain type of micro-job in mind, you can also click on the Category tab of Picoworkers at the upper left corner of your site.
For the sake of this lesson, I will select a random job from my homepage and see how quickly I can do it. Once you understand how I accomplished it, I'm confident you'll be able to perform such tasks on your own and start making money.
I selected the microtask – Telegram: Airdrop (new users).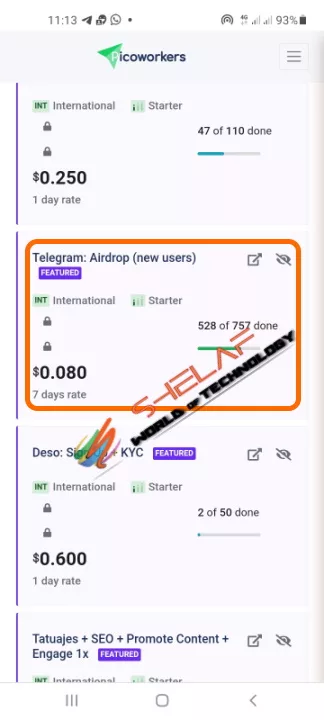 Let me open it and look at the precise work requirements for this job so I can decide if it's something I can easily perform or if I should look for another micro-job.
According to the work requirements for this micro-job, I am required to: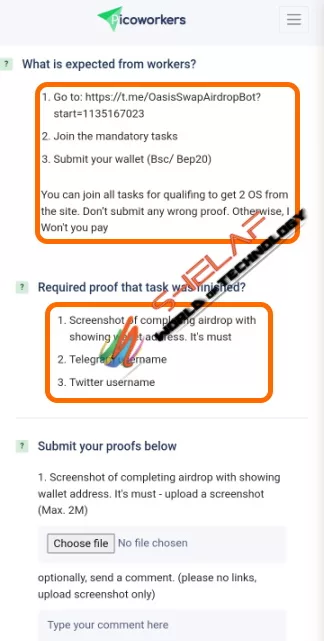 Go to: https://t.me/OasisSwapAirdropBot?start=1135167023
Join the mandatory tasks
Submit your wallet (Bsc/Bep20)
Requirement proof to be submitted are:
Screenshot of completing airdrop with showing wallet address.
Telegram username
Twitter username
So, as you can see, I am interested in the work requirements, and I went for the job quickly by copying the link to my browser and visiting the website. I did the task required, uploaded the completion proof, and hit the submit proofs button, just as it is in the screenshot below.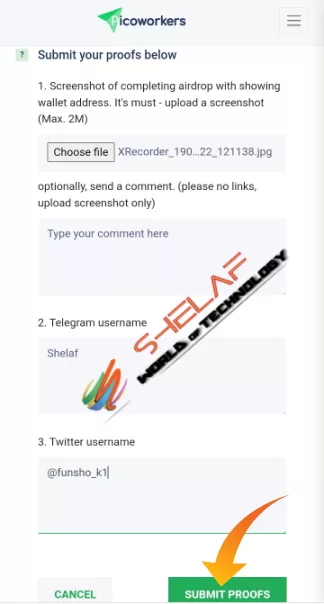 You are free to complete as many micro-jobs as you want in order to make as much money as you want.
Your Picoworkers account balance is always visible in the navigation portion of your homepage. The Pending amount represents the commission that has not yet been validated, whereas the Money balance represents the amount that has been verified and is ready for withdrawal.
How to Find Your Picoworkers' Referral Link
Remember that you can introduce your friends to Picoworkers and earn consistent referral rewards on each job they complete. This is in addition to your regular commissions.
At the homepage, simply hit Refer a Friend button as seen in the screenshot below, to view your referral link on picoworkers.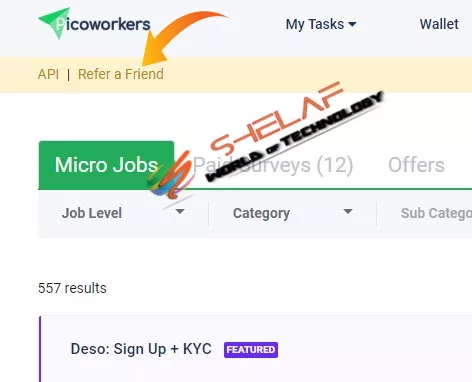 On the following page, select Picoworkers programs & offers to see your referral link, as shown below.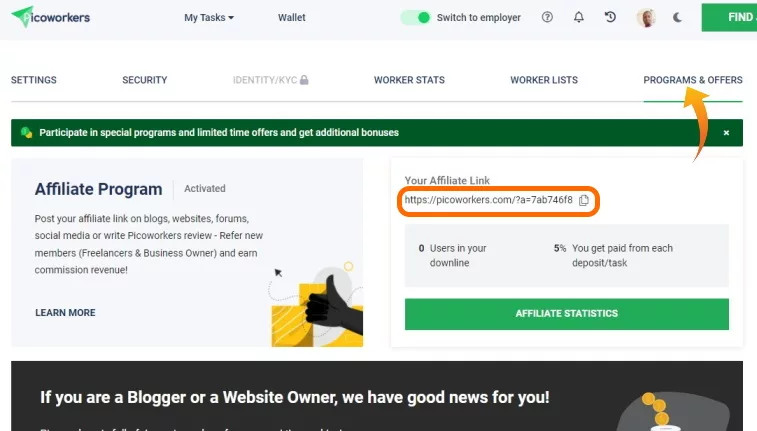 If you devote your time to these micro-jobs, you can easily earn $10 or more every day. The more time you devote to it, the more money you will earn.
How To Cash Out Your Picoworkers Earnings In Nigeria
When you have completed your tiny projects, you can cash out your rewards using your PayPal account, Skrill, or LiteCoin. You can discover how to set up a Paypal account in Nigeria to receive money from outside.
Also Read: A Complete Guide to Binance P2P Trading
That's all there is to it, guys. I hope you've learned how to make money online via Picoworkers in Nigeria?
If you like what I'm doing on this blog and you are still not subscribed, then you aren't doing me any favor. So please click here to follow Shelaf's daily latest posts.
Also, don't forget to share this post with your friends and families, it will help a lot.
If you have any questions, please leave them in the comments box below, and we will get back to you as soon as possible.