Welcome to the fascinating world of pen names! As an author, you know that building a successful writing career takes more than just talent and hard work. To truly stand out in your genre, you need to find new and innovative ways to attract readers and increase your book's visibility. That's where pen names come in – a powerful secret weapon that can help you dominate your genre and boost your KDP sales like never before.
In this topic, we'll explore the art of pen names and how they can be a game-changer for your writing career. From understanding the psychology behind pen names to practical tips on choosing the right one for you, we'll take a deep dive into the dos and don'ts regarding KDP pen names.
I see many people getting the aspect wrong, but if you stick with me till the end of the article, you will know exactly what to do. And never to get in trouble with Amazon KDP.
Whether you're a seasoned author or just starting, get ready to discover how to harness the power of pen names to take your writing career to new heights. So sit back, grab a cup of coffee, and let's explore the exciting world of pen names together!
Let me apologize for the delay in publishing this important article on KDP. I know some of you have been eagerly awaiting it. Unfortunately, I have been held up due to a lack of comments on my previous article. Producing quality content like this is not an easy task, and I would appreciate it if you could take a moment to drop a comment and share the post to boost its visibility, as well as lift the spirits of the publishers to provide better content in due time.
For those of you who are new to my blog, welcome! Please subscribe to Shelaf's top tips and fresh articles by clicking here. Also, I appreciate the returning subscribers' continued support and dedication to reading my articles.
If you are an amateur in the world of Amazon KDP, I would advise you to read my previous articles on "Tips and Tricks for Opening and Verifying an Amazon KDP Account," followed by "The Ultimate Guide to Keyword Research and Amazon KDP Book Publishing Success." Once you have gone through those, you can come back to this article for more insights.
Without further ado, let's dive right into the main subject of today.
What is a Pen Name?
A pen name, also known as a pseudonym, is a fictitious name that an author or writer uses to publish their work rather than their real name. So, whatever your name is, that's it. If you're using another name aside from that, then that could be considered a pen name.
Does Amazon allow Pen Names?
When you go into "Book Detail Resources" on the "KDP Help Center,' if you scroll down, you will see "Authors and Contributors." Tap on it and scroll down to this question: "Can I use pen names to publish my book?"

As you can see from the screenshot above. The reply says you can use a pen name, or a pseudonym to publish your title. This means the practice is approved by the KDP. You can publish your books under pen names. And of course, as we said before, a pen name is not your name, but any other name you choose to use to publish your books.
How do you use your Pen Name on KDP?
When you are uploading the books to KDP, you will see that you have slots for the Book Title and Subtitle, the Series, and then, Edition Number.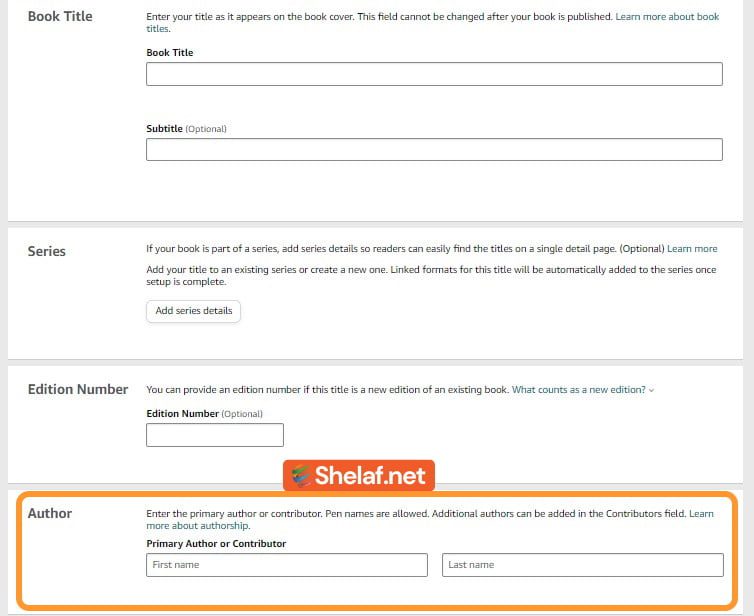 The next thing that comes is the Author. So, this is where you can use your pen name to upload your books on KDP. So, if you had a pen name that you wanted to use and then came to this page, and were wondering whether to use it or not, this is where you're going to input it as the first name, middle name, or last name. I suggest that you use the three places so that you don't have any problems using another person's name.
Why use Pen Names in the first place?
Pen names are often used for various reasons, such as privacy, avoiding discrimination, or creating a distinct identity for a particular genre or style of writing. Some well-known authors who have used pen names include George Orwell, who was born Eric Blair, and J.K. Rowling, who wrote the Harry Potter series under the pen name Robert Galbraith.
1. Privacy
If you don't want someone to know that you are the one publishing this book, using a pen name is the best strategy to hide your identity.
2. Avoid discrimination
People use a pen name to avoid discrimination. You know that there are certain names that if you use on Amazon KDP most people may not want to buy your book based on your region or where you come from. So most times, to avoid discrimination, people choose to use Pen Names that look similar to the kind of market that they are targeting to avoid all manner of discrimination. So, using pen names can help to cover you from all of that.
3. Explore other niches
Let's say, for instance, today you are publishing in the "Health, Fitness & Dieting Niche" and then tomorrow, you're publishing in the "Business & Money niche". You know, if you just publish books under the same name, your readers are going to be confused if you weren't doing that. So, using the Pen Name can help you publish and explore other niches without using the same name.
4. Organize the catalog of their books
Using a pen name can help you catalog your books correctly so as not to confuse customers. Let's say, I'm publishing on "Weight Loss", I'm going to be under the same name to publish on "Weight loss", or I'm publishing on "Children's Nonfiction Books.". If it's the same pen name for "Weight Loss" and "Children's Nonfiction Books,", customers will be confused. So, instead, use another pen name for "Children's nonfiction books" or use another pen name for "Weight Loss".
5. Honor
Sometimes you may want to honor someone very important to you. You just use their name as the author's name for publishing. So, if you want to remember someone or honor someone, you could choose to use their name as your pen name.
These are some of the reasons why a pen name is very, very important. So, now you may ask me, Can a pen name be anything?
Can a Pen Name be anything?
Sure, it could be anything, so long as it is a name or someone can recognize that as a name. So you can choose anything, as long as it is a name and someone can recognize it as a name to be your pen name.
What pen names should I use?
That depends on your positioning, how you want your customers to see you, or the niche you are publishing a book on, as I mentioned before. There are some niches in which the female gender is more accepted. So if you're publishing in those niches, it is better to position yourself as a woman or as a lady, and you could choose a pen name that goes with that.
If you want to position yourself as a man or a male, then you could also choose a pen name like that. So positioning here is what matters. The way you want your customers to view you is what will determine the kind of pen name you are going to use.
Can a Pen Name be copyrighted?
Yes. I was trying to research this. And I found that some people are saying no, you can't copyright a pen name. What I will only advise is, if you're going to be using a pen name, make sure that you're not using one that is very popular, the one that someone has already used to publish in that niche, and the person's pen name, or the person's name is already established, using that could land you in trouble. So it's best to stay away from keywords like that.
When should I use a Pen Name?
That depends only on your decision, you decide when you want to use a pen name. Amazon gives you a wide opportunity to use a pen name for various reasons, like the ones mentioned before, so you will decide when you want to use a pen name. But, as I've said before, the position is also very important, and perhaps you may wish to hide your identity or avoid discrimination and all of that.
As I said in the introduction section, I was going to be sharing with you some of the dos and don'ts that I see most new KDP publishers making online that you are going to avoid as a result of reading this article. And I would like to start with the don'ts.
Things to Avoid on KDP
1. Avoid using a pen name when you are creating your payment account
Let's say, for instance, that you're creating a Pioneer or a Grey account that you will use to collect your payment. If you are from Nigeria or any African country, then do not use a pen name in creating such an account. Just as you would not enter the bank and then use your pen name or another person's name to create or open an account. So, do not use your pen name when you are creating a Pioneer or Grey account. And then, when you are creating your KDP account, you are also to use your real information and not your pen name. So, do not use pen names when you are creating your KDP account.
2. Don't publish one book/interior with multiple Pen Names
Let's say someone just creates a book and begins to publish that same book under different pen names. Oh no! That is not allowed. Don't use one book with multiple pen names. Of course, you can use multiple pen names for different books, or one pen for multiple books, but don't use one book with multiple pen names. I hope that is also clear.
3. Don't use Popular Keywords as Pen names
People are trying to game the system by using keywords as pen names. Let's say you are perhaps publishing a cocktail, and then you decide to use a cocktail as part of your pen name. Of course, you can see people doing that on KDP. But please be advised that it is not the best strategy. So, do not use popular keywords as part of your pen name. If you do that, you are putting your account in trouble.
The DOS
Chance of using multiple Pen Names
I don't know if there's an exact number of pens that you can use on KDP. But of course, you can use as many as possible. So you have the chance to use many keywords or many pen names when you are uploading your books to KDP.
Now, you may be asking, Where then can I find pen names?
Where then can I find Pen Names?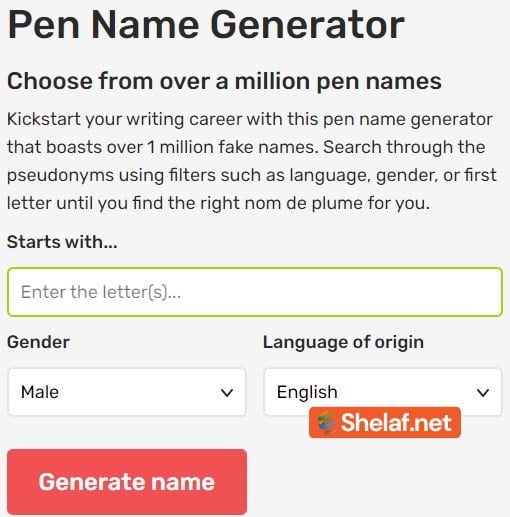 There are several places you can find pen names. All you need to do is type in "pen name generator" in the Google.com search bar; it is going to open a lot of options from which you can choose one, and then pick the pen name by just following the instructions that they give you. And of course, that is straightforward.
How to know if a Pen Name is already used?
This is where a lot of people make a mistake, and I wouldn't like you to do so. Whenever you have picked a pen name that you want to use for your Amazon KDP. Make sure that you go to Google and search for that pen name to be sure that no one is using it. Also, go to amazon.com and type that same pen name in the search box to be sure that it is not already being used by popular authors.
I hope that you are very clear on the issues surrounding the use of a pen name. Watch for the next article on how to create a compelling KDP eBook. Don't miss out on this valuable information—stay tuned!
Conclusion
Choosing the right pen name can make all the difference in your writing career. Pseudo names or pen names can protect your privacy, help you explore new genres, and even boost your sales. However, it's essential to choose a unique name that hasn't already been used by another author. If you fail to do so, your account may be at risk of getting flagged for violations of copyright or terms of service.
To avoid this, it's always a good idea to do your research and check for existing pen names. You can use online tools and search engines to look for similar names or check Amazon KDP's database of registered pen names. If you find that your chosen name is already in use, don't fret! You can always tweak it a bit or come up with a new one altogether.
Note that using a pen name might be a smart move for your career, but it must be done correctly. You can avoid possible traps and set yourself up for success by being conscious of your decisions and completing your due research.
If you have any questions about pen names or the publishing process, feel free to leave a comment below, and I'll be happy to help. And if you haven't already, be sure to subscribe to Shelaf's top tips and fresh articles to stay up-to-date on the latest news and insights in the writing world, especially on Amazon KDP.
Don't forget to share this post with other aspiring authors and help them make smart choices when it comes to pen names.