Kuda Bank offers referral incentives, like PiggyVest, LCredit, Branch, SC Bank, PalmPay, JumiaPay, Abeg, Alat by Wema, VULTe, Chipper Cash app, and others. I'm delighted to see you here today, and I'll show you how you can earn up to ₦5,000 every week through the Kuda Bank referral program.
The Kuda Bank referral program has been running for a few months now, and I am happy to confirm that it is still thriving and compensating existing customers for referring new members as promised.
You might be wondering what the Kuda Bank is, but fear not, a quick overview of the app is provided below:
What Is Kuda Bank and How Does It Work?
Kuda Bank, formerly known as Kudi Bank until being renamed to Kuda, is a free mobile-only bank that is fully licensed by Nigeria's central bank. It functions as an online wallet, allowing anybody to store, withdraw, and send money for free.
As a verified member of the Kuda Microfinance Bank, you'll get a free debit card that you can use to withdraw money from your Kuda Account without paying a maintenance charge, as well as other benefits.
Benefits of Using Kuda Bank
Delivery of a Kuda Bank debit card to your location is free. Order it right in the app.
Developing sensible budgets will assist you in gaining control over your expenditure.
Get a clear visual representation of your finances.
Withdraw cash for payments free of charge at over 3,000 ATMs.
25 free transfers to other banks every month.
Save automatically and we'll pay you up to 15% interest every year.
Let's move on to the Kuda app referral program, which is this tutorial's major theme, without spending any more time.
Kuda Microfinance Bank Referral Program
Kuda Bank has launched a referral program that pays you N1000 as an existing member when a friend downloads and opens an account using your Kuda referral code.
What's more, the person you referred will receive N1,000 registration bonus as well.
Imagine earning N1000 for each person you refer; that's a total of N5,000 for recommending five people.
Kuda will pay you all of your previous week's referral earnings next week.
If you refer ten verified users to download the Kuda app using your link this week, you will receive N10,000 bonus by Monday the following week.
Continue reading; before you go, you'll have all you need to make money with the Kuda app.
How to Join Kuda Bank and Become a Verified Member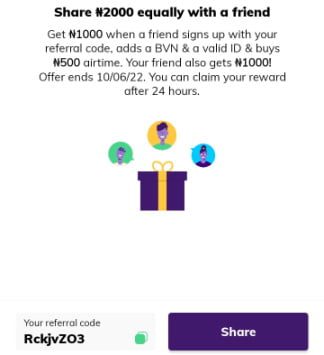 Download Kuda app for your Android or iOS device here.
Now that you've downloaded the Kuda app, fill out the registration form with your accurate information and tap on the Have a Referral Code button to input the Kuda referral code
Use the code RckjvZO3 to join.
Double-check that the code in the referral code field matches the code above.
Ensure that you submit the right Bank Verification Number (BVN) while registering. Don't worry, your information is completely secure on the app. Furthermore, if you have faith in the bank that issued your BVN, you have no cause to be concerned. The Nigerian Central Bank has granted Kuda app a license.
To verify your identity, go to the account upgrade section and provide a valid ID card. Also, make sure your account is upgraded to Tier 3.
After you've completed the registration process, you can activate your account by paying N500 to your Kuda bank account using whatever method you like. The app will show you the many alternatives for funding your account.
Use the N500 to get yourself airtime while you wait for your N1000 registration reward.
To get your registration bonus, you must register using your BVN, use the referral code RckjvZO3 during registration, upgrade your account to tier 3 (T3) by submitting a valid ID card, and purchase 500 Naira worth of airtime.
How to See your own Kuda Referral Code
On the Kuda app homepage, tap the More button >> Referral
Now is the moment to copy your personal Referral code so you can start earning money with the app.
For every friend you refer who completes the referral steps, you both earn money.
Copy your referral code and share it with your friends to increase your earnings.
If you have any problems receiving your referral bonus, kindly let me know in the comments section. Thanks.
If you like what I'm doing on this blog and you are still not subscribed, then you aren't doing me any favor. So please click here to follow Shelaf's daily latest posts and don't forget to share this post with your friends and families, it will help a lot.